Payday 2: Crimewave Edition for PS4, Xbox One in June
Overkill tells us what's new.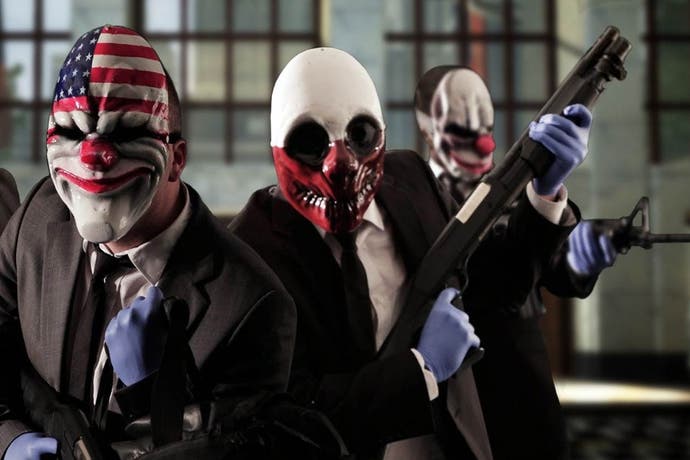 Payday 2: Crimewave Edition will arrive in June for PlayStation 4 and Xbox One, developer Overkill has told Eurogamer.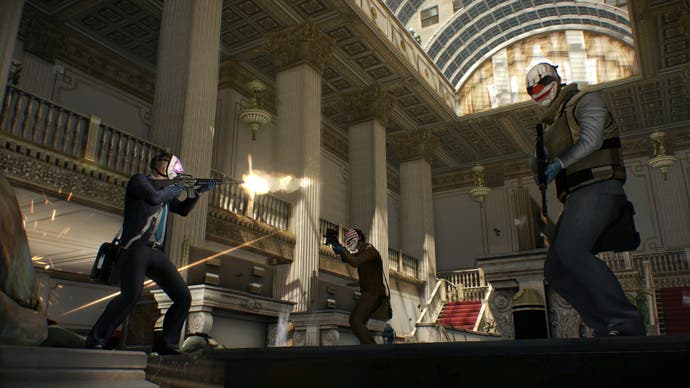 You will be able to pre-order the game's digital version now at a 25 per cent discount and also receive the Hard Time Loot Bag, a pack of exclusive in-game items - including an exclusive mask, red dot weapon sight and bundle of in-game cash.
The new version will include post-launch content added to the PC edition over the past 12 months, plus improved graphical quality.
"We're relaunching Payday 2 for the new platforms," producer Almir Listo explained. "You'll get a year's worth of post-launch updates for the PC version available from the get-go - that's both the paid-for and free content.
"Both versions will be 1080p [up from 720p]. We can't say for definite it will be 60fps as we're still in testing, but it will definitely be an improved experience."
Recent PC content drops have added new missions involving Breaking Bad actor Giancarlo Esposito, as well as Lost and Babylon 5's Mira Furlan.
All of these will be included, as well as a vast array of new weapons, characters and masks.
But what if you've played the game already on PlayStation 3 and Xbox 360? There's sadly no scope for carrying over a save due to the technical difficulties of doing so, but Overkill is considering some kind of upgrade program.
Almir said that the team was considering a cheaper price for those making the jump between console platforms or some form of exclusive bonus, but that the details of this have yet to be locked down.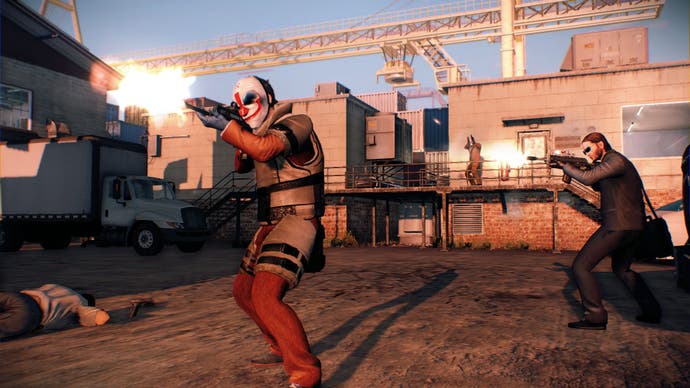 And, beyond launch, Overkill is looking forward to keeping the Crimewave Edition updated alongside the PC version on a more even footing.
"For the PC version we've promised content up to 2016 and onwards," Almir continues. "That's the same for the Crimewave Edition too. With the dawn of the new console it is so much easier for us to add new content into the game."
Overkill has a roadmap of paid-for and free content updates laid out for a while to come and, with a userbase now above 9m, it makes sense for the developer to keep its playerbase rooted in one place.
Payday 2 passed the 9m sales mark late last year, and some of its hardcore players are now above 2000 hours played mark.
The decision to not rush a full-blown Payday 3 is about what best serves the community, Almir argues.
"We could [make Payday 3]. But it would just bite us back in the end. We want to build a long-term relationship with the community. Five years ago we barely existed. We've always respected them and their devotion to the Payday universe."
That's why there won't be any kind of season pass - instead the developer wants to focus on its ongoing update schedule which is continually retuned to the requests of players.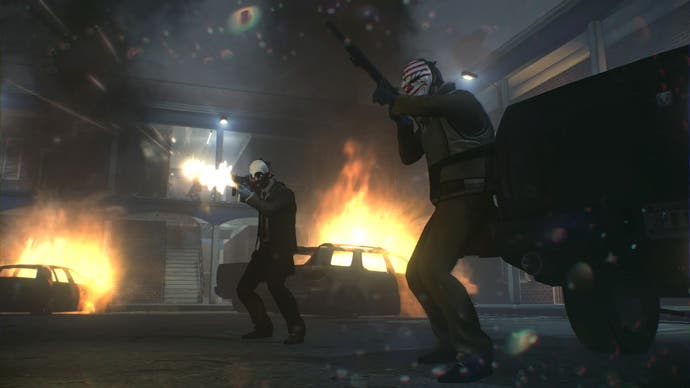 It also sounds like a Payday 3 may be somewhat out of reach for Overkill - at least at the moment. The developer is already juggling the production on two other major projects - a new The Walking Dead shooter and a mysterious sci-fi project due out in 2016 named Storm.
"Overkill's The Walking Dead is a huge effort on our part," Almir explained. "It's our rendition of Robert [Kirkman's] comic book. It's so exciting to have him on board.
"Storm is a sci-fi FPS - it's Payday in space. When the guys made Alien their elevator pitch was: 'it's Jaws in space'. That's what we want to do."
It's clear that Overkill is preparing for a big, bright future. Last year it became part of Starbreeze Studios, while the latter became a publisher.
The first thing Starbreeze published was yet more Payday 2 DLC, now assisted by Croatian developer Lion Game Lion - a studio founded by one of the Payday 2 team.
"We're 50-60 developers right now - we're not the biggest team so we have to work twice as hard to make sure that all of this stuff happens," Almir concludes. "It goes back to why we're called Overkill, because we've always made sure that we over-deliver."