Out This Week - 21/10/11
Batman: Arkham City! Tintin! Ratchet!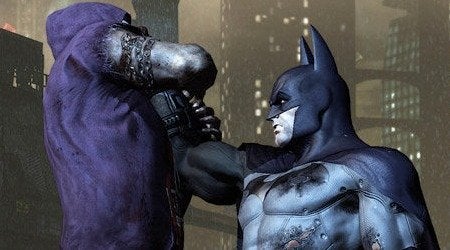 This week two very different pencil-drawn heroes of the comic book world each star in their own video games.
Eurogamer has already passed verdict on British developer Rocksteady's Batman follow-up and found Arkham City to be a near-perfect superhero simulator, saturated in Gotham's noir atmosphere and starring almost every Bat villain ever to grace the crime fighter's rogues gallery.
Meanwhile, Belgian boy sleuth Tintin gets a video game tie-in to this week's blockbuster 3D film. It was developed by Ubisoft Montpellier, the studio behind fellow film-to-game conversion King Kong. Will Hergé enthusiasts finally have a video game to be proud of? Or will it be more of a Tintin in America than a Tintin in Tibet?
Ratchet and Clank fans get All 4 One, a four-player co-op adventure that kicks off a new trilogy for the alien-feline and his robotic pal.
Not sick of football games yet? Following the launch of this year's FIFA and PES comes the former's managerial twin, FIFA Manager. And because three football games just isn't enough this time of year, this week also welcomes FIFA Manager arch-rival, Football Manager.
The 3DS gets some love from both Avengers hero Captain America and classic title Tetris, while tower defense RPG Dungeon Defenders arrives on PC and XBLA. A PSN release is also on the cards - look for the confirmed list of PSN downloadables on Wednesday to see whether it turns up.
Elsewhere to download, gamers can expand Deus Ex: Human Revolution with DLC add-on The Missing Link, which Eurogamer's Simon Parkin rated with a so-so 6/10: "The opportunity to revisit Human Revolution is a welcome one, but this is a competent expansion rather than an unmissable one," he wrote.
This Week in Shops!
Batman: Arkham City
Developer: Rocksteady
Publisher: Warner Bros.
Formats: PS3, Xbox 360 (on PC 18th November, Wii U in 2012)
What is it? Dark sequel to Rocksteady's previous Batman title, the highly-acclaimed Arkham Asylum. What does Eurogamer think? "Arkham City's built of gloomy stuff, but it feels uncommonly like escape each time you load it up," Chris Donlan wrote in Eurogamer's 9/10 Batman: Arkham City review.
Tintin: The Secret of the Unicorn
Developer: Ubisoft Montpellier
Publisher: Ubisoft
Formats: 3DS, PC, PS3, Wii, Xbox 360
What is it? A video game version of this week's blockbuster Tintin film. What does Eurogamer think? Look for Eurogamer's Tintin review later in the week.
Ratchet & Clank All 4 One
Developer: Insomniac
Publisher: Sony
Formats: PS3
What is it? PS3-exclusive family-friendly adventure from the developer behind Resistance. What does Eurogamer think? A Eurogamer review is in the works.
What Else?
Dance Central 2 (Xbox 360)
Okabu (PSN)
Beat Hazard Ultra (PSN)
Captain America: Super Soldier (3DS)
Dance Star Party (PS3)
Dungeon Defenders (PC, XBLA)
FIFA Manager 2012 (PC)
Football Manager 2012 (PC)
Jagged Alliance: Back in Action (PC)
Jonah Lomu Rugby Challenge (PC)
Tetris: Axis (3DS)
The Sims 3 Pets (3DS, Mac, PC, PS3, Xbox 360)
Tropico 4 (Xbox 360)
Worms: Crazy Golf (iPhone, iPad, Steam, PSN)
Chart Predictions!
Each week one of the team attempts to predict the future - or rather, what next week's top five games will be in the UK all-formats chart. The following predictions are for the week beginning Friday, 21st October, to be reported the following Monday.
Tom Bramwell, Editor-at-large, Eurogamer.net
"Batman is going to be top of the pops because you all have excellent taste. FIFA continues to sell astronomically despite its relative age and I don't expect that to tail off yet. I do expect other more core games to accelerate in their descent though, hence Forza dropping below Just Dance 3. Gears 3 seems quite resilient, mind you, so I'm tipping that to endure. I don't know what will happen with Tintin and Ratchet but hopefully it will be pleasant and prove me wrong somewhere in the above. Stop buying Zumba Fitness."
Batman: Arkham City
FIFA 12
Just Dance 3
Forza Motorsport 4
Gears 3
Last week, News Editor Wesley Yin-Poole had a shot at predicting the future. How did he do? Well...
| Position | The Truth | The Prediction | Result |
| --- | --- | --- | --- |
| 1 | Forza 4 | FIFA 12 | NO! |
| 2 | FIFA 12 | PES 2012 | NO! |
| 3 | Just Dance 3 | Forza 4 | NO! |
| 4 | Rage | Just Dance 3 | NO! |
| 5 | PES 2012 | Gears 3 | NO! |
Your Chart Predictions!
Last week, 53 per cent of you predicted Ace Combat would land a top ten finish in today's UK games chart - but it did not! 40 per cent of you were correct in guessing it would debut in eleventh or below. This week we're going to play guess where Tintin: Secret of the Unicorn will finish.