Octodad: Dadliest Catch sneaks onto PS4 next week
There's something fishy about that guy...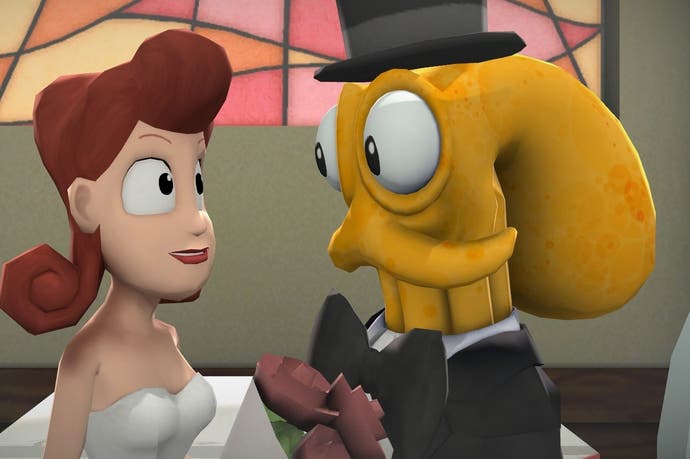 Undercover cephalopod dad simulator Octodad: Dadliest Catch is coming to PS4 on 23rd April in Europe for €13.99.
North American will receive it the previous day for $14.99, and PS Plus subscribers will get it at 20 per cent off until 29th April.
Developer Young Horses president and co-founder Phil Tibitoski noted on the PlayStation Blog that Octodad: Dadliest Catch has seen quite a lot of enhancements since its initial PC launch in January. "The latter third of the game in particular has gone through some radical changes, with added challenges like deck swabbing, jig dancing, and new disguises to wear," the developer explained.
This PS4 rendition of Octodad: Dadliest Catch supports PlayStation Move controllers and you can even play it in co-op where four players can each take control of one of Octodad's tentacles.
Eurogamer contributor Dan Whitehead rather liked Octodad: Dadliest Catch when it first launched on PC earlier this year. "Few games manage to be funny, yet played solo or with friends, Octodad is frequently laugh-out-loud hilarious, thanks both to the random mayhem and the deft script," he wrote in his Octodad: Dadliest Catch review. "It's also a surprisingly sweet game with a genuine depth to its main character. We've all felt awkward and out of place at some point, or have some aspect of ourselves we keep hidden away for fear those we love will reject us. To its credit, and for all its cartoon silliness, Octodad doesn't treat that concept lightly."