October's PlayStation Plus games include Friday the 13th and Laser League
Press X to Jason.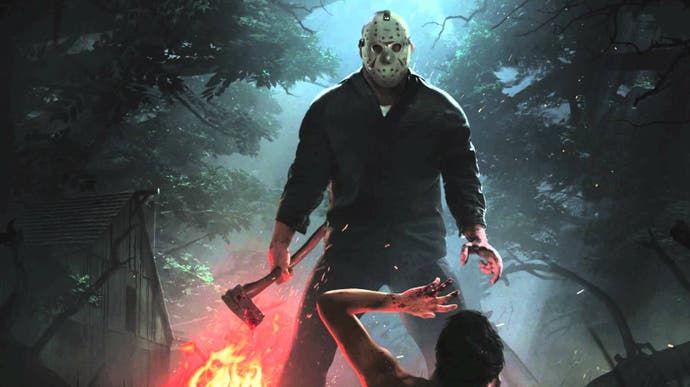 Sony has unveiled the full list of games available as part of a PlayStation Plus subscription in October, including Friday the 13th: The Game and Laser League on PlayStation 4.
Those are two very different, but immensely enjoyable, multiplayer affairs, with Friday the 13th focussing on asymmetrical pursuit horror (with one Jason against a whole team of Crystal Camp counsellors), while Laser League delivers a brash arcade romp bearing at least some resemblance to classic 80s movie Tron.
In Laser League, teams charge around a small arena, scrambling to activate nodes and unleash walls of light. Walls take on the colour of the triggering team and will immediately fell opposing team members that collide with them. Once an entire team is down and no-one can be revived, the other side wins. And so begins a frantic tug-of-war-style skirmish, made all the more chaotic through carefully judged power-ups and a class system that brings further nuance.
As Eurogamer's Martin Robinson said when he awarded Laser League an Essential badge in May, "It's rare to play something so pure, a multiplayer game with modern sensibilities and yet one that feels like it was forged in the fire of older arcade classics. If there's any justice, Laser League is a game that'll find its place among those greats."
Friday the 13th, meanwhile, was less well-received by Eurogamer, but mainly due to teething issues surrounding its launch last year. "But when it did work," said reviewer Rick Lane, "it worked superbly, a thrilling game of cat and mouse where being the mouse is fraught with tension and being the cat is fucking awesome."
That's not quite your lot, however; October's PlayStation Plus offerings also include cyberpunk point-and-click thriller 2064: Read Only Memories (PS4 and Vita), atmospheric logic puzzler The Bridge (PS4, PS3, and Vita), surreal exploration adventure Master Reboot (PS3), and chicken-based side-scrolling shooter Rocketbirds 2: Evolution (PS4 and Vita). PlayLink-enabled quiz game Knowledge is Power also puts in an appearance.
PlayStation Plus subscribers can grab all this from October 2nd, meaning there's still a bit of time left to procure September's line-up, if you haven't done so already.