No Man's Sky Journey Milestones list - Milestones and Trophies explained
A quick list of all the key Journey Milestones and any related Trophies in No Man's Sky.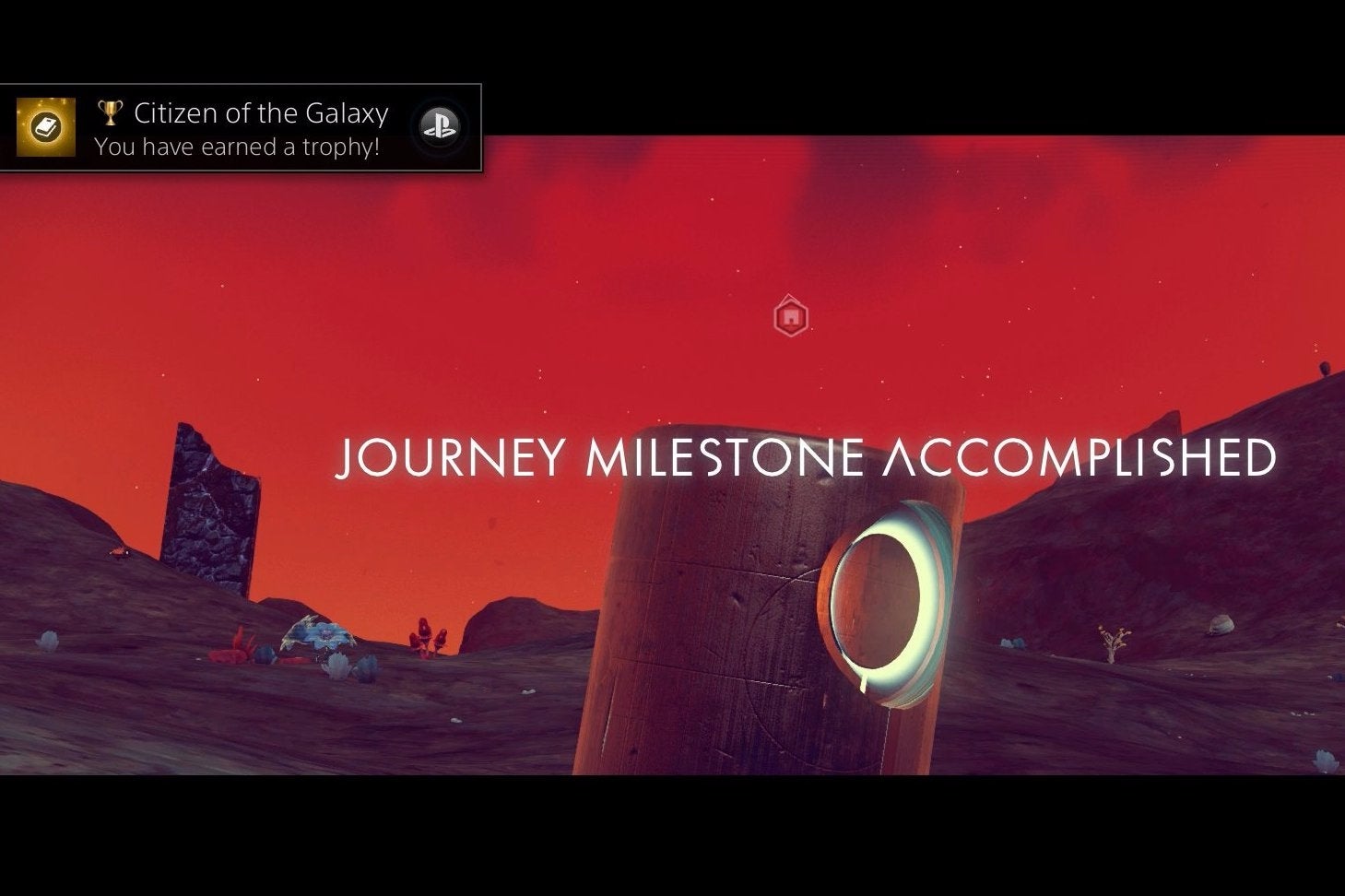 Chances are, if you're going for No Man's Sky's Platinum Trophy - or even if you've just blasted off into space for the first time - you'll be at least somewhat familiar with the concept of Journey Milestones in No Man's Sky.
Acting as a form of in-game achievement tracker, Milestones will be triggered for doing just about any activity for a long enough period of time, be it shooting up starships or hunkering down on an inhospitable planet - and achieving a certain amount is also a necessary part of the Atlas Path. Right here, we'll explain what you need to do for every Journey Milestone in the game, as well as offering tips for reaching the maximum Milestones and as highlighting the quickest Milestones to achieve if you're running a little behind in your quest along the Atlas Path.
There are nine Milestone categories in total, each having ten levels within it, whilst the top-level Milestone for each category will award you a gold PlayStation Trophy if you're on PS4 - which is a pretty generous payoff. As you'll earn every other Milestone along the way by obtaining these nine maximum-level ones, we've left those out and gone straight to the top.
---
Please note that our No Man's Sky guides are in the process of being updated after the launch of No Man's Sky BEYOND - for now, this page may still have plenty of useful info, but bear in mind it's due a refresh! If you're looking for more on that big update though, our guide to what's new in the No Man's Sky BEYOND update and its release time on Xbox One, PC, PS4, our big list of No Man's Sky patch notes, or our guide to the new No Man's Sky multiplayer and Nexus hub are the best places to start!
---
Journey Milestone Tiers in No Man's Sky
Before we crack on with our explanation of each different Milestone category, here are the 12 Milestone Tiers and the number of Milestones required to reach them. Note that - very minor Atlas Path spoilers - each Milestone Tier, up to and including Magellan, is a requirement for a particular dialogue option in each Atlas Interface.
Apollo - 0 milestones
Pathfinder - 5 milestones
Juno - 10 milestones
Rosetta - 15 milestones
Cassini - 20 milestones
Kepler - 25 milestones
Dawn - 30 milestones
Curiosity - 35 milestones
Hubble - 40 milestones
Viking - 45 milestones
Magellan - 50 milestones
Galileo - 55 milestones
---
Cycle back to our main hub for what's new in what's new in No Man's Sky Beyond and more basic info on the big update, otherwise take a look at our deep dive on No Man's Sky multiplayer explained for more on teaming up, our guide to base building, an introduction into electrical wiring and powering your base, to how to expand your Exosuit, Ship and Multi-tool inventory space, and Freighters and Frigates explained. Plus other handy stuff like how to repair your ship and get the Hermetic Seal, Pure Ferrite, Metal Plating and Di-Hydrogen Jelly, locations of theAtlas Pass v1, v2 and v3, a guide to No Man's Sky money and how to earn Units fast, plushow to get Antimatter and the Antimatter recipe, and even how to save the game in No Man's Sky, too. Finally, we have pages on how to reach the centre of the galaxy, how to get Chromatic Metal, and a Journey Milestones list, too.
---
No Man's Sky Milestones list and related Trophies and Achievements
Here's a list of the top tiers for each Milestone, the requirements for getting them, and any trophies or achievements you'll unlock by doing so along the way:
Milstone Type
Max Tier
Related Trophies
How to achieve
On-foot Exploration
Adventurer
A Scanner Darkly
Symphony for a Lost Traveler
Have Spacesuit - Will Travel
Walk 100,000u on foot
Alien Encounters
Ambassador
Contact
Who Goes There?
What a Mad Universe
Meet 40 Aliens
Words Collected
Babelfish
Babel 17
The Languages of Pao
Citizen of the Galaxy
Learn 150 Words
Most Units Accrued
Magnate
Foundation
The Soace Merchants
The Diamond Age
Have 2,000,000 Units at one time
Ships Destroyed
Legend
Use of Weapons
Pattern for Conquest
The Forever War
Destroy 80 Starships in total
Sentinels Destroyed
Legend
None
Destroy 80 Sentinels in total
Extreme Survival
Everlasting
The Sentinel
Survive 32 Sols (in-game days lasting 15 real-world minutes) on a planet with Extreme Conditions (Extreme weather or aggressive Sentinels) without leaving or getting into your ship.
Space Exploration
Discoverer
The Stars, Like Dust
The Longest Voyage
A Space Odyssey
Warp 60 times
Planet Zoology Scanned
Encyclopedia
Galapagos
Discover all species on 10 planets