No Man's Sky dev Hello Games announces Joe Danger Infinity
UPDATE: Due later this week on iOS.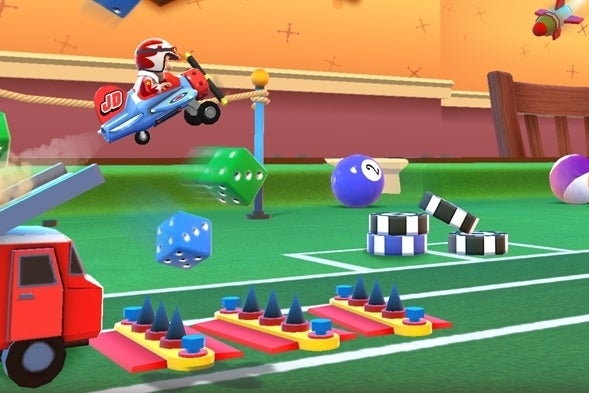 UPDATE: Hello Games has revealed that it's planning to release Joe Danger Infinity on 9th January.
The developer noted the release date in an interview with Polygon, where studio founder Sean Murray explained that the team was still on schedule despite its office getting flooded. "We're here in a cramped little upstairs room, with makeshift PCs and water slowly rising to the electrics ... because we have a game to release!"
ORIGINAL STORY: And you were worried four-person indie developer Hello Games had taken on too much with ultra ambitious science fiction game No Man's Sky. The Guildford studio has just revealed it's been working in secret on a new iOS game called Joe Danger Infinity - and it's out soon.
"We've been incredibly proud of Joe Danger Touch since we released it last January," Hello Games' Sean Murray told Eurogamer.
"The success it achieved (number one on the App Store in lots of countries, like the US and UK) totally took us by surprise. Right at the end of his life, Joe has had probably his biggest success.
"Stevie [Burgess] was the main programmer on that, and I guess he always felt we had some unfinished business on iOS. It felt that Joe Danger Touch was something that had already existed on console, and he wanted us to do something totally new, just for iOS - where so so many people were enjoying it.
"We went back and tried making a Joe Danger that's completely fresh and new. It's coming really soon, it's called Joe Danger Infinity and it's genuinely beautiful. I'm super proud."
Two screenshots are below.
Joe Danger Infinity features endless gameplay and around 20 vehicles, including cars, aeroplanes and even a tank. Murray described it as the biggest game in the series, "and we're going to be adding more and more to it."
He also said it's more competitive than previous games in the series, with a focus on scoring.
"The story is there is a magic gumball machine (King Gumball), and all the toys in the gumballs come alive when opened," Murray explained.
"Joe Danger is just one of those tiny toys, so you play not just as him, but also about two dozen totally new characters (a cast of toys you might recognise from your childhood - or at least from mine). He's been shrunk down to play in our world, pulling stunts across bedroom floors, crashing through a Christmas dinner and beyond."
Joe Danger Infinity is the result of Hello Games' love of Hot Wheels and Micro Machines, "and the awesomeness of fighting remote control choppers, dodging snooker balls and ramping over blocks of cheese," Murray said.
"It's like we've gone full circle to back when we were coming up with the idea for the original Joe Danger, just playing with a little toy Evel Knievel stunt cycle."
Pricing and a release date will be announced soon.