New Gotham Knights reveal debuts Nightwing and Red Hood gameplay
Buckle up.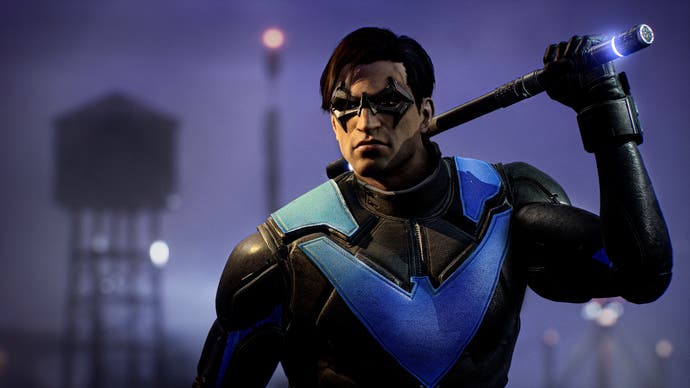 Warner Bros and DC have revealed new gameplay footage for two of Gotham Knights' heroes, Nightwing and Red Hood.
"The new video debuts an extended look at both playable characters as they bring justice to Gotham City's criminal element, while also investigating clues around the mysterious Court of Owls," the Gotham Knights team states.
"In this gameplay walkthrough, each hero's distinct fighting style and open-world traversal abilities are on full display, from Nightwing's unique acrobatic combat and aerial glider to Red Hood's twin firearm skills and powerful leaping capability." You can check out the new footage for yourself below.
Those eager to give these new characters a go on the game's release (which will be on 25th October) can preorder it from today. This can be done through PlayStation Store, Microsoft Store, Steam and Epic Games Store, so plenty to choose from.
However, the developers have revealed that Gotham Knights will only be releasing on current gen consoles, in order to "provide players with the best possible gameplay experience", so we will have to say goodbye to those Xbox One and PS4 dreams of old.
So, what do you get with your preorders? Well, as is the case for many games, there are different editions available.
The Gotham Knights Standard Edition pretty much does what it says on the tin. It is the standard and most basic edition of the game, so no bells and whistles will be attached to it.
Next, we have the Gotham Knights Deluxe Edition. This edition includes the base game (obviously) as well as the Visionary Pack DLC with exclusive gear, cosmetics, Beyond Suitstyle character skins inspired by the Batman Beyond animated series "and more". What that more is, however, Warner Bros and DC have not said.
Finally, we have the Gotham Knights Collector's Edition. This fella comes with all the perks of the Deluxe edition, as well as an augmented reality collectable pin, a16-page media book, an exclusive Gotham City map, a four-character statue diorama and "more" (again with the elusive finale).
The Gotham Knights team has additionally revealed that all pre-orders will receive the 233 Kustom Batcycle Skin at launch. This skin is based on the vehicle's first appearance in DC's Detective Comics #233. Nice!