Mr Miyagi is a boss in Vita game Reality Fighters
What?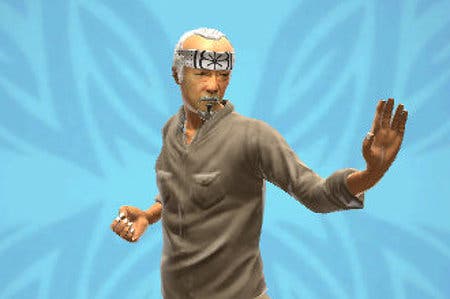 Mr Miyagi is a boss in PS Vita game Reality Fighters.
Really.
The Karate Kid character, played by Noriyuki "Pat" Morita, guides players in the augmented reality fighting game.
He shows you how to capture your face using the Vita cameras and import it into the game. He also provides you with hints and tips. That's so like him.
At the end of the single-player story mode, you have to fight the eighties sensei yourself. This sounds like quite the challenge - Mr Miyagi can switch to any of the game's 15 fight styles at random. Beat him and you can play as him, wearing his handyman uniform from the film. You can also unlock the Miyagi family headband to wear.
Mr Miyagi is voiced by Call of Duty, Ratchet & Clank and Metal Gear Solid voice actor Jim Ward.
In a Sony-published Q&A, SCE XDev Studio's Mitsuo Hirakawa said the team decided to include Mr Miyagi in the game because "we needed someone who was a true fighting master who could easily take on the best fighters from around the world, but was also wise, and capable of teaching the player".
"Plus we had to consider the tongue-in-cheek nature of the game; some of our fight styles include ballet and break dance, as well as some unusual weapons like a toilet plunger. We needed someone who was tough, but also had a softer, more humorous side."
The developer shortlisted various actors before settling on Mr Miyagi, including Jackie Chan, Bruce Lee, Chuck Norris, Jet Li and Mike Myers. Yes, of course Mike Myers.
But, "It became clear that Mr Miyagi ticked all the boxes for us in terms of a true master who has a humorous side. The Karate Kid movie being a worldwide hit and a film that we were all huge fans of also helped a little ..."