Monster Hunter World Spring Blossom Festival - Spring Blossom tickets, Fireworks and event rewards explained
Everything you need to know about Monster Hunter World's Spring Blossom Festival.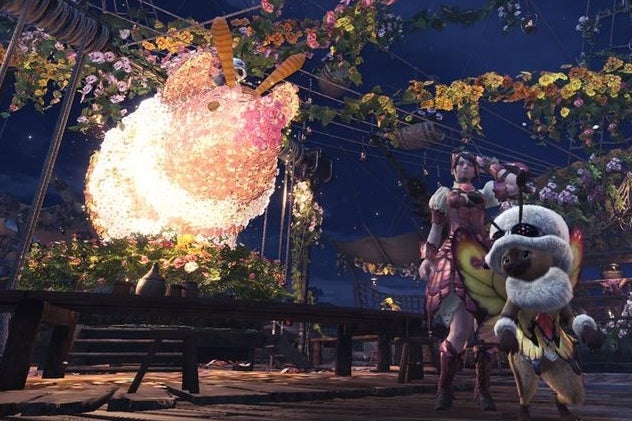 The Monster Hunter World Sprint Blossom Festival is the first seasonal event to be added to the game.
Taking place during the month of April, the event offers a number of time-limited activities, new armour and costumes to craft, Spring Blossom Tickets to spend and much more.
Elsewhere, our Monster Hunter World tips can help you decide when to farm, what to forage and what to do between hunts, and our Monster Hunter World walkthrough and guide can help with main quest and story progress.
The Spring Blossom Festival and Celestial Pursuit explained
The Spring Blossom Festival introduces new armour, bounties, quests and other activities over the next two weeks.
Here's everything you need to know about what's involved:
The Gathering Hub - also known as the Celestial Pursuit - has been given a makeover, complete with dressed-up vendors and a Poogie flower display in the middle of the town. To get there, you can travel by selecting Astera from the World Map, or using a Lift in Astera itself.
Spring Blossom Vouchers and Fireworks have been added as a new crafting item and consumable respectively, earnt from logging in daily and completing bounties (explained in more detail further down in this article).
Almost all previously released event quests will be available once again (we also detail which you should look out here a little further on).
Lucky Vouchers - the game's log-in bonus used to spend on meals and doubling your quest rewards - will increase from one to two per day for the duration of the event.
There are daily Limited Bounties to complete - replacing Weekly ones - further incentivising you to return each day and play.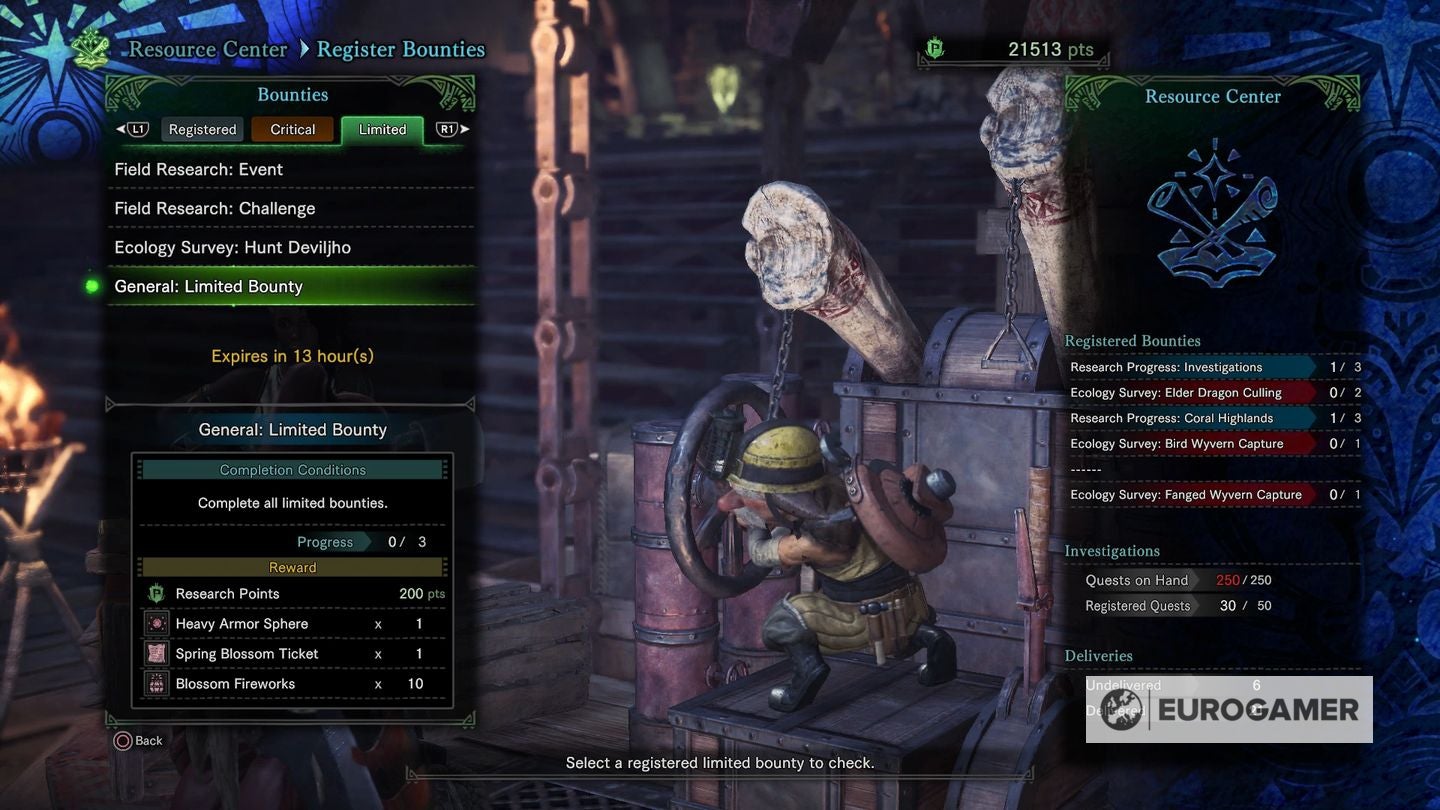 There is a special platter you can eat during the event.
Vendors will feature daily sales throughout the festival.
Both The Handler and Poogie have special outfits for the duration of the event, and they're pretty cute: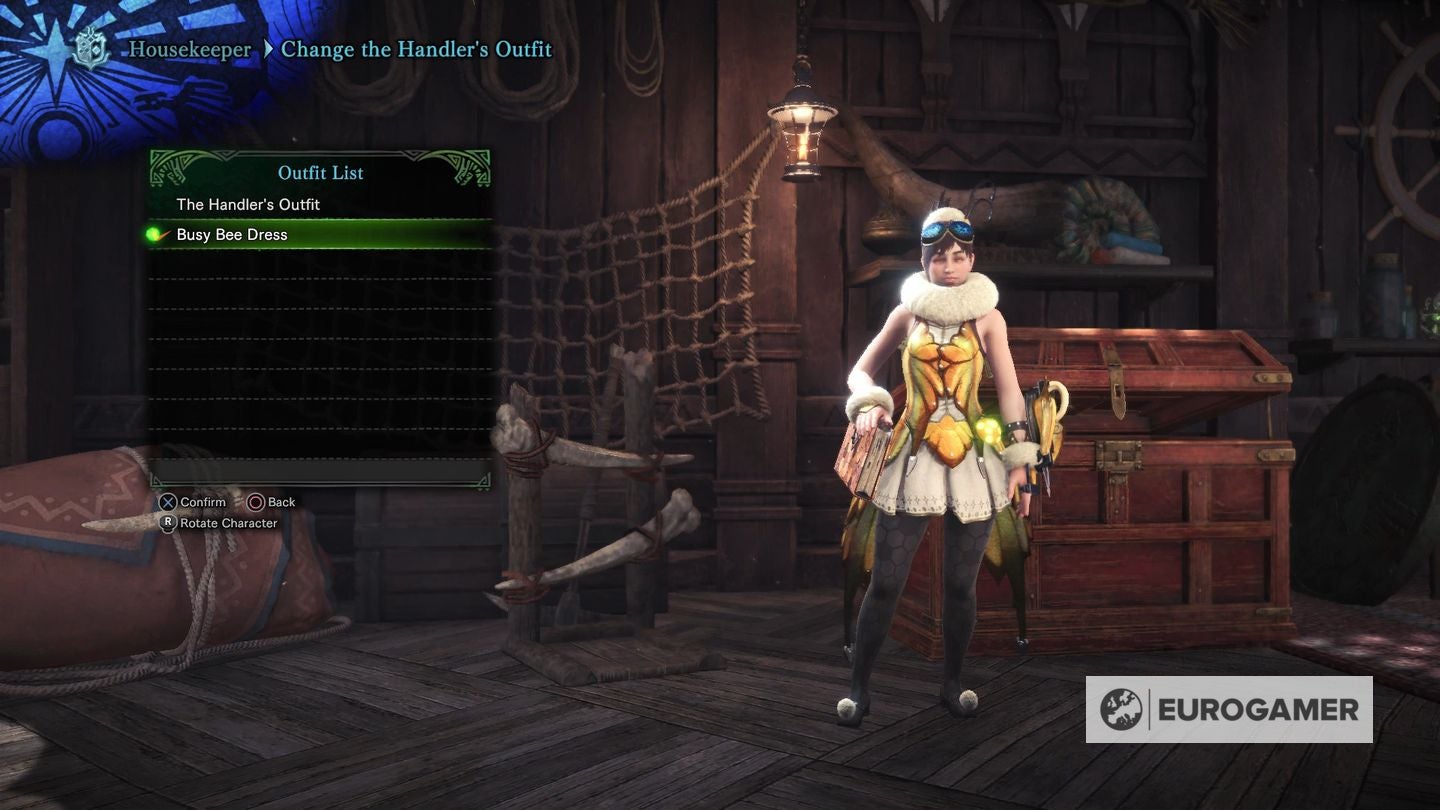 Spring Blossom Tickets and Fireworks explained
Spring Blossom Tickets are a new crafting material arriving as part of the festivities, and should be core focus of your activities throughout the event. You can get them from two places:
Logging in once per day
Completing daily bounties
Spring Blossom Tickets are primarily used for crafting new event-themed armour for your Hunter (Blossom) and Palico (Butterfly Set). The other components required are fairly common - Carbalite Ore and Dragonvein Crystal respectively - so once you get the required Tickets, you should be all set.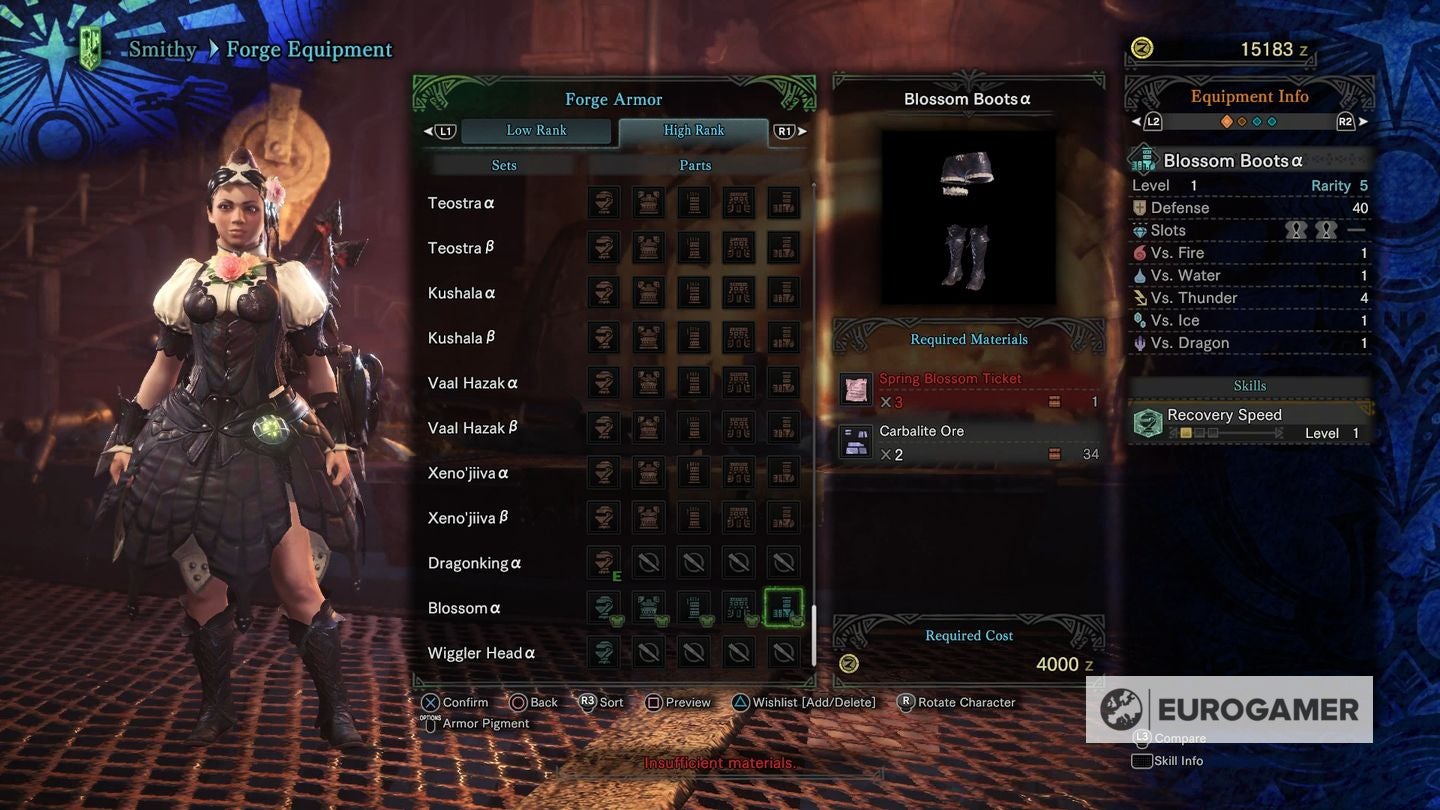 With 3 Tickets required to craft each armour piece, make sure to visit the Festival each day to get what you need before it ends. You only have two weeks!
Spring Blossom Tickets are also used to craft additional Fireworks from the Elder Melder.
Fireworks are simply a fun consumable - just set them on the ground during a quest and watch them go - and can also be sourced from logging in once per day and completing daily bounties.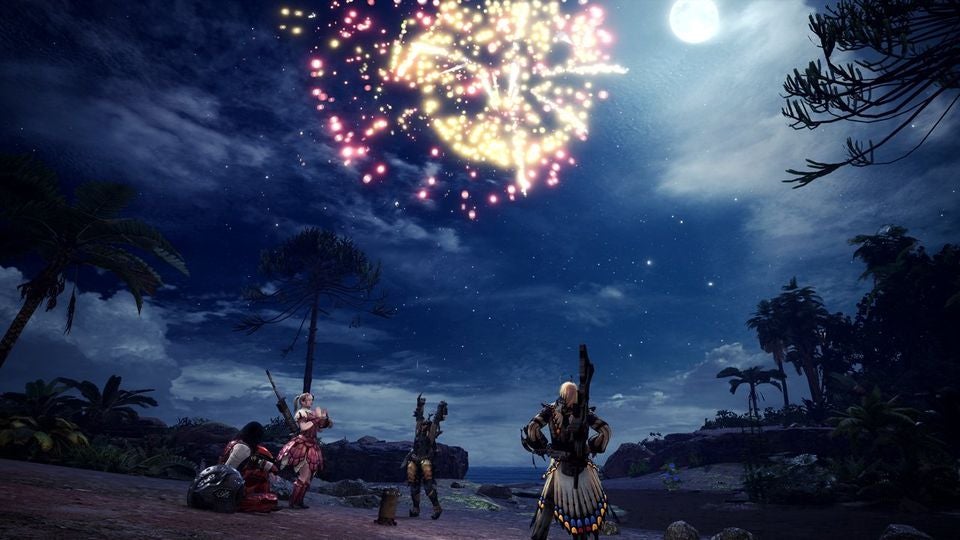 What events should I focus on during the Spring Blossom Festival?
With the return of pretty much all Weekly Events throughout the event, it's a great time to play catch up and grab rewards for things you've missed previously.
Below is a list of Weekly Events with unique items you can only get from playing them:
| Event | HR Rank | Details | Reward |
| --- | --- | --- | --- |
| Egg Lovers United | 11 | Hunt 3 Tzitzi-Ya-Ku | Sunglasses |
| Down the Dark, Muddy Path | 3 | Slay a Barroth | Street Fighter Ryu armour |
| Egg Lovers United | 11 | Hunt a Kulu-Ya-Ku | Kulu-Ya-Ku helmet |
| Every Hunter's Dream | 8 | Hunt a Rathalos and Paolumu | Rocket GS weapon |
| Lessons of the Wild (PS4 exclusive) | 8 | Slay 8 Barnos | Horizon Zero Dawn Palico Armour |
| The Proving (PS4 exclusive) | 11 | Hunt an Anjanath | Horizon Zero Dawn Aloy armour |
| Vespoid Infestation! | 4 | Slay 30 Vespoid | LR Butterfly armour |
| Wiggle Me This | 11 | Deliver 10 Wigglers | Wiggler Helmet |
Thanks to the Monster Hunter subreddit for helping flesh out the above.
There's obviously value to plenty of other events - opportunities to fight Elder Dragons and Tempered features, higher chances of getting miniature and giant crowns, better HR rank and voucher gains and more.
The prior link has a full list available to suit what you need, though again, going after those event-exclusive armour pieces should be a priority, as they are pretty hard to come by.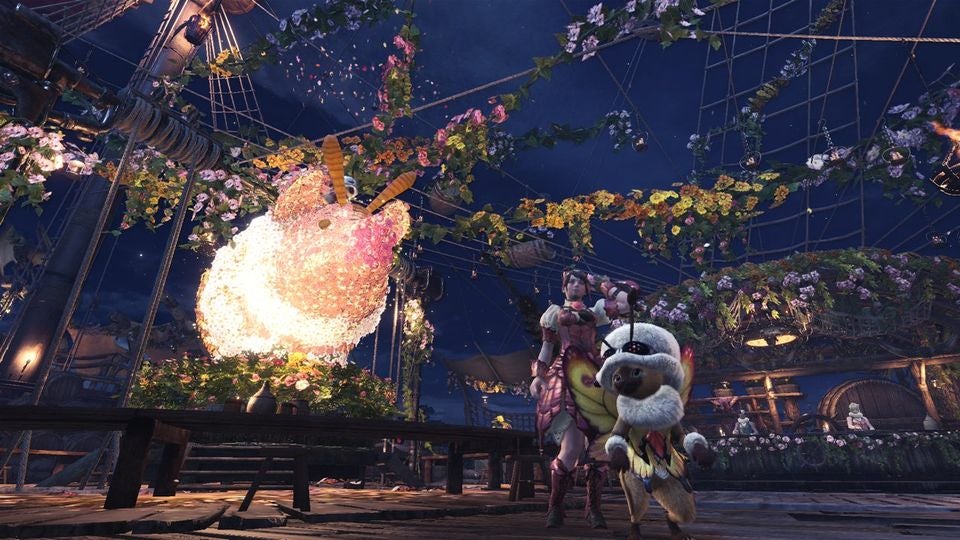 ---
Iceborne has arrived! Here's how to start Monster Hunter World Iceborne and beat the first monster, Beotodus. Once you get settled into the world, learn about Layered Armour in Monster Hunter World and the various side-quests available - including Surveyor Set missions, Boaboa quests and finding Pearlspring Macaque locations. And, when you're ready to take it on, Shara Ishvalda. If you're crafting, then learning where to find rare materials such as Purecrystal and Monster Slogbone is useful. Been away from Monster Hunter for a while and need a refresher? Our pages on weapon changes and types, how to join friends and Squads in multiplayer plus how to capture monsters and mount monsters can help.
---
When does the Spring Blossom Festival end?
The Spring Blossom Festival takes place between Friday, 6th April and Thursday, 19th April, starting and ending at the following times:
UK: Midnight (BST)
Europe: 1am (CEST)
East Coast US: 8pm (EDT)
West Coast US: 5pm (PDT)
Whether you're still chipping away at the end game or not played Monster Hunter World since launch, the Spring Blossom Festival is a great opportunity to spend some Tickets and Vouchers and earn some new armour pieces while doing it. Just remember it's only around for a couple of weeks!