Monster Hunter World Wiggler locations, and how to complete the Wiggle Me This event and get the Wiggler Head
Where to find Wigglers in Monster Hunter World, useful for completing the Wiggle Me This event.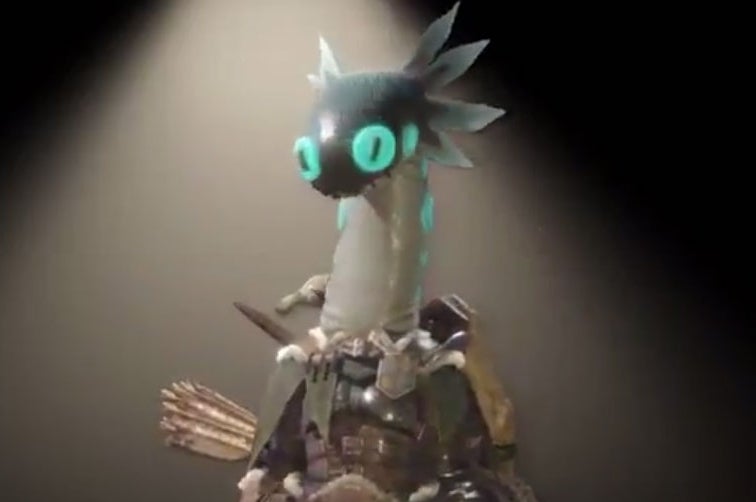 Monster Hunter World Wigglers are one of many small creatures you can find and capture in the game.
Wigglers are native only to the Coral Highlands, and are useful for the Wiggler Capture bounty as well as a time-limited event, Wiggle Me This, helping you unlock the Wiggler Head helmet.
It should also be worth noting, when the right time limited event quests roll around, it's possible to craft some Wiggler Head Layered Armour out of it, keeping your armour stats as well as the appearance, giving you an extra excuse to find Wiggler Tickets.
If you're looking for more help, our Monster Hunter World tips can help you decide when to farm, what to forage and what to do between hunts, and our Monster Hunter World walkthrough and guide can help with main quest and story progress.
Wiggler locations in Monster Hunter World
First, travel to the Coral Highlands. They are green snake-like creatures that stand out of the ground in certain areas. The problem is they are pretty skittish, so you must tread carefully around them, otherwise they withdraw in to the ground.
Wiggler locations
The easiest locations to find Wigglers are in regions 1 and 3. Travel to the starting Southern Camp, and drop down. Immediately around you there are a few.
Take the steps up, and go left (west). There is another crowd.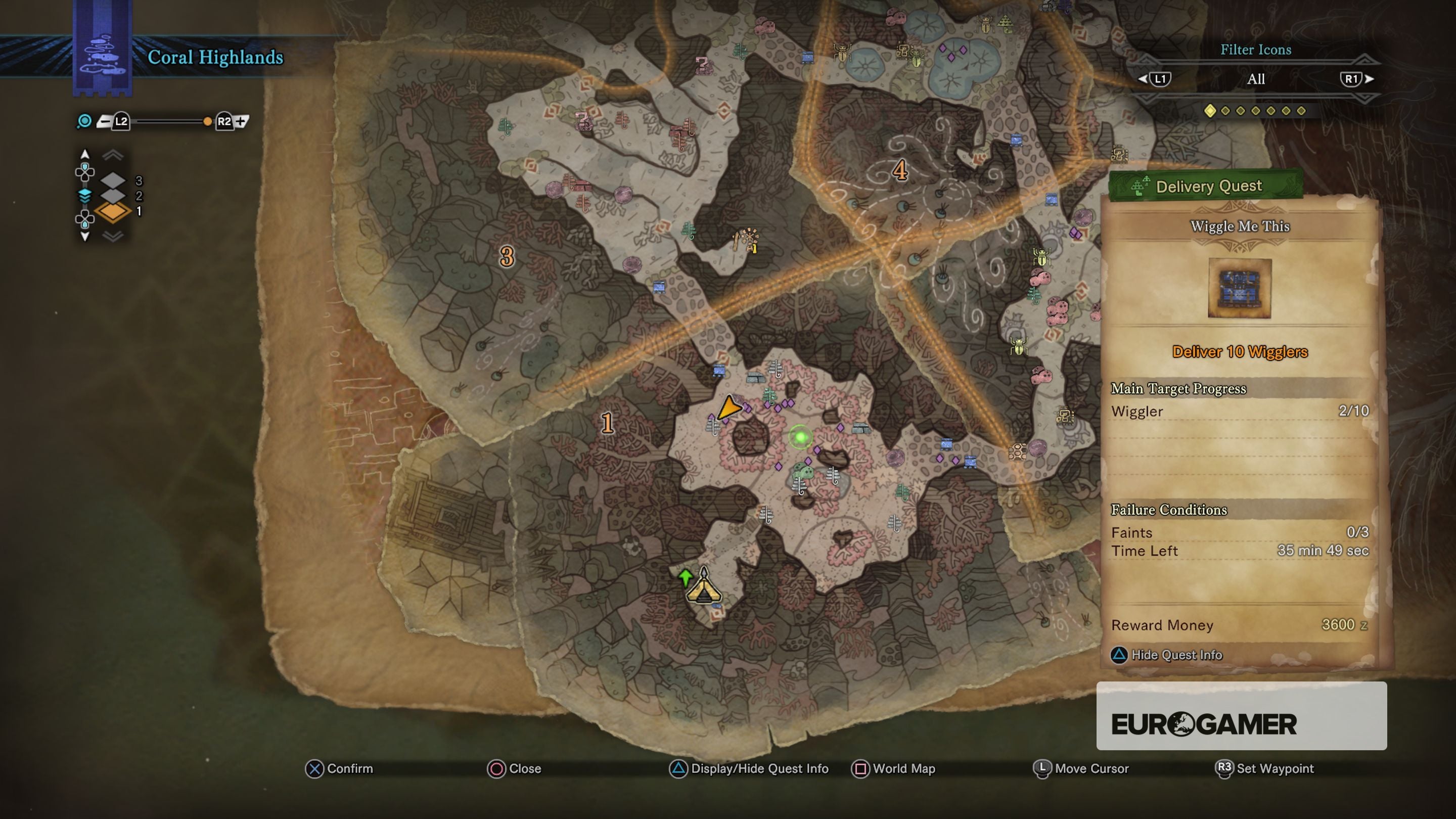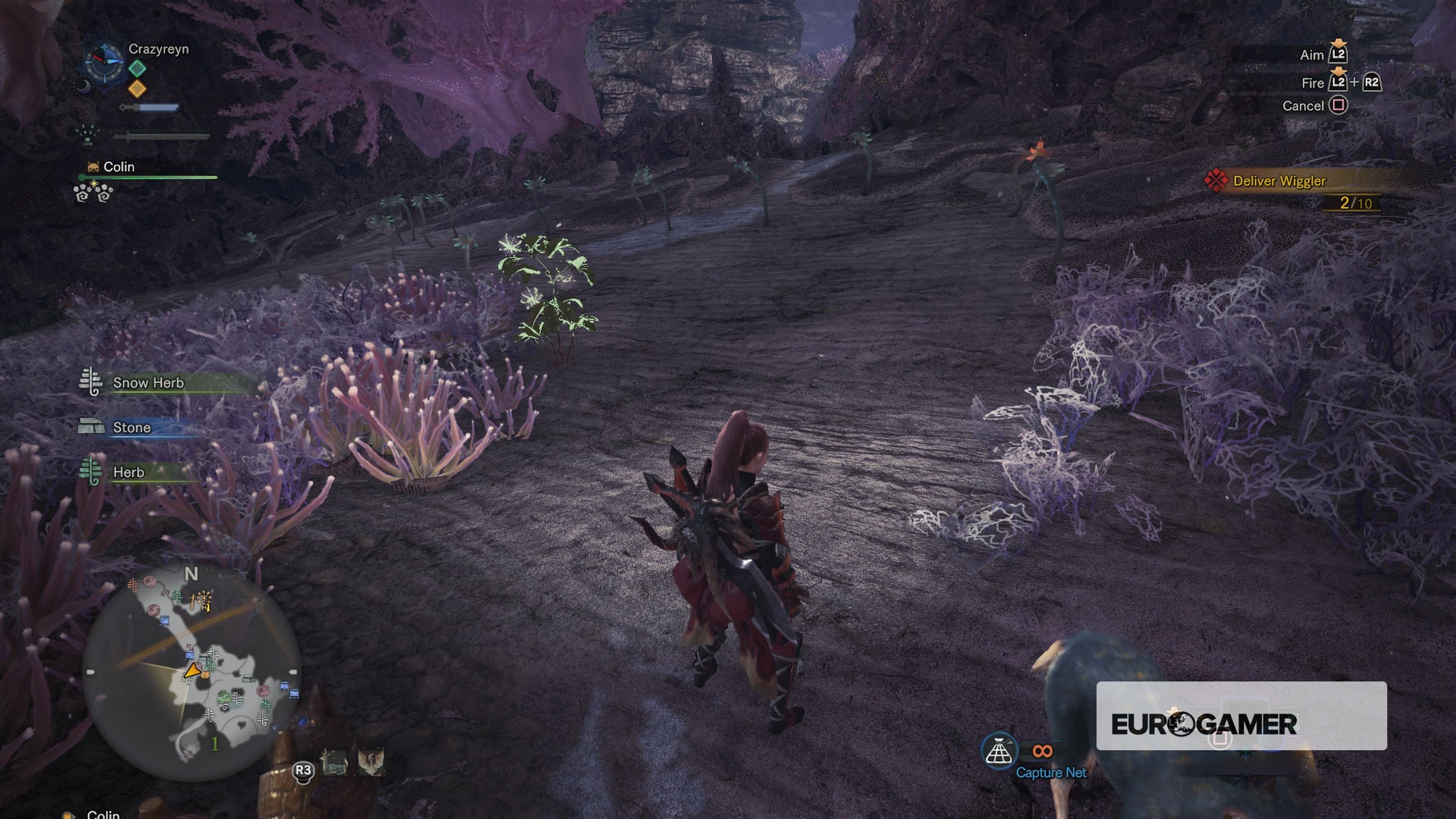 Then, if you go north from region 1 into region 3, after the coral 'bridge', you'll find some more.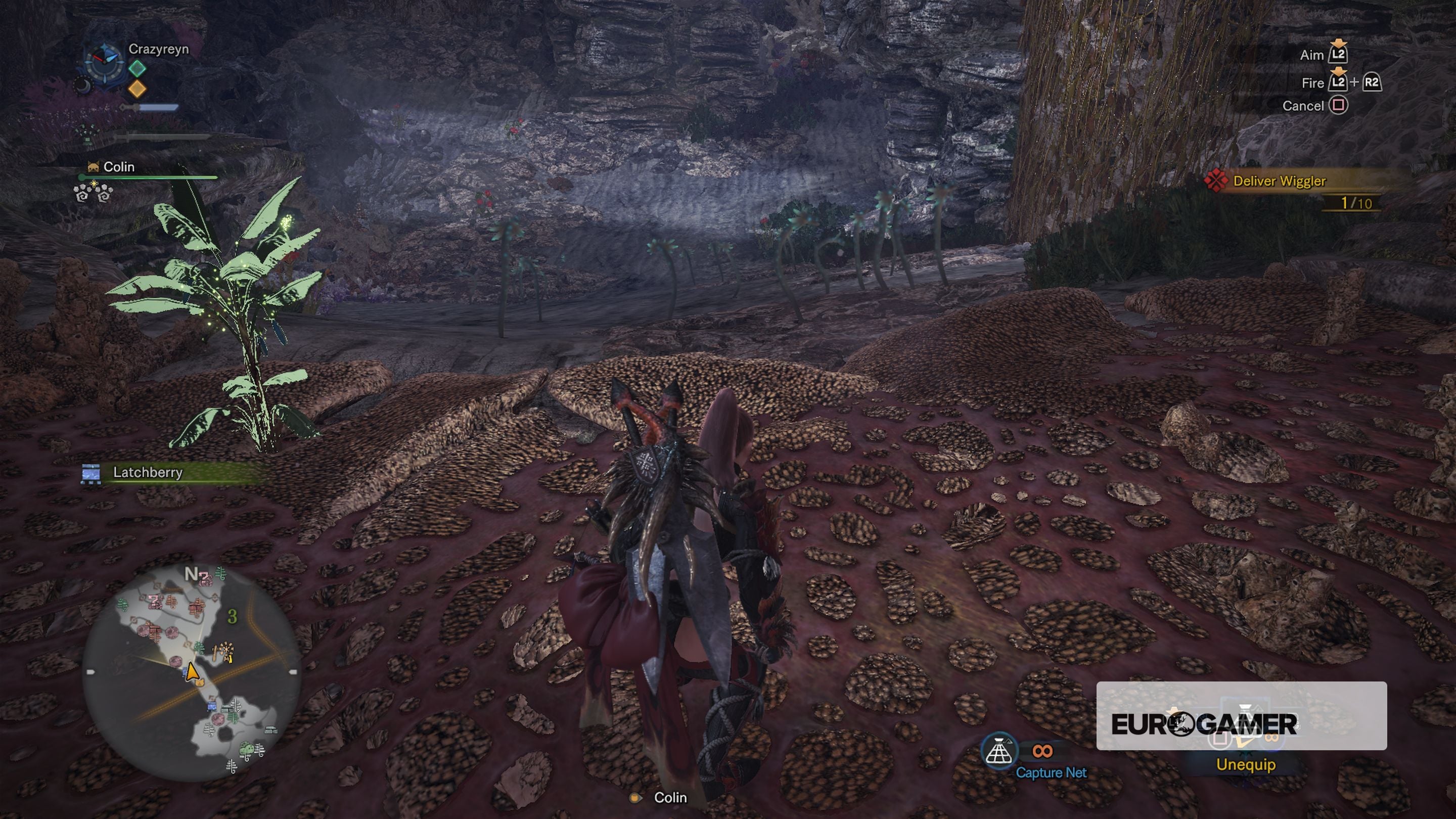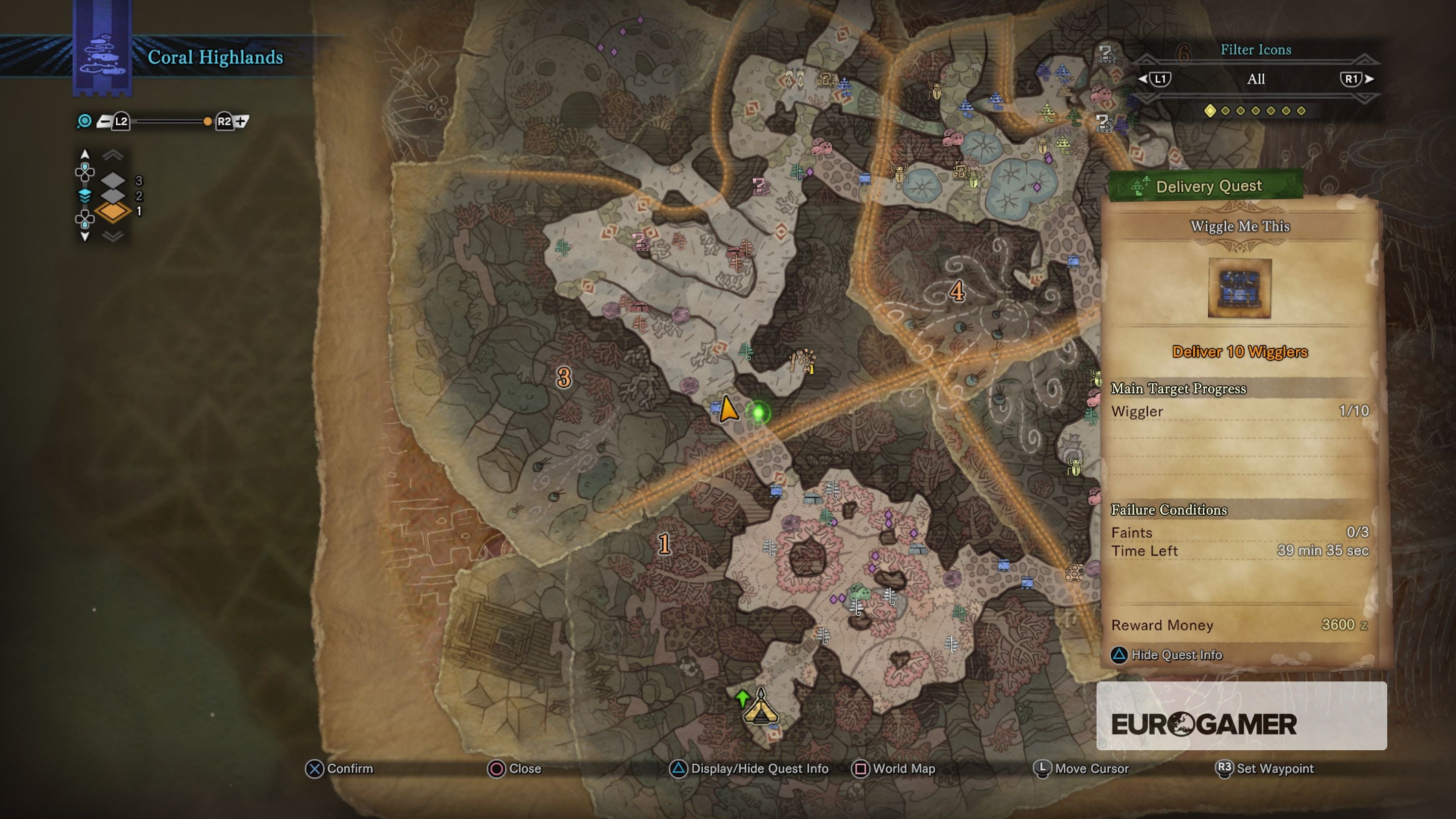 There are also some located as soon as you appear outside of the North-East Camp in region 10. As soon as you crawl out, they are standing right in front of you, ready to be caught.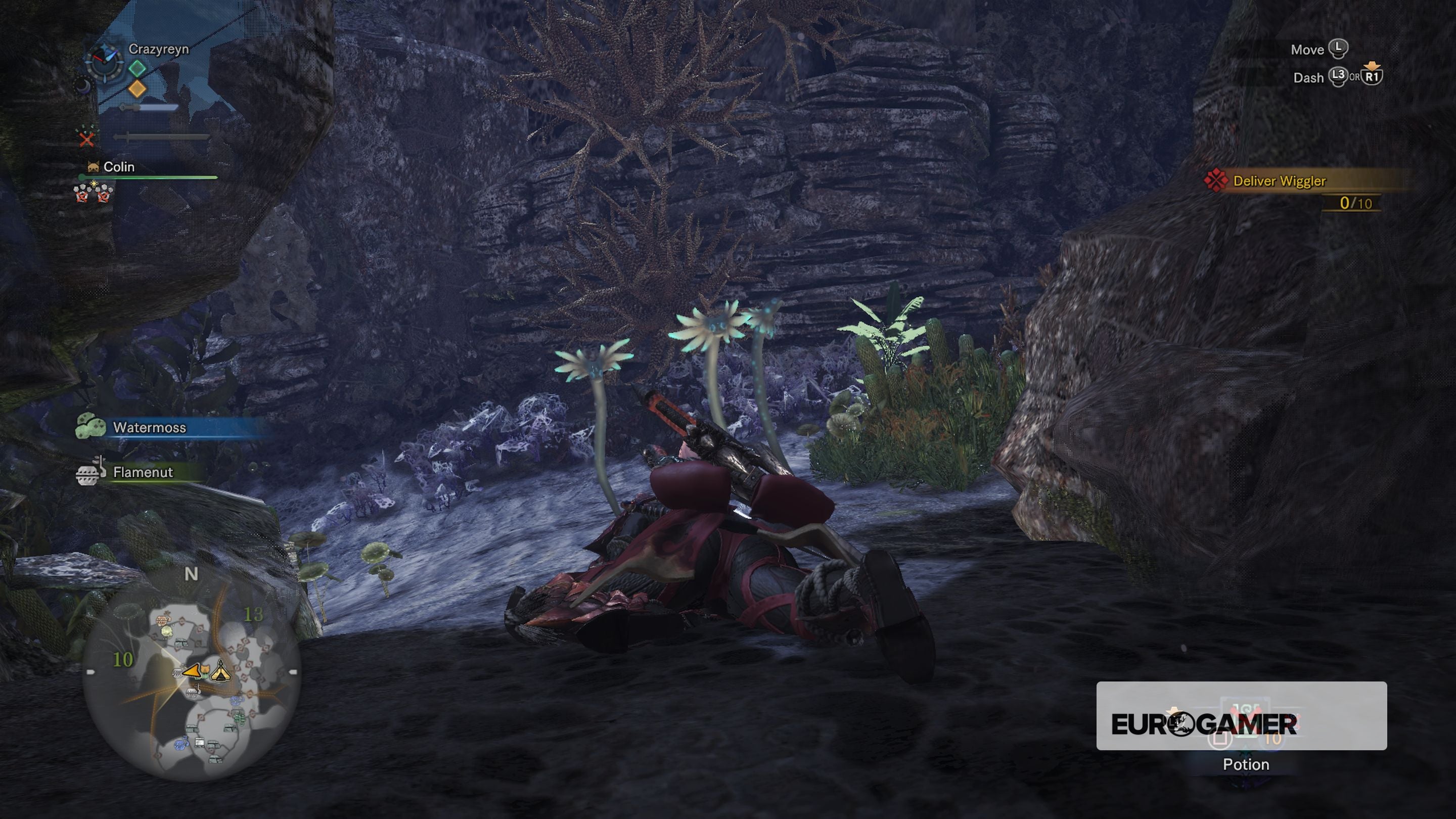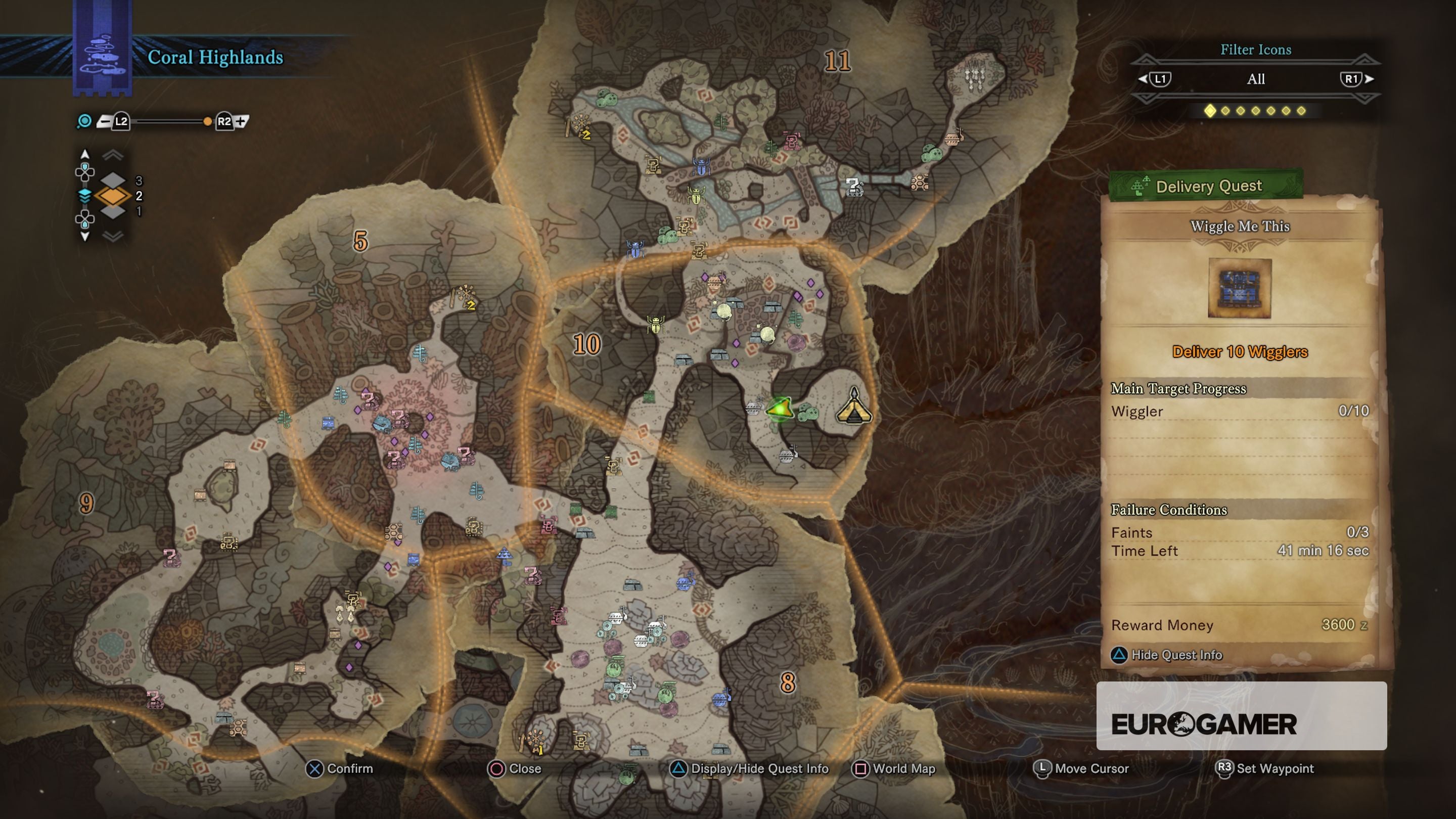 How to catch Wigglers
Catching Wigglers is difficult because of the way they run as soon as you get near. The easiest method is to wear the Ghillie Mantle (if you forgot it, then retreat back to camp, enter your tent and change your loadout) so you can run among them without being spotted.
You can also crouch (X on PlayStation, A on Xbox) to get fairly close.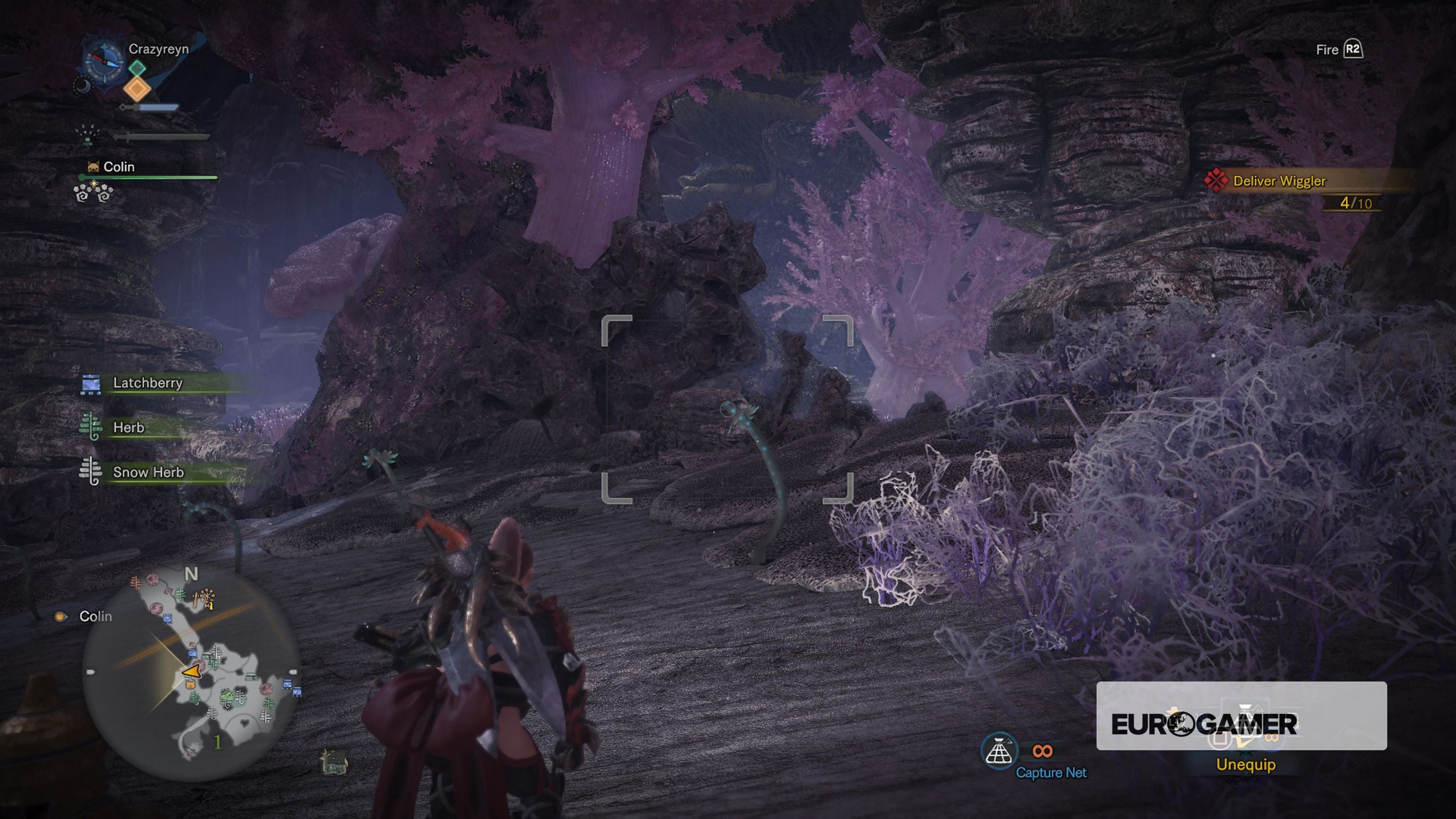 Then, with your Capture Net (if you don't know how to use it, then see our how to capture monsters page) and take aim.
If you aren't close, you'll want to aim at their heads, as the net will drop after a certain distance.
Whether you hit one or miss, the entire group of Wigglers will retreat as soon as the net lands.
You'll want to run away then come back later for them to appear, but the easiest method is to do the three spawn points outlined above in areas 1 and 3, fast travel back to the Southern Camp, and repeat, to get as many as you need.
---
Iceborne has arrived! Here's how to start Monster Hunter World Iceborne and beat the first monster, Beotodus. Once you get settled into the world, learn about Layered Armour in Monster Hunter World and the various side-quests available - including Surveyor Set missions, Boaboa quests and finding Pearlspring Macaque locations. And, when you're ready to take it on, Shara Ishvalda. If you're crafting, then learning where to find rare materials such as Purecrystal and Monster Slogbone is useful. Been away from Monster Hunter for a while and need a refresher? Our pages on weapon changes and types, how to join friends and Squads in multiplayer plus how to capture monsters and mount monsters can help.
---
How to start the Wiggle Me This event and get the Wiggler Head
The Wiggle Me This event is a time-limited quest added to the game in March, and has a few stipulations:
End date is Thursday, 8th March
Requires you are a Hunter Rank of 11 (which requires you have entered High Rank)
You have 50 minutes to complete it, and cannot faint more than three times
The event is a quest that'll drop you into Coral Highlands, and with the Wiggler spawn points the same as usual, the method mentioned above will still be of use.
With 50 minutes there's more than enough time to get everything you need, even if you do a few loops with no catches.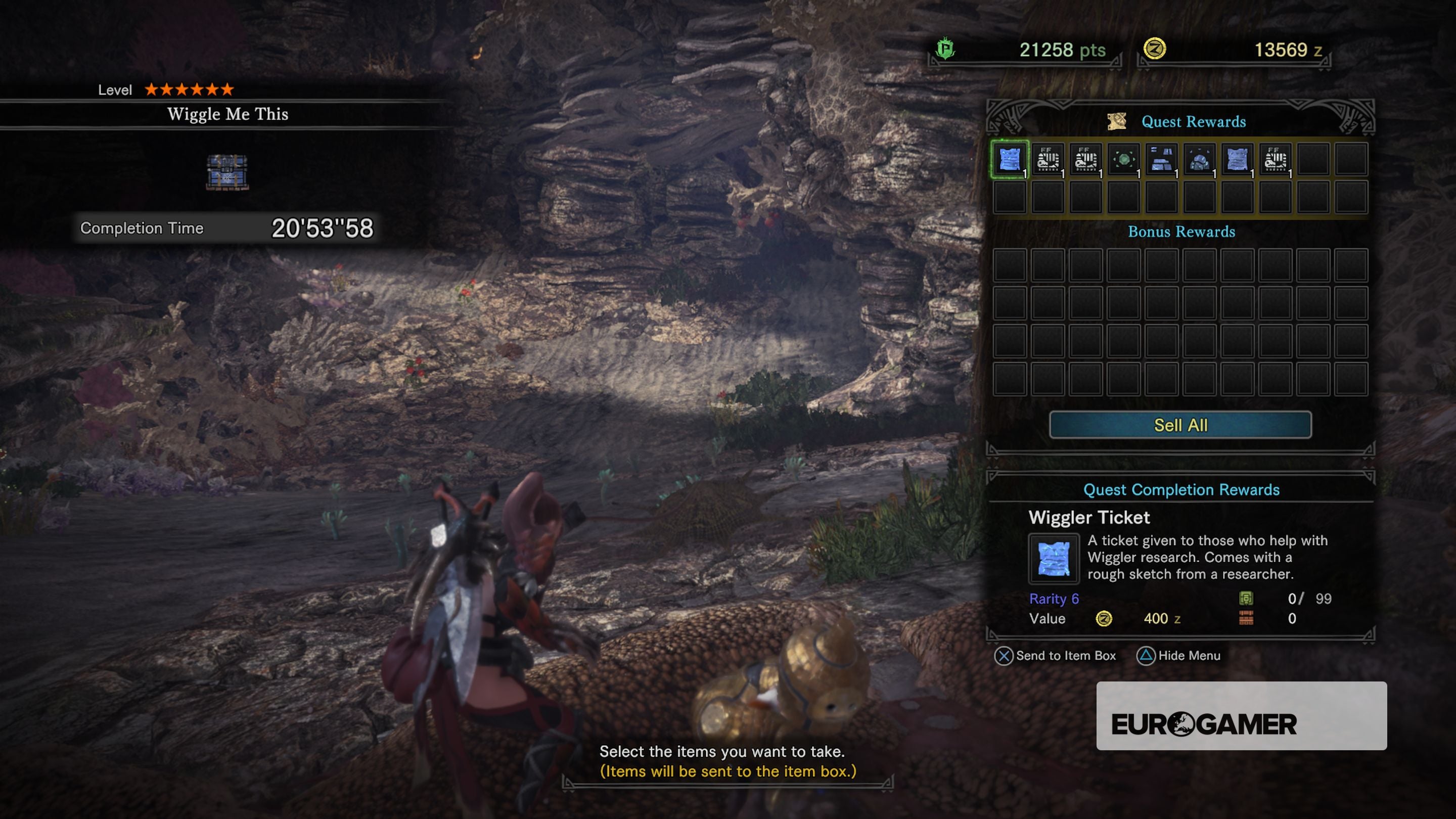 With the event finished, you'll receive a Wiggler Ticket as well as other rewards (including some Armour Spheres).
To craft the Wiggler Head, you'll need the following components:
3x Wiggler Ticket
4x Shamos Hide+
4x Gajau Scale
3x Coral Bone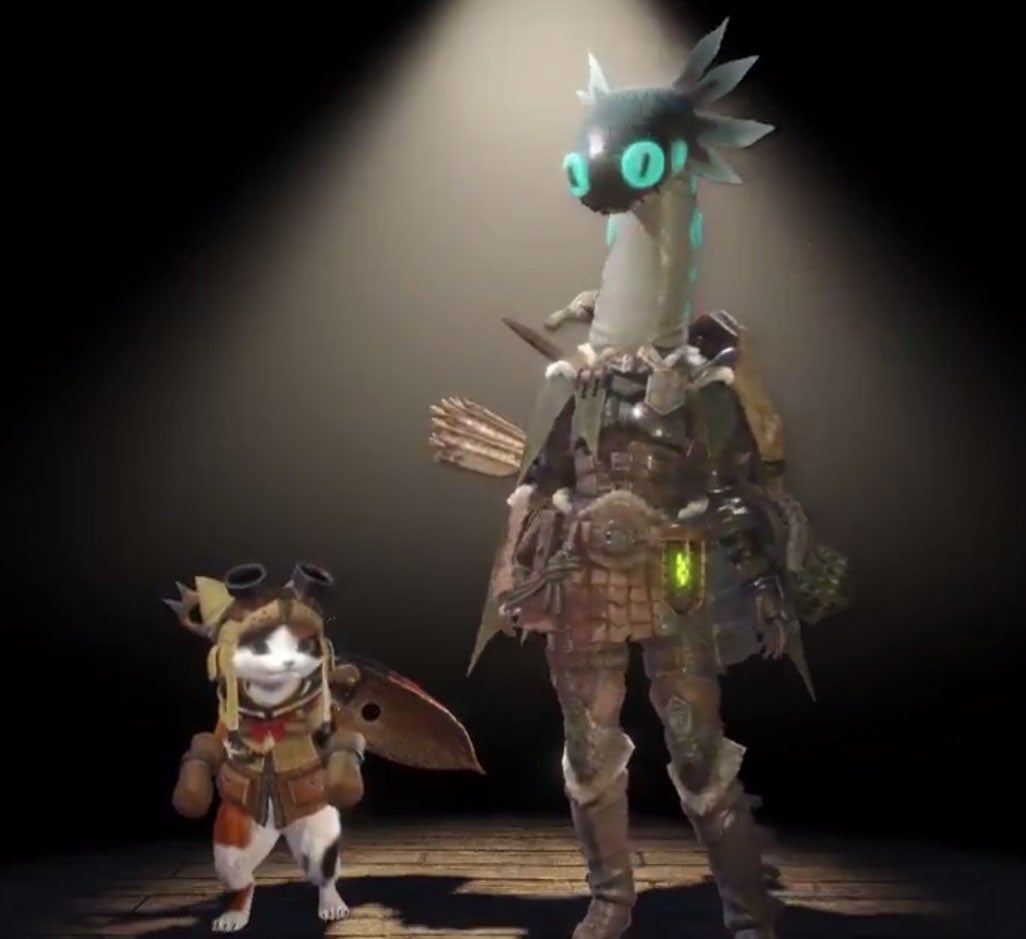 This means you'll have to run the event several times in order to get the Wiggler Tickets required. Use the opportunity to investigate Bone Piles if you are short on Coral Bones while you are there, too.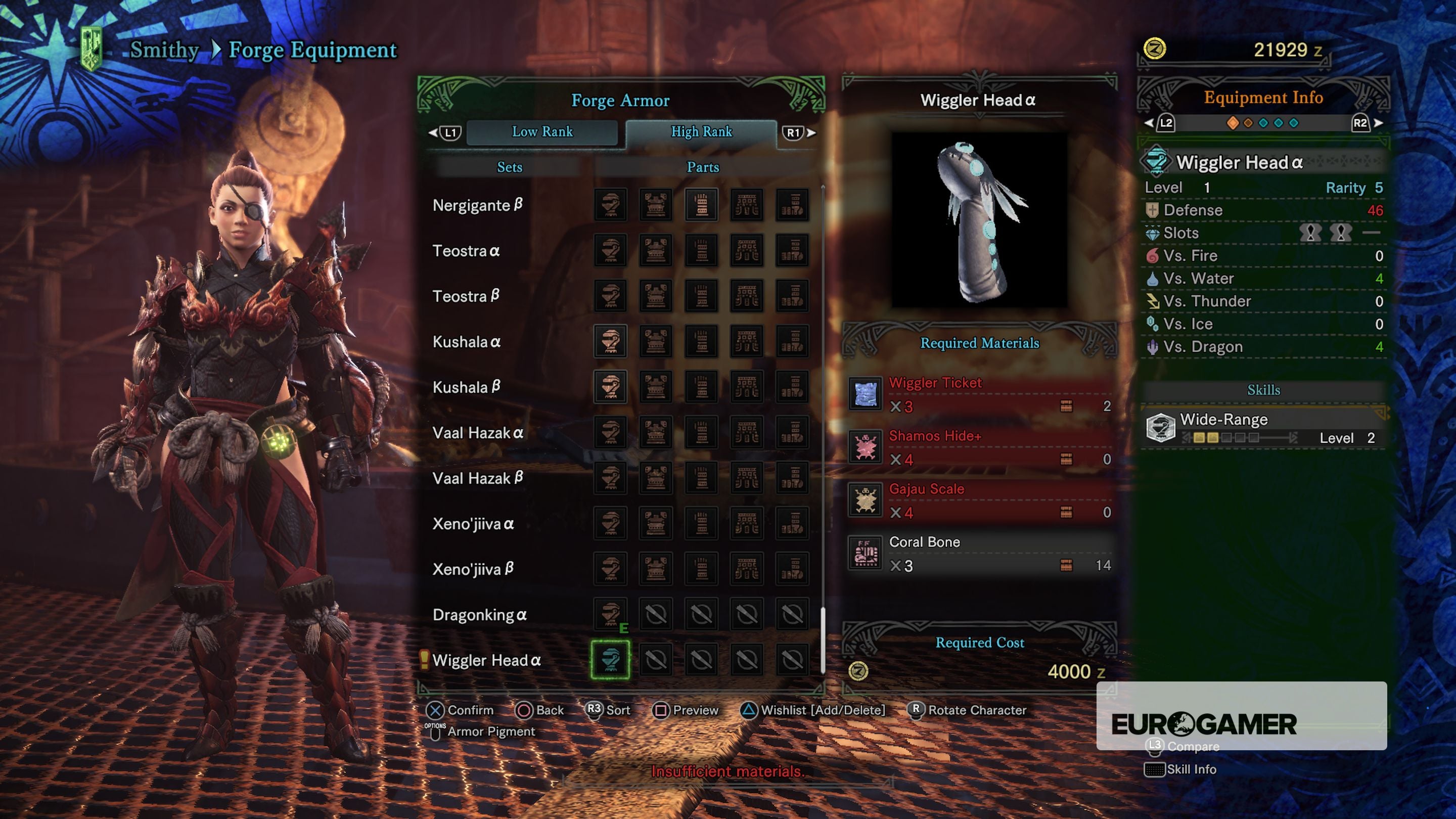 The hat itself isn't amazing stats-wise - it has 46 defence, and the Wide-Range skill (which "allows the effects of certain items to also affect nearby allies") but if you've just started High Rank, it's not a bad choice to go with.
It should also be worth noting, when the right time limited event quests roll around, it's possible to craft some Wiggler Head Layered Armour out of it, keeping your armour stats as well as the appearance.
Besides, it makes your head look like a Wiggler. Really, what more could you ask for?
Will you support Eurogamer?
We want to make Eurogamer better, and that means better for our readers - not for algorithms. You can help! Become a supporter of Eurogamer and you can view the site completely ad-free, as well as gaining exclusive access to articles, podcasts and conversations that will bring you closer to the team, the stories, and the games we all love. Subscriptions start at £3.99 / $4.99 per month.