Minecraft Xbox 360 Halloween Skin Pack released, money goes to charity
Contains 55 player skins donated by top devs.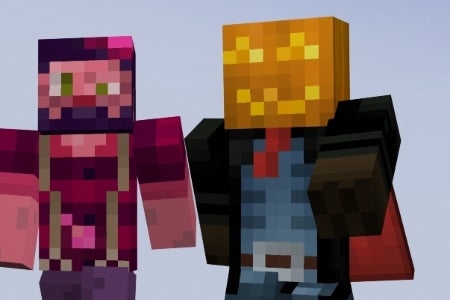 The Minecraft: Xbox 360 Edition Halloween Skin Pack has just launched on Xbox Marketplace, with every penny of its price-tag going to charity.
The add-on contains 55 character designs and costs just 160 Microsoft Points (about £1.36).
Proceeds will be split between Child's Play, Macmillan Cancer Support, Sands Lothians (which offers support to bereaved parents) and Block by Block (a project to engage young people in designing public spaces that uses Minecraft as a tool).
You can read more about the charities over on Play XBLA.
Skins from Minecraft: Xbox 360 Edition developer 4J Studios are joined by creations from 343 Industries, Rare, Mojang, Ronimo, Twisted Pixel, Tequila Works and more.
Included are:
343 Industries: Vampire
4J Studios: The Grim Reaper, Devil, Dracula, Frankenstein, Mummy, Werewolf, Ghost, Evil Wizard, Bride of Dracula, Bride of Frakenstein, Ghoul, Scary Clown
Army of Trolls - Dracula, Frakenstien, Pumpkin, Skeleton, Mummy, Wolfman
Climax Studios - Zombie Businessman, Cyclops, Evil Clown, Evil Robot, Vampire Girl, Grey, Headless Horseman, Lizard Man, Scarecrow, Scary Nom, Mad Scientist, Skeleton, Witch Doctor, Zombie
Mojang - Evil Robot
Owlchemy Labs - Zombie Jack Lumber
Press Play - Evil Lemmy, Evil Max
Rare - Gregg the Grim Reaper, Ancient Mummy, Zippy Zombie
Ronimo Games - Zombie Lonestar
Ska Studios - Cyborg Pumpkinhead, Mara
Tequila Works - Mining Unit 010, Jacko, Bonny
The Behemoth - Hatty
Toylogic - Happy Zombie Cleric, Happy Zombie Mage, Happy Zombie Warrior
Twisted Pixel Games - Captain Zombie, The Gunstringer, Ms. Splosion Man Mask, Skelly, Splodeton