Minecraft Lego officially in development
Toymaker gives game tie-in the green light.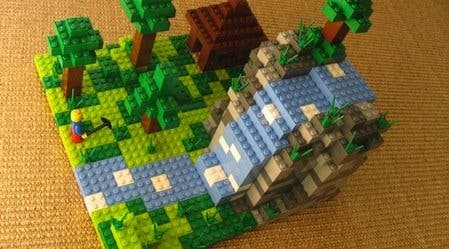 A pitch for an official Minecraft Lego product line has passed the Danish toymaker's internal review system and is now in full development.
As spotted by Kotaku, a post on the Lego Cuusoo site, which accepts suggestions for new product lines and puts them to a public vote, confirmed that the project has got a green light from management. However, it wouldn't go into further detail as to exactly what form the tie-in will take.
"Until now, the project has been in the Lego Review - a stage before product development begins where a Lego Jury evaluates the idea's feasibility as a product and makes a decision," it read.
"We're happy to announce that the Minecraft project on Lego Cuusoo has passed the Lego review and we are now developing a concept that celebrates the best aspects of building with the LEGO system and in Minecraft. We can't wait to show it to you-but it isn't ready just yet. These things take time, so we appreciate your patience."
Minecraft developer Mojang initially submitted the concept for a Lego collaboration, linking to an existing project submission on the Cuossoo site. The listing quickly racked up the 10,000 votes required to go in front of the Lego Review.
The developer has pledged to donate any royalties it sees from the Lego sets to charity.