Microsoft formally unveils the disc-less Xbox One S All-Digital Edition, out in May
Will cost £199.99.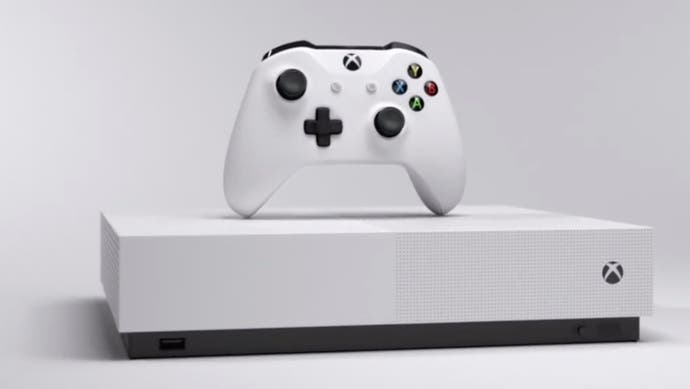 Microsoft's long-rumoured disc-less Xbox One has finally been made official. It's called the Xbox One S All-Digital Edition and launches on 7th May.
A disc-less Xbox One was first mooted last year, by reliable tech website Thurrott, with reports suggesting that it would have a sub-$200 USD price point, and release some time this spring. And it looks like Thurrott got it mostly right, with Microsoft today confirming that the Xbox One S All-Digital Edition will cost £199.99/$249.99 USD.
The digital-only Xbox One S, which is identical to the regular Xbox One S minus the optical drive, will be bundled with three games - Minecraft, Forza Horizon 3, and Sea of Thieves. Pre-orders open today via the Microsoft Store and select retailers, and Microsoft notes that purchasers can take advantage of its three-month trial of Xbox Game Pass for £1/$1 USD.
Digital Foundry's Richard Leadbetter gave his own thoughts on a possible disc-less Xbox One earlier this year, writing that while it "may not appeal much to the core gamer... I see it as a perfect companion for Microsoft's value-laden, digital-based Game Pass service. In short, just like Game Pass, it's a new offering designed to address a different, potentially wider audience."