Metroid Prime: Federation Force to roll up in September
Just Aran the corner.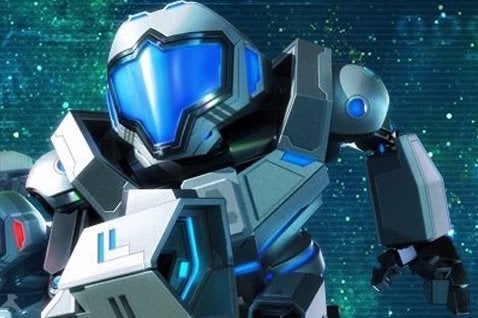 3DS shooter spin-off Metroid Prime: Federation Force will launch for 3DS in Europe on 2nd September, Nintendo has announced.
Federation Force found unfortunate fame last year when it was announced at E3 2015 to a universally negative response. Reaction to today's date announcement has been similarly poor.
"So Nintendo will waste our time talking about this at E3..." one fan wrote on Twitter. Others questioned the later-than-expected release date - the game was originally expected to release earlier this year.
A side story designed to be set during the acclaimed Metroid Prime series, Federation Force does not centre on series heroine Samus. Instead, it will tell the story of faceless Galactic Federation marines.
Samus will still apparently feature in some capacity - albeit as an NPC.
The game's multiplayer mode is another departure from the franchise's norm: it is a Rocket League-esque sports mini-game named Blast Ball.
Upon its unveiling, fans showered the game with negative feedback centering on its art style and lack of similarity to other Metroid titles.
Nintendo's last Metroid title, Other M, released all the way back in 2010. It is safe to say this wasn't the Metroid game fans were expecting, or wanted.
But let's not give up all hope. It's worth noting Federation Force is being overseen by Metroid Prime boss Kensuke Tanabe. Development-wise, it is also in safe hands at Next Level Games, the studio responsible for the enjoyable Luigi's Mansion 2 and Mario Strikers series.
Speaking to Eurogamer at E3 last year, Tanabe reasoned to me that the game's story, while different, is one he has always wanted to tell - of a big conflict between Galactic Federation troops and the enemy Space Pirates.
As for the next proper Metroid Prime game? "It would likely now be on Nintendo's NX console," Tanabe said, when I asked when we'd see Metroid Prime 4.
"Instead of broadening it to more planets I would have one and would focus on the timeline, and being able to change that. That's one interesting idea I have in mind..."