Metal Gear Solid 5: The Phantom Pain reveals adorable pet dog
UPDATE: All the TGS trailers are now available in English.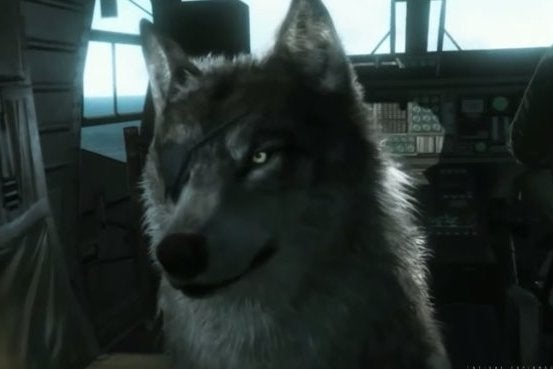 UPDATE 26/09/2014 2.48am: All of Metal Gear Solid 5: The Phantom Pain's Tokyo Games Show trailers are now available in English.
The Diamond Dog trailer had already been translated by fans, while the 20-minute gameplay walkthrough could mostly speak for itself. But the Quiet story trailer is a lot more interesting when you can actually understand what's going on. It certainly ends on an intriguing note.
Plus it's fun to watch these with the English voice actors in place. The translation is a bit different too, in ways that sound slightly more natural, I reckon.
UPDATE: 22/09/2014 11.52pm: Kojima Productions' amazing horror game/Silent Hills teaser P.T. starred one of gaming most horrifying concoctions: a one-eyed ghost named Lisa. Now, Lisa appears to make a came in the developer's other triple A project, Metal Gear Solid 5: The Phantom Pain.
As seen in the Tokyo Games Show stream by YouTuber TheGrateDebate, Snake throws out decoys of what turns into Lisa's ghost.
ORIGINAL STORY: 22/09/2014 7.35pm: Metal Gear Solid: The Phantom Pain may deal with torture, nuclear proliferation, child soldiers and who knows what other sobering, relevant topics, but it just got about a thousand times cuter with the following TGS trailer showing off Snake's new eye-patch wearing pooch.
A translated version of the trailer popped up on YouTube channel Metal Gear Moments, as we watch Snake stoically bond with a canine before leaving to do super secret spy stuff, only to return and find his cute puppy dog has grown into a fierce wolf.
Why is this canine sporting an eye-patch? Is it because it's totally adorbs, or did Ocelot do something to that dog while training him? If that's the case, it certainly given us a whole new level of hate for everyone's favourite gunslinging antagonist.
For more Metal Gear puppy love, check out the full Japanese presentation below (via Open World Games) that includes some jungle-based gameplay with a cub version of our new furry friend.