Mega Man X-inspired procedural rogue-like 20XX comes to consoles in July
Heading to Switch, PS4, and Xbox One.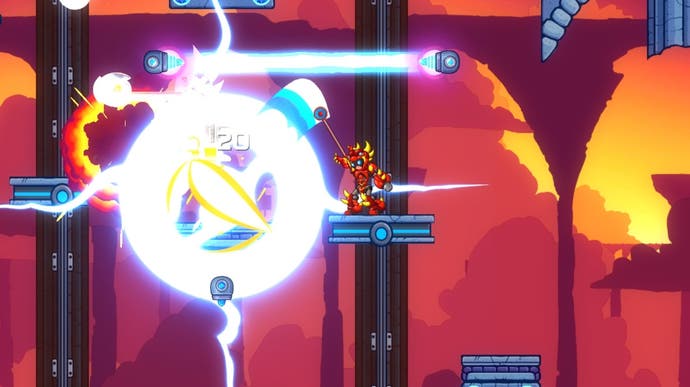 Developers Batterystaple Games and Fire Hose Games have announced that their Mega-Man-X-inspired procedural rogue-like 20XX will be heading to Switch, PlayStation 4, and Xbox One this July.
20XX launched on Steam Early Access back in 2014, following a successful Kickstarter campaign, and finally celebrated its 1.0 release last August. It's a bit of a good 'un too, reinterpreting Mega Man X's classic side-scrolling run-and-gun platform action as a more modern, procedurally-generated rogue-like.
Stages are reassembled (using pre-made chunks) each play-through, and interspersed with well-designed bosses battles. 20XX pretty much nails its movement and gunplay too, which is just as well, given its tough challenge and permadeath structure.
Repeated failure is tempered by the fact that credits earned each run can be used to purchase permanent upgrades and to unlock handy items that you'll uncover on subsequent play-throughs, broadening your options and your chances of success on future attempts. And if permadeath sounds a bit much, there's a three-life Reverent Mode too.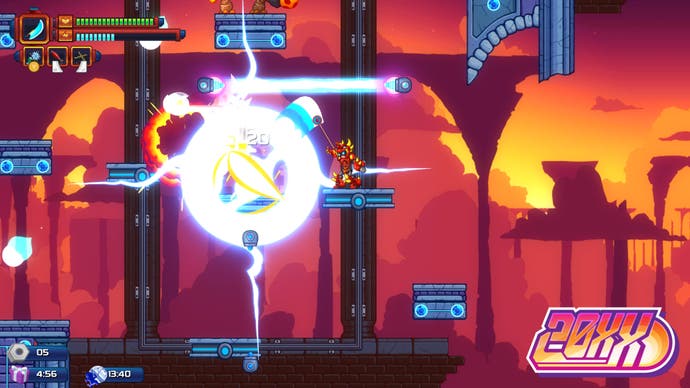 20XX doesn't skimp on things to do either; alongside the sheer replay value inherent in its constant reconfigurations, there are multiple difficulty settings, daily and weekly ranked challenges, and three distinct playable characters in the form of Nina, Ace, and Hawk - the latter of which arrived on PC as paid DLC, but will be included as part of the console version.
Chuck in a pleasing art-style, two-player co-op - both local and online - and a wonderful chip-tune soundtrack, and 20XX is well worth a look if you're hankering for some old-school platform action. It's out on Switch and PS4 on July 10th, and Xbox One a day later on July 11th.