Luis Suarez real-life football ban extends to FIFA 15
Former Liverpool man not available in Ultimate Team or Career mode.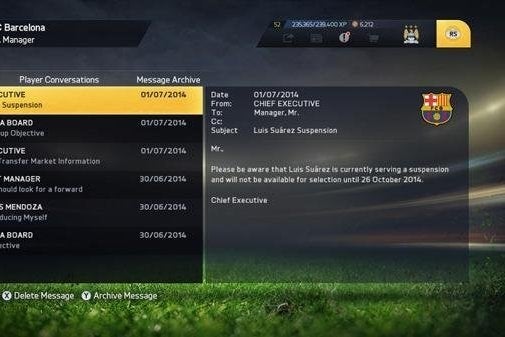 When Uruguayan striker Luis Suarez took a bite out of Italian defender Giorgio Chiellini at the World Cup this summer, he was quickly banned from "all football activities" by governing body FIFA until the end of October. It turns out that also included game modes in FIFA 15.
At the time of writing, searches on the transfer market in FIFA 15 Ultimate Team return no results for Luis Suarez, while anyone taking charge of Barcelona, where the striker moved in the summer, receives an email from the chief executive stating that he is suspended and unavailable for selection until 26th October.
Suarez is available to select in exhibition matches using Kick-Off mode, at least, although he starts in the reserves by default with Match Day Experience switched on.
We have contacted EA to ask for a comment on Suarez's suspension and will update this story if we get anything back.
Either way, given that Suarez has received a sizable upgrade since last season - he's now the seventh-best player in the whole of Ultimate Team, with an overall rating of 89 - he's likely to be pretty popular when he is finally released from his suspension. At least until he bites someone else, anyway.