Lots of quirky VR missions revealed in this Revengeance DLC trailer
The sword with Snake's voice is shown off too, albeit in Japanese.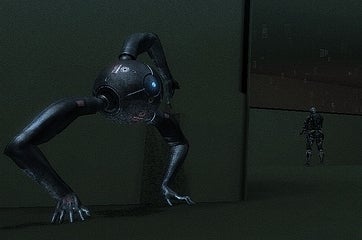 Konami has released a gameplay trailer showing off the first batch of DLC for Metal Gear Rising: Revengeance due this week on PSN and Xbox Live.
As one can see in the trailer below, the VR Mission expansion broadens Revengeance's mechanics by including lots of sections devoted to the adorable tri-armed dwarf gecko. Some of these missions are tailored around 2D sidescrolling, 3D platforming, or variants of Frogger where you must guide your little droid across a highway teaming with tanks. There's still plenty of Raiden stuff too, with what appears to be more 2D stages and the double decker dwarf gecko stacklings make an appearance as well.
We also get a glimpse of the sword imbued with Snake's voice, but sadly, this is a Japanese trailer, so we can't understand what he's saying. It looks like he provides commentary throughout, rather than quick sound effects when bashed against cyborg skulls.
Next up for Revengeance will be further story-related DLC where you play as antagonist Jetstream Sam and robo-dog LQ-84i.
The Revengeance VR Mission DLC costs £1.99 or 240 Microsoft Points in Europe. In North America the add-on is a PS3 exclusive, but it will also be free from 12th March until 3rd April over there.