Looks like Scribblenauts is getting a revival on PS4, Xbox, Switch
UPDATE: Confirmed, coming 9th March.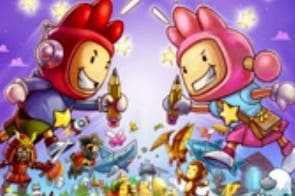 UPDATE 16/1/17 2.00pm: Warner Bros. just officially announced Scribblenauts Showdown for Nintendo Switch, PlayStation 4 and Xbox One with a 9th March release date.
There are multiplayer modes for two players (with 25 mini-games) and four-players (with card-based strategy gameplay) which rely on the series' trademark word-based gameplay.
And there's a more typical sandbox mode too, which allows players to solve objectives by coming up with the right combination of words.
Here's a teaser:
The game's dictionary, by the way, now covers over 30,000 words.
UPDATE 16/1/17 10.50am: Scribblenauts Showdown has popped up a second time, this time via a listing on the ESRB - the US ratings board.
As spotted by Gematsu, the listing describes the new Scribblenauts game as a "party/puzzle-platformer" with competitive mini-games for multiple players.
"Players engage in a variety of tasks and mini-games using a selection of words/actions/modifiers/characters," the listing states. "Mini-games include fishing, racing, and using drones to deliver items. Players can type in random nouns and adjectives to create different word combinations that trigger comical scenarios. Some games/tasks prompt players to use 'cartoony' weapons (e.g., bazookas, bombs, swords) to deplete the health meters of other characters.
"Characters can also eat/bite other characters when prompted by a modifying word/trait. A handful of areas contain enemy characters (i.e., skeleton warriors) that will attack players if approached. During an eating-contest mini-game, players' character may vomit if they consume too much food without swallowing; a comical 'gagging' sound effect is heard, as well as brightly-colored green vomit."
There's still no word on an official announcement, but it can't be long now.
---
ORIGINAL STORY 7/12/16: The Scribblenauts series looks like it is getting a revival via a new game for Nintendo Switch, PlayStation 4 and Xbox One.
Scribblenauts Showdown has been spotted on the Taiwan ratings board website, which has leaked numerous announcements in the past (thanks, Nintendo Everything).
There's what looks like cover art, too, showing what appears to be two players facing off against each other in the series' trademark "type it to create it" gameplay.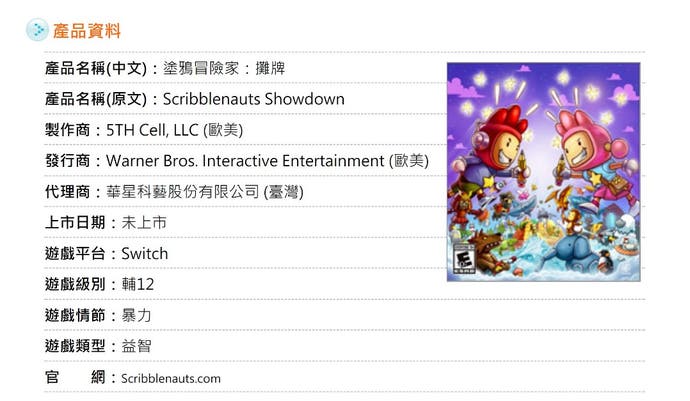 We've asked publisher Warner Bros. for more information.
In the meantime, host of tonight's Game Awards Geoff Keighley has confirmed the reveal isn't happening as part of his show.
The original Scribblenauts launched for Nintendo DS back in 2009. Four sequels then followed across DS, iOS, Wii U, PC, before developer 5th Cell canned the in-development sixth entry into the series Scribblenauts: Fighting Words.