Kingdoms of Amalur: Reckoning has "best" combat of any RPG - Rolston
Sorry Dark Souls, Skyrim, Zelda.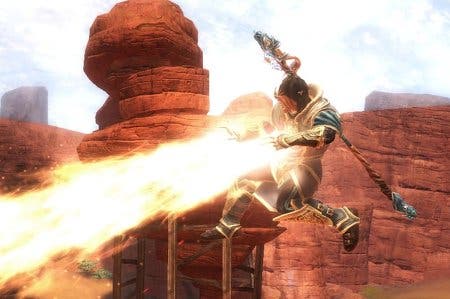 The Elder Scrolls 5: Skyrim and upcoming role-playing game Kingdoms of Amalur: Reckoning have "a lot in common", reckons lead Reckoning designer Ken Rolston.
But not everything - Reckoning's combat is apparently better.
"What makes Reckoning differ from Skyrim?" Rolston asked Gamefront. "The simple answer is that Reckoning has the best, coolest, fastest-paced, most tactile and silly-exciting fantasy combat of any video RPG.
"The pace, fluid movement, tactical richness, and physical and visual theatre of fantasy combat has always seemed the weakest feature of video RPGs, and Reckoning offers a fresh new answer in that department. There are a couple of other obvious contrasting features, like Reckoning's more vivid, colourful art style, and easy-to-pick up, faster-paced gameplay in general."
"They have a lot in common," Rolston added. "Both games are way too big and and have way too much to do, and they both seduce you into playing for hours and hours and hours.
"They both have whacking big epic storylines, and elaborate faction quest lines, and boatloads of quests, and lots of characters and books, and lots of crafting and alchemy, and lots of ways to customise your character.
"But in many large ways, and in many small ways, Reckoning tries to take a fresh look at the RPG genre, and is trying to be what RPGs will look like and feel like in the future utopia."
Ken Rolston was the lead designer of Elder Scrolls games Morrowind and Oblivion. He was brought out of retirement by Big Huge Games to help make Kingdoms of Amalur: Reckoning. He's been working alongside comic book hero Todd McFarlane (Spider-Man, Spawn) and best-selling fantasy author R.A. Salvatore (The Hunter's Blades Trilogy) on the game.
A generous demo of their creation, Kingdoms of Amalur: Reckoning, can be downloaded on all three formats - PC, PS3 and Xbox 360 - now.