Kingdom Under Fire 2 now a PS4 and PC game
Lead huge armies in an online tactical-action mash-up.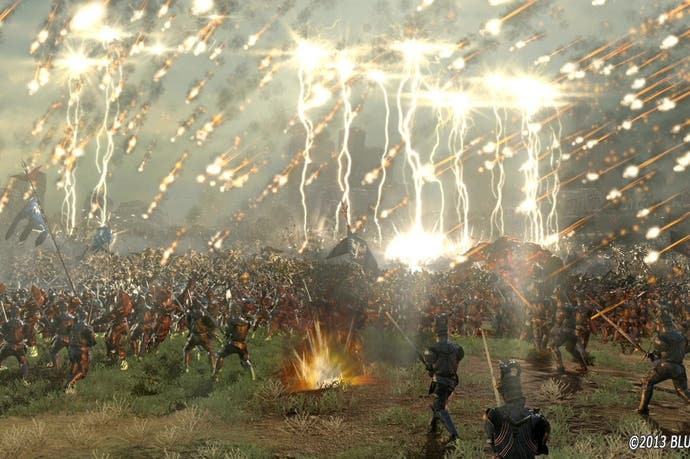 Strategical online fantasy warmongering game Kingdom Under Fire 2 has resurfaced as a PlayStation 4 and PC game, and is due, finally, next year.
The PC version will arrive West in the first-half of 2014, and the PS4 version will touch down in mid-to-late 2014. Discussions with PC publishers and Sony, for PS4, are on ongoing, Blueside told me this morning.
The native Korean version will arrive on PC in early 2014, as will Southeast Asia versions. Western regions won't be too far behind, in other words.
Kingdom Under Fire 2 puts you in charge of a fantasy hero who controls an army and does battle with huge enemy forces using overhead army-ordering tactics and colossal spells, as well as close range hack-and-slash fighting. Think Dynasty Warriors.
You can team up with other heroes and their armies to take on enemy hordes, their ranks filled with giant scorpions and rock monsters and powerful villains. There's a video showcasing three-player co-op below. The action appears fluid and meaty, which is impressive, given all that's going on.
Heroes and troops - there are more than 100 types - power-up over time, and there are guilds and politics and sieges and cultivation. The game's goal is to expand the territory you control and become ultimate ruler of the continent.
Last we heard, in 2011, Kingdom Under Fire was in development for PC and PS3. An Xbox 360 version had been sidelined because of Microsoft's restrictive online red tape.
Blueside is still talking to Sony about what to do with the PS3 version - to see "what will be best for the fans" - and is talking to Microsoft about getting the game on Xbox One. "Hopefully we can release the game on Xbox One as our fans wants," a spokesperson said.