Kinect Star Wars price roundup: where's cheapest?
Save over a tenner with Eurogamer's guide.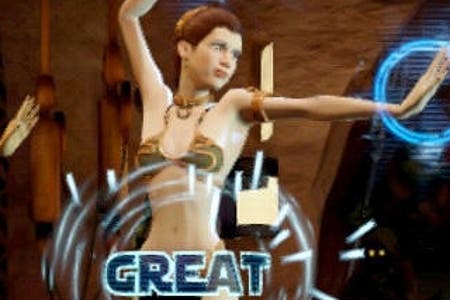 Kinect Star Wars was released in UK shops today - yes, a Tuesday. So where's the best place to get your helping of arm-waving lightsaber duels and galactic bikini boogying?
The cheapest bricks and mortar shop selling Kinect Star Wars is ASDA. The lettuce and loaf of bread leviathan is selling the game for just £26.97 in-store.
Morrisons is next best - it will sell you Kinect Star Wars for £29.99.
Online, UK retailer SimplyGames has the cheapest price at £29.85. But we've not used them ourselves so we can't say how reliable they are. Have you?
Otherwise, big name brands Tesco, Amazon and ShopTo are all offering Kinect Star Wars for £29.86 - just a penny more.
Tesco is offering 15 per cent off the game for a limited time. Enter the promo code EX-15OFF15-1 to unlock the saving (or alternatively get 300 Club Card points, should you wish). While it lasts, this offer brings the game's price down to just £25.38 - the cheapest anywhere.
Wherever you shop, most retailers are offering a decent reduction on the game's RRP, but beware the few still insisting on the full whack. Full details are in our pricing guide below.
Please note that while all information was correct at the time of publishing these things will change - and quickly. If you see something has altered or spot a deal worth sharing, let us know in the comments section.
Bricks and mortar shops
Asda - £26.97
Morrisons - £29.99
Tesco - £32.93
Sainsbury's - £34.99
HMV - £39.99
Game/Gamestation - £39.99
Online - PS3 and Xbox 360 versions