Blockbuster launches VIP Gamer rewards scheme
Retailer makes clear its gaming intention.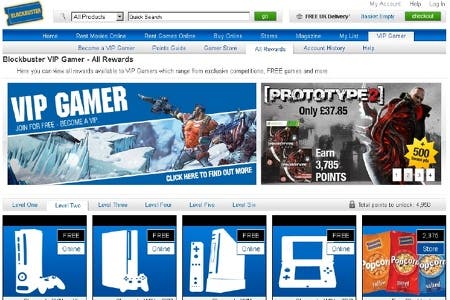 Blockbuster has signalled its intent to capture the hearts and minds of UK gamers with the launch of a rewards scheme of its own - one it reckons is the best available.
Blockbuster's VIP Gamer scheme launches today, and grants customers points for doing pretty much anything.
As with other reward schemes, such as GAME and Gamestation's reward card, VIP Gamer gives you points for spending money - 100 points for every £1 spent in-store and online.
But you also get points for watching game trailers and rating games on the Blockbuster website. You can redeem your points against various in-store and online offers, which are divided up by levels on the official website.
Here are some examples: you get a chocolate bar in-store with 850 points, and a can of Relentless with 1500. A £2.50 voucher for use on Blockbuster.co.uk is 6250 points. Want a PlayStation 3? You'll need a whopping 450,000 points.
A bullish Cat Kebbeh, head of marketing, said: "We know gamers and are sure that they will find our reward scheme better than anything they have seen before.
"In this competitive market, customers demand the best and we want to engage with them and reward their loyalty with us."
Blockbuster has already made more of an effort with games in recent months. Last month Blockbuster Clapham was the venue for the midnight launch event for Star Wars Kinect. And earlier this month it exclusively sold the Prototype 2 Limited Edition.