Just Cause dev working with Square Enix on "ground breaking" open world action game
Just Cause 3? Plus, Avalanche confirms work on movie and comic book licenses.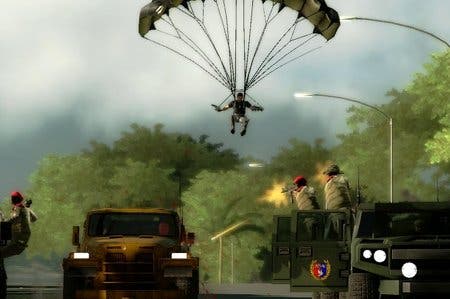 Just Cause developer Avalanche is working with Square Enix on an open world game, it's revealed.
Square Enix published the first two Just Cause games. Is this evidence that is will publish a third?
In an email sent to Eurogamer today to advertise a recruitment event at The Crowne Plaza Baltimore North Hotel on Wednesday 30th May, the Swedish developer said it was ramping up development on multiple current and next-gen console projects due out in 2013 and 2014.
It described its open world game as "ground breaking" and an "action title". Avalanche is long-rumoured to be making Just Cause 3, but will it be a current gen or next gen title?
In April Christofer Sundberg told Eurogamer Just Cause is "perfect" for the next Xbox and PlayStation 4.
In today's email Avalanche confirmed it is working on two further undisclosed projects based on movie and comic book franchises. One of these is thought to be based on upcoming flick Mad Max 4: Fury Road.