Japan chart: Skyward Sword debuts at number one
Metal Gear Solid HD at five, 3DS dominates hardware.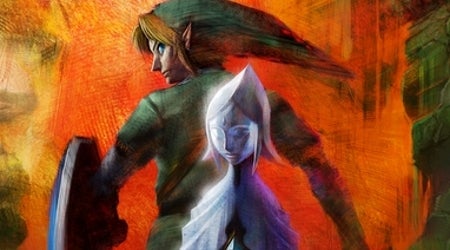 The Legend of Zelda: Skyward Sword debuted in the weekly Japanese chart at number one.
The critically lauded Wii adventure sold 194,978 in its first week to see off Sega PSP RPG 7th Dragon 2020 at two.
Skyward Sword performed better than Ocarina of Time 3D and Twilight Princess's debut weeks (139,011 and 164,110 respectively) - though both those games were released to much smaller install bases.
Sales fell well short of recent DS Zelda titles Phantom Hourglass and Spirit Tracks, which sold 302,887 and 291,000 respectively.
Elsewhere on this week's software chart, Metal Gear Solid HD Edition debuted at number five, while last week's number one, Modern Warfare 3 dropped to 10.
Here's the full top 20, as seen on Andriasang:
Legend of Zelda: Skyward Sword (Nintendo, Wii): 194,978 - NEW
7th Dragon 2020 (Sega, PSP): 122,498 - NEW
Saint Seiya Senki (Namco Bandai, PSP): 66,557 - NEW
Super Mario 3D Land (Nintendo, 3DS): 61,710 (Life to date: 560,960)
Metal Gear Solid HD Edition (Konami, PS3): 61,192 - NEW
Little Battler eXperience Boost (Level-5, PSP): 60,727 - NEW
Weiss Schwarz Portable (Namco Bandai, PSP): 47,586 - NEW
Uta no Prince Sama Music (Broccoli, PSP): 38,918 - NEW
Taiko Drum Master Wii Ultimate Version (Namco Bandai, Wii): 32,098 - NEW
Call of Duty: Modern Warfare 3 (Square Enix, PS3): 29,726 (210,098)
One Piece Gigant Battle 2 (Namco Bandai, DS): 27,379 (143,441)
Pop'n Music Portable 2 (Konami, PSP): 20,965 - NEW
Ni no Kuni: Wrath of the White Witch (Level-5, PS3): 20,185 (87,217)
Kirby's Adventure (Nintendo, Wii): 19,527 (255,566)
Final Fantasy Type-0 (Square Enix, PSP): 16,655 (698,828)
Hatsune Miku: Project Diva Extend (Sega, PSP): 16,322 (231,037)
Poképark 2: Beyond the World (The Pokémon Company, 11/12): 14,710 (69,740)
Just Dance Wii (Nintendo, Wii): 14,013 (230,268)
Wii Party (Nintendo, Wii): 13,756 (2,036,622)
Sengoku Basara 3 Utage (Cacpom, PS3): 13,233 (163,201)
The 3DS continued its dominance of the hardware chart, with sales up from 96,219 last week to 120,920. With Mario Kart 7 out next week and Monster Hunter Tri G the week after, that upward trend should continue through December.
PlayStation 3 and PSP followed in second and third, though both saw sales drops. The Wii got a healthy bump off the back of Skyward Sword, but remains at four.
3DS: 120,920 (Last week: 96,219)
PlayStation 3: 34,031 (40,085)
PSP: 33,151 (41,069)
Wii: 20,148 (13,613)
DSi XL: 2237 (1813)
Xbox 360: 1678 (1763)
PlayStation 2: 1294 (1291)
DSi: 993 (897)
DS Lite: 35 (31)