Japan chart: Kid Icarus soars, Ninja Gaiden 3 stumbles
Plus, new colours give 3DS sales a major bump.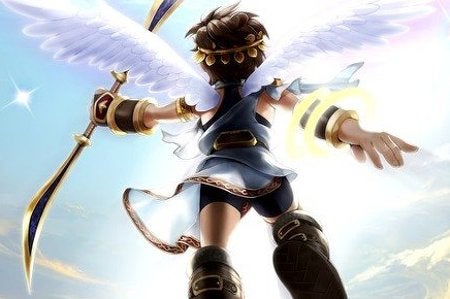 3DS franchise revival Kid Icarus: Uprising flew to the top of the Japanese software chart in its first week on release.
The game, which picked up a heavenly 9/10 from Eurogamer last week, sold 132,526 - well ahead of PSP Yakuza spin-off Black Panther 2 in second with 104,937.
Further down the chart, Devil May Cry HD Collection debuted at four on PlayStation 3, shifting 43,791, while Tecmo's critically mauled Ninja Gaiden 3 limped in at five, selling 29,797.
Here's the full chart, as posted on Andriasang:
Kid Icarus: Uprising (Nintendo, 3DS): 132,526 - NEW
Black Panther 2: Yakuza Ashura Chapter (Sega, PSP): 104,937 - NEW
Pokemon + Nobunaga's Ambition (The Pokemon Company, DS): 65,046 (Life to date: 237,073)
Devil May Cry HD Collection (Capcom, PS3): 43,791 - NEW
Ninja Gaiden 3 (Tecmo Koei, PS3): 29,797 - NEW
Mugen Souls (Compile Heart, PS3): 23,004 - NEW
Monster Hunter 3G (Capcom, 3DS): 22,402 (1,337,122)
Mario Kart 7 (Nintendo, 3DS): 20,890 (1,601,979)
Super Mario 3D Land (Nintendo, 3DS): 20,305 (1,439,760)
Shining Blade (Sega, PSP): 19,032 (141,289)
Hakuouki Bakumatsu Musouroku (Idea Factory, PSP): 17,817 - NEW
Mario & Sonic at the London Olympics (Nintendo, 3DS): 16,731 (99,656)
One Piece Pirate Musou (Namco Bandai, PS3): 16,243 (796,751)
Fairy Tail Zelef Kakusei (Konami, PSP): 15,377
Hatsune Miku and Future Stars Project Mirai (Sega, 3DS): 11,334 (116,351)
Harvest Moon: The Land of Origin (Marvelous AQL, 3DS): 9889 (147,106)
Little Busters! Converted Edition (Prototype, Vita): 8372 - NEW
Madoka Magika Portable (Namco Bandai, PSP): 8138 (70,546)
Hanaoni Yume no Tsuzuki (Idea Factory, PSP): 8023 - NEW
Do Love Me Seriously! R (Minato Station, PS3): 6834 - NEW
Over on the hardware side, the 3DS remains dominant, and enjoyed a healthy sales bump off the back of Kid Icarus and a number of new console colours. Sales were up from 64,017 last week to 94,011.
It was business as usual elsewhere on the chart. Vita stubbornly refuses to dip below the 10,000 weekly sales mark, enjoying a mini upswing from 10,021 to 10,302.
The systems lined up as follows:
3DS: 94,011 (Last week: 64,017)
PlayStation 3: 25,750 (27,900)
PSP: 19,875 (18,633)
Vita: 10,302 (10,021)
Wii: 9270 (8127)
PlayStation 2: 1333 (1165)
Xbox 360: 1084 (1145)
DSi XL: 1058 (853)
DSi: 778 (617)