Japan chart: Dragon's Dogma gets off to a flying start
Capcom scores current gen's fastest-selling new IP.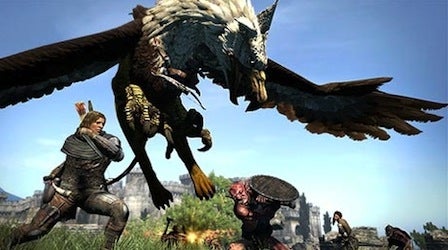 Capcom's action RPG Dragon's Dogma has roared into the weekly Japanese sales chart at number one.
The big-budget fantasy title sold 302,040 on PlayStation 3, with the Xbox 360 version adding another 29,024. That's the highest Japanese week one total for a new IP this console generation.
Capcom will likely be breathing a sigh of relief - it had previously announced that it had committed its biggest team ever to the project.
The title entered the UK top 10 this week at three.
Elsewhere on the chart, Mario Tennis Open got off to a solid start on 3DS, debuting at two with 101,645 units sold.
Other notable new entries included Vita title Samurai & Dragons at 17 - it's a new Sega action/strategy hybrid from Jet Set Radio veteran Masayoshi Kikuchi. Re-tooled Xbox 360 Cave shooter Mushihimesama came in at 19.
Here's the full chart, as seen on NeoGAF:
Dragon's Dogma (Capcom, PS3): 302,040 - NEW
Mario Tennis Open (Nintendo, 3DS): 101,645 - NEW
Uta no Prince Sama Debut (Broccoli, PSP): 61,376 - NEW
Dragon's Dogma (Capcom, Xbox 360): 29,024 - NEW
Mario Party 9 (Nintendo, Wii): 20,820 (Life to date: 380,763)
The Idolm@ster: Gravure For You! Vol. 8 (Namco Bandai, PS3): 16,670 - NEW
Fire Emblem: Awakening (Nintendo, 3DS): 14,642 (391,345)
Jyuzaengi: Engetsu Sangokuden (Idea Factory, PSP): 11,627 - NEW
Monster Hunter Frontier Online Forward .4 Premium Package (Capcom, Xbox 360): 9893 - NEW
Super Mario 3D Land (Nintendo, 3DS): 9858 (1,595,096)
G1 Grand Prix (Genki, 3DS): 9821 - NEW
Steins; Gate Double Pack (5pb., PS3): 9223 - NEW
Monster Hunter 3G (Capcom, 3DS): 7849 (1,458,658)
Mario Kart 7 (Nintendo, 3DS): 7648 (1,720,566)
My Sister Can't Possibly Be This Cute Portable Can't Possibly Be Continuing (Namco Bandai, PSP): 6753 (59,929)
Elminage Gothic: Ulm Zakir to Yami no Gishiki (Star Fish SD, PSP): 6169 - NEW
Samurai & Dragons (Sega, Vita): 6072 - NEW
Steins; Gate: Hiyoku Renri no Darling (5pb., PS3): 5397 - NEW
Mushihimesama (Cave, Xbox 360): 5135 - NEW
Persona 2: Eternal Punishment (Atlus, PSP): 4885 (29,431)
Things remained fairly static over on the hardware chart. 3DS saw a healthy bump from 45,572 to 55,212, but sales of all other systems remained largely flat.
3DS: 55,212 (Last week: 45,752)
PlayStation 3: 14,771 (12,026)
PSP: 10,617 (10,652)
Vita: 6675 (6347)
Wii: 6149 (5956)
Xbox 360: 3069 (825)
PlayStation 2: 1027 (1166)
DSi XL: 628 (683)
DSi: 431 (425)