Iron Banner 2.0 hits Destiny next week
Plus, new Strike Team chat revealed.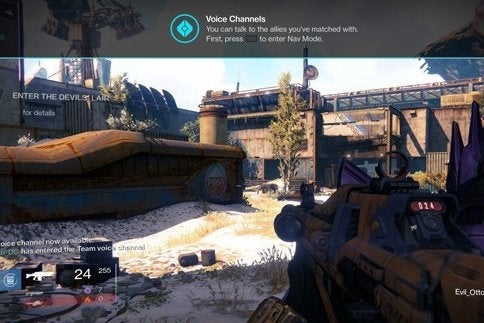 Iron Banner 2.0, the new and improved version of Destiny's "power matters" competitive multiplayer mode, launches next week.
Developer Bungie aims to launch Iron Banner by the end of next week following the release of an update on Monday, 17th November.
Here's the high level changes compared to the original version of Iron Banner, in Bungie's words:
Power. Does. Matter! (no, really)
Only players Level 20 and above can lead a Fireteam
Players below Level 20 can accompany more powerful friends
Players within 3 Levels can be competitive with each other
Your DEFENSE rating affects how you take damage
Wear your best (highest rated) armor
Players out of your league will seem like a Boss
Your ATTACK rating affects how you inflict damage
Equip your best (highest rated) weapons
Lower-level players wielding fully-upgraded weapons should still be considered a very credible threat.
Claim victory to gain reputation.
Lord Saladin now has five ranks to obtain through victory
Your previous Iron Banner rank has been preserved
The Tempered buff is a twelve-hour boost in reputation gains
Activate Tempered later during the event to catch up faster
Acquire exclusive Iron Banner rewards.
Increase your Rank to unlock better gear
Reforge weapons to reset progression with new perks
Earn gauntlets and boots to move you closer to Level 30
See Lord Saladin for details!
Quitters never win.
Reputation gains are only awarded only to the winners
Defeat grants a token to be redeemed after a future win
You can carry up to five Iron Medallions at any time
Partial reputation gains are earned instantly upon victory
Strike while the Iron is hot.
Your reputation will be reset at the conclusion of this Iron Banner
Like any competitive activity, each new event is a chance to regain your standing
Meanwhile, Monday's update will also contain a beta test for a new chat feature designed to let those who matchmake communicate.
Navigation mode, as it's called, is an opt-in chat system for allies who have matchmade. "We believe that requiring players to opt-in to chat leads to more friendly environments," Bungie design lead M.E. Chung said on Bungie.net.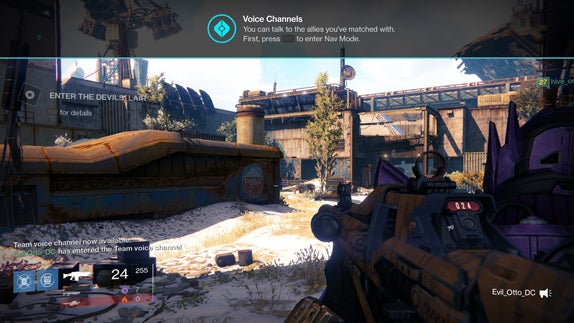 Players will have two options for talking to other Guardians: Team chat and Fireteam chat. Fireteam chat has been in the game since launch. Team chat is a new channel that includes the players you meet through matchmaking, as well as members of your Fireteam who make the same selection. This option will be available in any matchmade activity, including Strikes and team-based Crucible matches.
As you'd expect, opting-in to Team chat opens you up to communication with strangers.
"Of course, Bungie cannot guarantee the quality of the teammates we'll match you with in Destiny," Bungie warned.
"If that were the case, none of these filters would be necessary! In the event that you encounter a player who is toxic to your experience, simply revert back to Fireteam chat or use your console-specific interface to Mute or Report them.
"It is our hope that this new feature exposes you to people who will enhance your experience. Destiny was envisioned as a game that will bring players together for surprise encounters. With the right options in play, those moments can lead to friendships and alliances that will serve you for years to come."
And finally, community chief David Dague teased a new sparrow vehicle for those who own an Expansion Pass.
"We want to make sure that you traverse the next leg of your journey in outrageous style," he said.