Insomniac confirms it won't make more Resistance games
Developer moves on from PlayStation exclusive shooter series.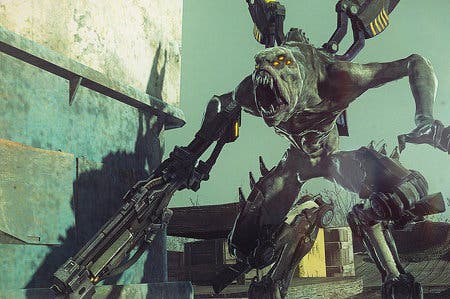 Insomniac has confirmed it will not make any more Resistance games.
Insomniac boss Ted Price told VG247, "We won't be making any more Resistances."
Price's comments confirm the suggestion that Insomniac - now working on Overstrike for EA and smaller games for its new Insomniac Click division - was done with the PlayStation exclusive shooter series following comments from creative director Marcus Smith in August last year.
"I loved the Spyro the Dragon series when [Insomniac] did that. I didn't work there at the time, and I was bummed when they didn't work on the fourth game, but ultimately, I think it was healthy for them to move on. I think that's what we're seeing here," Smith said at the time.
"We've done Resistance 3 and we're really into it and proud of it, but we're not currently slated to do a Resistance 4. So it would be hard to say it's any kind of lynchpin within Insomniac. I think we're thriving and branching out in a lot of different directions."
He added: ""We've got a lot of different places for the universe to go, so I could certainly see the series going to another developer. I'm sure Sony would want to find a high calibre developer to do a good offering. I don't think they'd hand the franchise over to somebody who is going to screw it up."
"We recognise we have a very loyal fanbase among Sony players, and we love them," Price told Eurogamer at E3 2011 in June.
"We're definitely dedicated to them. However, we've always wanted to reach out to an even broader audience. The Xbox 360 audience has been a viable, vibrant audience for a long time. This was just a chance to do that."
Insomniac has been a PlayStation-exclusive developer for 15 years. Overstrike, due out on Xbox 360 as well as PlayStation 3, is its first multiplatform game.
Nihilistic is creating a Resistance Vita game. Sony Bend made Resistance Retribution on PSP. Which studio will Sony task with creating Resistance 4, should it decide to do so?
Resistance 3 sold 180,000 units during its first month on sale in the US, according to NPD.
That was a significant drop-off compared to Resistance 2's 385,000 first month total back in November 2008. Resistance 2 went on to sell around three million copies worldwide.
Resistance 3, which picked up a healthy 8/10 from Eurogamer on release, debuted at number four in the UK charts in September, behind Dead Island and Warhammer 40K: Space Marine. It entered the US monthly chart at number seven, behind Deus Ex: Human Revolution, Dead Island and Gears of War 3.