Homeworld is where the heart is
Gearbox opens up about its remastering of a long lost strategy classic.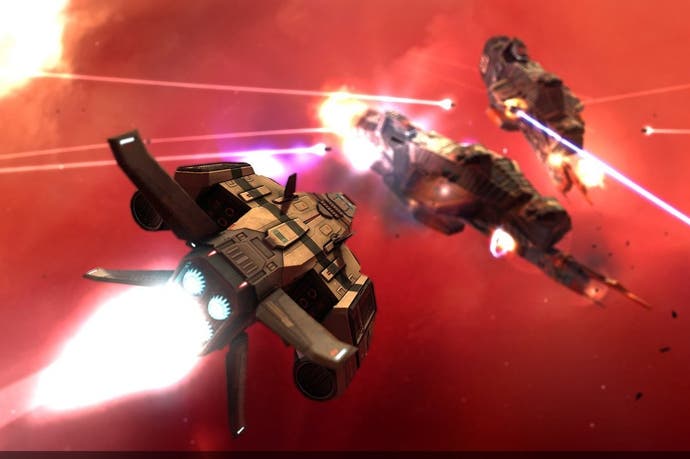 2015 could well be the year of the remaster. With Resident Evil HD Remaster setting digital sales records, Grim Fandango Remastered bringing arguably the greatest adventure game in history to a modern audience for the first time in 16 years, and The Legend of Zelda: Majora's Mask 3D updating the curious classic to a popular handheld, there's no better time to catch up on the the seminal pieces of gaming we missed out on the first time around.
This time around we've got Gearbox, the studio simultaneously beloved for Borderlands and reviled for Duke Nukem Forever and Aliens: Colonial Marines, bringing its hand to updating Relic's epic 3D strategy series Homeworld with Homeworld Remastered Collection.
This is really a passion project for Gearbox's chief creative officer, Brian Martel, who convinced his colleagues that the studio should spend $1.35m to acquire the Homeworld license after its former publisher THQ went bust.
"We love this franchise. It's amazing!," Martel exclaims to me over Skype. "And it hasn't been out in well over a decade and we'd hate for it to just get thrown out there without some proper attention. So I convinced my partners to look at it and think about it, and we ran the numbers and said 'if we did this maybe we could make a profit on it.' But mostly it was just an act of goodwill and wanting to do right by the fans and make sure that the game got out there."
He says that Gearbox got really passionate about the project once work began on it. But were the Gearbox folks already Homeworld fans, or did they just have to change course to something outside of their wheelhouse?
"It's actually a really good mix of those that were fans and those who had never played it," he replies. He argues that this fresh perspective was actually a useful tool in bringing the 15 year-old game to a modern era. "Sometimes you don't have just the nostalgia coming at it. You have these people coming in and playing it and feeling it for the first time, and feeling how to make it appropriate for today's audiences so you can get new customers as well as get the nostalgia of the old customers."
"So how have you made it more palatable for new audiences?" I ask. "Is this a full remake with new content ala Resident Evil Remastered, or more akin to something that mostly wants to remain true to the original game, ala Grim Fandango Remastered where it's mostly just shinier?"
"It's a lot more than just being shinier," Martel replies. "The engine alone, the renderer, is just outrageously amazing." See, Homeworld 1 and Homeworld 2 were built on different engines. Since this Remastered Collection allows players to bring Homeworld 1 ships into its sequel for multiplayer, Gearbox had to create an engine and ecosystem to support this change for any future Homeworld titles the studio may make.
"We wanted to kind of blend the two and make sure we were able to bring Homeworld 1 into Homeworld 2 to create a foundation that's going to live on after we're done with this project, so we can support mods and if there's a sequel or DLC or anything we can do. Depending on how it's received, we would be able to do all that."
Gearbox was fortunate enough to get the original developers of Homeworld to pitch in with this restoration and otherwise operate as consultants. Art director on the original Homeworld, Rob Cunningham, overlooked the Remastered Collection; lead artist, Aaron Kambeitz, repainted all the cinematics; original audio composer Paul Ruskay provided the audio files; and coder Luke Moloney pounded away on the the new tweaks. "It was sort of like getting the band back together," Martel says. "It's really phenomenal to be able to get these guys. Like these are the guys that really led those projects. So that was a big deal."
As far as the actual gameplay is concerned, this will be the same Homeworld you know and love, but there have been some subtle tweaks to the formula to make sure Homeworld 1 ships are balanced with the vessels in its sequel.
"There's a lot of AI work that had to be done," Martel explains. That and the spiffier presentation are the main enhancements. "We don't want to monkey with it. This isn't about our vision. This is about realising the vision of these guys who originally made it and living up to it and hitting that mind's eye view of what this game should be."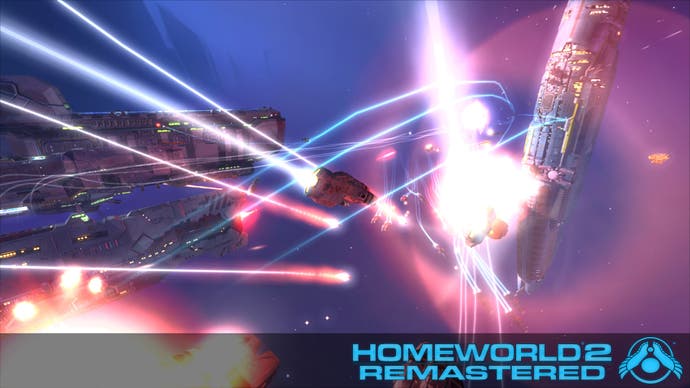 As excited as Martel and company are to release Homeworld Remastered, the studio is equally excited about the potential future of the series. This will begin outside of Gearbox's stable with Homeworld: Shipbreakers, a prequel to the first game being developed by Cunningham, Kambeitz and other ex-Relic staff at new studio Blackbird Interactive.
It's a cute story how Blackbird got involved in Homeworld's resurrection. Fans will recall that the new studio was working on a Homeworld-like project called Hardware: Shipbreakers that has since been rebranded as an official prequel to the first Homeworld. But prior to that, Blackbird was actually bidding against Gearbox on the Homeworld IP.
"When we won it they reached out to us and congratulated us," Martel recalls. "We'd already seen what they were doing with Hardware [Shipbreakers], so we asked them, 'hey, would you like to use the Homeworld IP for your game?"
Blackbird was initially unsure if it should merge its new baby with its spiritual predecessor, but funnily enough, one member of its staff had been plotting this opportunity for some time.
"It turned out that as they were working on Hardware, Aaron Kambeitz had been taking notes and keeping track of how to make it work within the Homeworld [license] unbeknownst to the rest of the team. He had been thinking about how to make sure that it was a prequel," Martel laughs. "So when we asked that the rest of the guys were like, 'I dunno.' And then he was like, 'hey guys! I've been working on this on the side, so I think we've got this!'"
Martel is confident that the Blackbird/Gearbox collaboration has been incredibly beneficial to both studios. It's certainly helped Gearbox make sure Remastered stays true to its original creators' vision, while it's allowed Blackbird to increase the scale of Shipbreakers.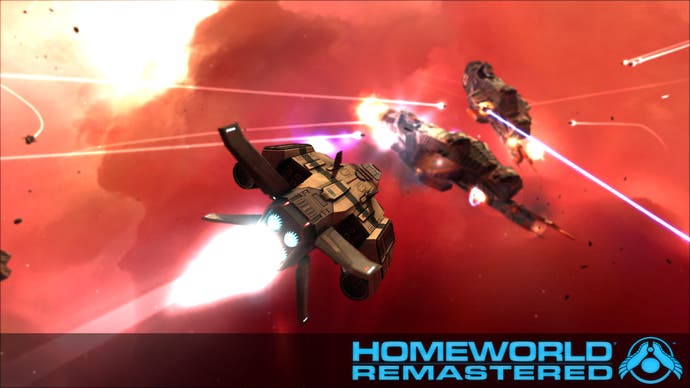 "That game originally started as a Facebook game," Martel recalls. "Then it was something else and they kind of spun their wheels for a bit until they were really able to get it under the Homeworld thing. That kind of helped to gel it and get it to be the product that it is now."
There is one frequently asked about omission to Homeworld Remastered: Cataclysm, an expansion to the first game developed by Barking Dog Studios - a studio that later became Rockstar Toronto. So what's the deal with that?
"It wasn't exactly canon... It isn't totally in line with everything that happens between one and two and it kind of takes a little bit away from that massive story," Martel explains. "But there's a practical side; which is no one has the code. So that means that it's kind of next to impossible for us right now unless somebody out there happens to find it... If we could, we would love to and get it in the hands of whoever adored and loved that game or just wants to see more Homeworld. We think that would be great. But since we don't have the source code, it can't really be contemplated in the whole Remastered approach."
And, if Homeworld Remastered Collection is a success, what's next?
"If there's an interest in Homeworld 3 and people want to see what happens after Homeworld 2 we would love to make that game!" he beams. "And I know that all the original team members who are involved right now between Remastered and Shipbreakers would love to see that kind of thing happen."