Here's what's heading to Game Pass on PC, Xbox One, and Android in September
Halo ODST! Night in the Woods! More!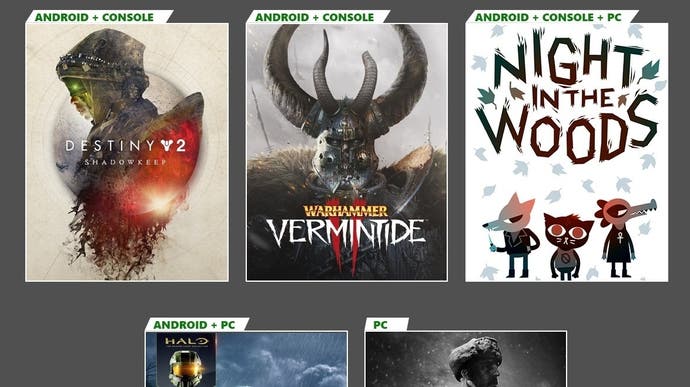 Your monthly round-up of Game Pass additions is about to get a little bit busier, thanks to the official launch of Microsoft's Xcloud streaming service - now officially renamed Cloud Gaming - tomorrow, 15th September. Its arrival brings over 150 playable games to Android devices via an Xbox Game Pass Ultimate subscription, meaning September's Game Pass round-up is the first to include titles coming to Android as well as to Xbox One and PC.
It all starts on 17th September, when Relic Entertainment's acclaimed WW2 real-time strategy effort Company of Heroes 2 comes to PC Game Pass, and 22nd September is a particular busy one, bringing a number of titles that span multiple platforms.
Android, for instance, sees its first addition in the form of Destiny 2: Shadowkeep & Forsaken (which also joins Xbox One Game Pass), and then Halo 3: ODST makes its move onto Android and PC as part of the latter's spruced-up Master Chief Collection. Microsoft notes ODST Firefight will join Master Chief Collection on both console and PC at the same time, bringing online matchmaking, dedicated servers, and new custom game modes across 10 legacy maps.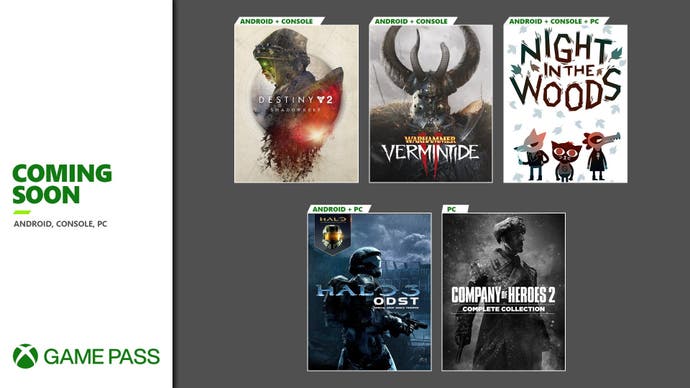 Then, developer Infinite Fall's much-loved narrative adventure Night in the Woods comes to PC, Xbox One, and Android on 24th September, and the month's additions conclude with co-op-focussed first-person fantasy smasher Warhammer: Vermintide 2, which makes its way to Xbox One and Android on the same day.
Cloud Gaming isn't the only notable Game Pass happening this month, of course; as announced last week, Xbox Game Pass for PC leaves beta and gets a price increase to match the Xbox One version on 17th September, although current subscribers will be charged the old rate for the next billing cycle. In summary then:
17th September
22nd September
Destiny 2: Shadowkeep & Forsaken (Android, Xbox One)
Halo 3: ODST (Android, PC)
24th September
Night in the Woods (Android, Xbox One, PC)
Warhammer: Vermintide 2 (Android, Xbox One)