Here's what's happening in Rocket League's Fortnite crossover event this weekend
In celebration of going free-to-play.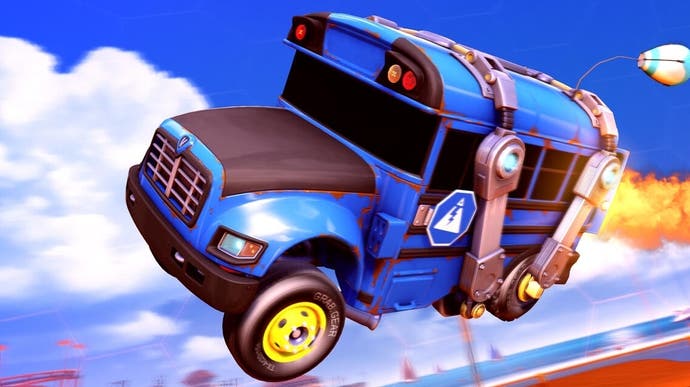 Rocket League goes free-to-play today, and, to celebrate, developer Psyonix is teaming up with Epic Games (which acquired the company back in 2019) for a big Fortnite crossover event, which has now been detailed in full.
Llama-Rama, as Rocket League's Fortnite effort is known, gets underway this Saturday, 26th September, at 11pm in the UK and runs until Monday, 12th October. For the duration, players will be able to attempt sequential challenges in Rocket League - making use of the game's newly implemented challenge system - each granting Fortnite and Rocket League items once complete. Here are the challenges in full:
Challenge 1: Llamas, Start Your Engines - Play an online match in any playlist
Rocket League reward: Llama Flyer Antenna
Fortnite reward: Rocket League Spray
Challenge 2: Flagged For Victory - Win two online matches in casual with the Llama Antenna
Rocket League reward: Top Llama Topper
Fortnite reward: Holodata Drop Contrail
Challenge 3: Top of the World - Get five goals, saves, or assists with the Llama Topper
Rocket League reward: Loot Llama Octane Decal
Fortnite Reward: Rocket Groove Music Track
Challenge 4: An Epic Endeavour - Win five online matches in any playlist with the Llama Decal (Octane)
Rocket League reward: Llama Wheels
Fortnite reward: Rocket League Emoticon
Challenge 5: Llama Legend - Get MVP in any online match with the Llama Wheels
Rocket League reward: Battle Bus + Battle Balloon Antenna, Battle Bus Wheels, Battle Bus Engine Audio
Fortnite reward: Octane RL Backbling + style variant
Rocket League's free-to-play update launches today on PC, Xbox One, PlayStation 4, and Switch, and heralds the start of the game's Competitive Season 1.
New PC players should note that, as of today, Rocket League is only available via the Epic Games Store, although Psyonix has pledged "full support for future updates and features" on Valve's platform. Latest patch notes can be found here.