Psyonix dates Rocket League's free-to-play launch for next week
And cross-platform progression coming tomorrow.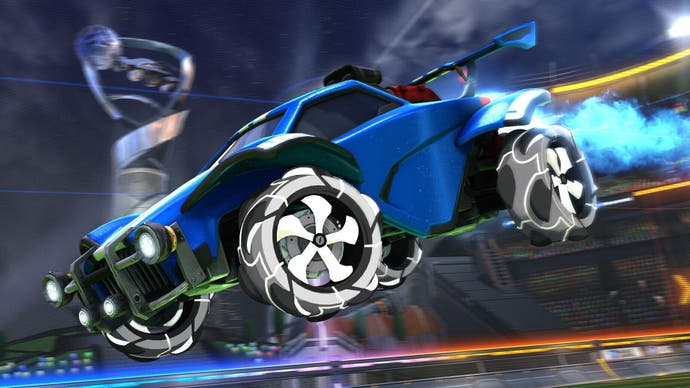 Earlier this year, developer Psyonix announced it would be transitioning its phenomenally popular four-wheeled footie game Rocket League to a free-to-play model, and it's now confirmed that will happen next Wednesday, 23rd September.
Since its launch in 2015, Rocket League has been sold as a premium title with an upfront fee, despite the myriad monetisation methods Psyonix has deployed over its lifetime, ranging from a now-defunct loot box system to a replacement online store, and a Fortnite-style battle pass.
From next week, however, that upfront fee will be no more, a move which Psyonix presumably hopes will help increase its player base still further. That, though, isn't the only big change on the horizon; from 23rd September, Rocket League will become an Epic Games Store exclusive, following Epic's acquisition of Psyonix last year.
Players that already own Rocket League on Steam can continue playing, however, with Psyonix pledging "full support for future updates and features" on Valve's platform. That said, Epic clearly hopes to lure at least some people over to its own store by promising a $10 USD voucher to anyone that adds the game to their Epic library between 23rd September and 23rd October.
Additionally, Epic will once again be attempting to galvanise its army of Fortnite players into action, promising a selection of "awesome" Fortnite and Rocket League rewards for those that hop over to Psyonix's game and participate in its Llama-Rama limited-time event.
Ahead of all that, Psyonix is launching a new update for Rocket League on all platforms tomorrow, 16th September, which will introduce cross-platform progression for those using an Epic Games Account. Other tweaks, including achievement changes, menu updates, and new quick chats, are outlined in Psyonix's latest blog post.