Here's everything happening in this week's Sea of Thieves Forsaken Shores update
New biome! Rowboats! Volcanoes! More!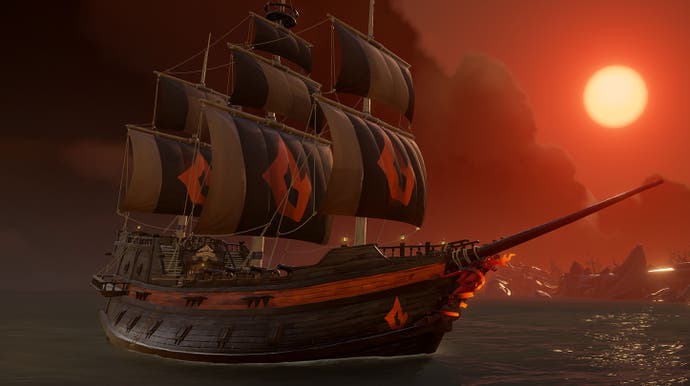 Sea of Thieves' latest content expansion, Forsaken Shores, lands this Thursday, September 27th. And with scant time to wait before the Devil's Shroud parts to reveal a whole new area of the world, Rare has detailed exactly what is coming (and when) during its latest piratical campaign.
In something of a departure from past events, Forsaken Shores will stagger several new features across the length of the event. Come Thursday, Sea of Thieves will lift the deadly veil on the Devil's Roar, an entirely new area of the map that's designed to offered a hearty challenge for fearless pirates. There's the ever-present threat of volcanic activity - with eruptions unleashing lava, falling debris, and geysers of steam from the bowels of the earth, and superheating nearby water - but voyages in the area will offer greater rewards.
Thankfully, Thursday also introduces the new rowboat, designed to make your time in the Devil's Roar a little less treacherous. Rowboats can be found on islands across the world and attached to any ship - be it sloop, galleon, or brigantine - and will make ferrying treasure from shore to ship considerably easier in the superheated waters of the new land.
However, rowboats - which seat an entire crew and feature independently operable oars - have other uses outside the Devil's Roar. They're a great way to shifting large quantities of treasure to your boat without requiring repeat journeys back and forth, for instance, and should open up all sorts of possibilities in terms of stealth and surprise ambushes.
Forsaken Shores' first week also introduces new campaign-related commendations, a story quest of sorts that focusses on the fate of the so-called Forsaken Shores Alliance, new seaposts dotted around the ocean where pirates can grab a bargain or two from passing traders, and, possibly, new NPCs scattered across islands.
It's not entirely clear when the latter will be introduced as NPCs appear to be linked directly to a new voyage type known as Cargo Runs. These missions, which task you with transporting goods with specific care requirements from one NPC to another, are scheduled to be introduced in the third week of the Forsaken Shores campaign. In order to earn maximum payouts from Cargo Runs, you'll need to ensure plant deliveries are kept wet at all times, rare cloth is kept dry, and that glass rum bottles are treated with upmost delicacy.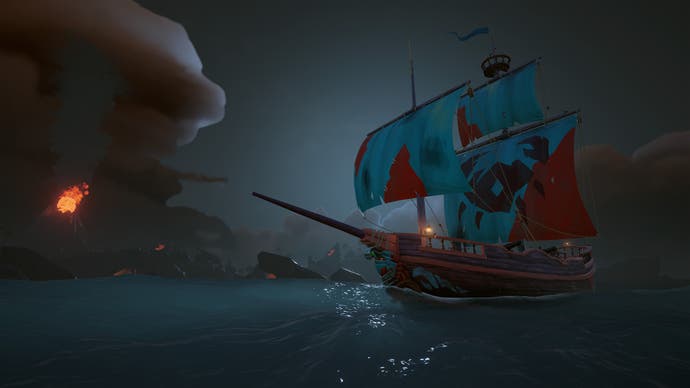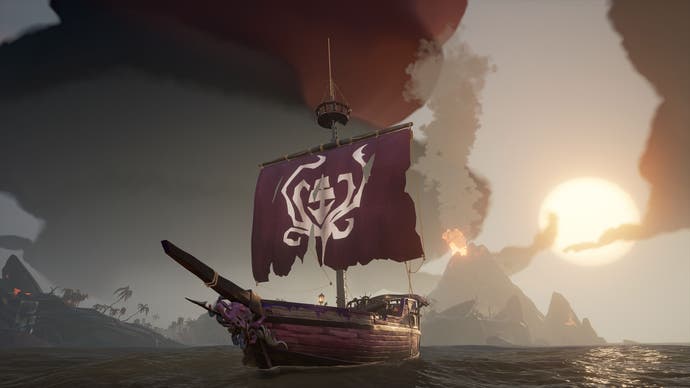 Alongside these new gameplay elements, Forsaken Shores adds some swish new cosmetics sets. The Forsaken Ashes weapons and livery are time limited to the campaign, while all other Forsaken Ashes items and clothing are seemingly permanent additions. There's also a crab-themed Ocean Crawler set, the Kraken set, and a handful of new scars and tattoos.
For those keeping tabs, everything listed above will remain in-game once Sea of Thieves' Forsaken Shores event is over, bar the limited-time cosmetics and story campaign. You'll find a few more pretty pictures of the new items on Rare's Forsaken Shores page.