Hearthstone's new autobattler mode is available now in limited early access
Full open beta starts next week.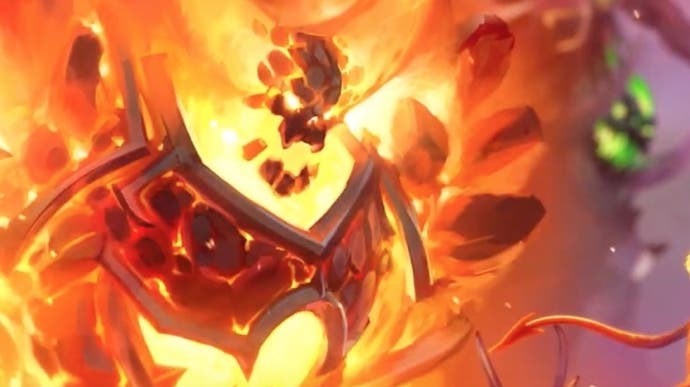 Hearthstone's new eight-player autobattler mode, Battlegrounds, unveiled during Friday's BlizzCon, is now available for a week of early access - but only for a select number of players.
Battlegrounds offers a choice of 24 playable heroes, each bringing their own unique spin to combat. Once a hero has been selected, players then hightail it to Bob's Tavern, where they can recruit minions to be strategically deployed on an "ever-evolving" board ready for battle.
Here, players confront a randomly selected opponent, and minions begin their fight to the death, taking turns to attack from left to right. Once a round is over, it's back to the Tavern to reconfigure the board as required, repeating the cycle until only one challenger remains.
Obviously, though, that's an extremely brisk summary of proceedings. Battlegrounds is explained in considerably more detail in Blizzard's recent introductory blog post - and there's a fully voiced in-game tutorial, narrated by Bartender Bob, to get newcomers started too.
At present, Hearthstone Battlegrounds is only available to BlizzCon Attendees, holders of a BlizzCon Virtual Ticket, or to players that acquire a Descent of Dragons pre-purchase bundle. When Blizzard's week of early access comes to an end next Tuesday, 12th November, however, Battlegrounds will enter open beta and will be accessible to all.
Alongside the new Battlegrounds mode, today's Hearthstone update also introduces new Legendary Battlegrounds Launch Quests, brings some changes to Daily Quests, and also grants BlizzCon attendees and Virtual Ticket holders a Golden version of the Neutral Legendary Descent of Dragons card Sathrovarr and the Blizzard Events 2019 card back.
Additionally, all players that log into the game following the update (through to the launch of the Descent of the Dragons expansion on 10th December), will receive a non-disenchantable version of Sathrovarr. Full details can be found in Blizzard's latest blog post.