Halo, Football Manager and Total War devs to make games for War Child
HELP: Real War is Not a Game due out early 2016.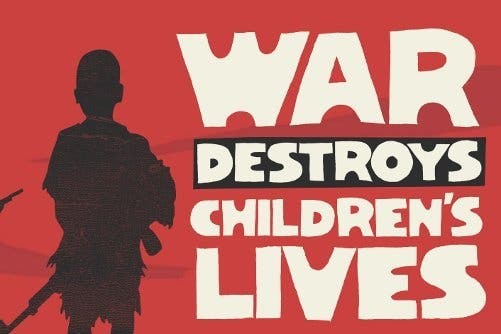 Developers have come together to create a game compilation to raise money for War Child.
The HELP game jam will see developers given six days to create experiences that will be packaged together as HELP: Real War is Not a Game, and sold as a download late March 2016.
Halo developer 343, I Am Bread maker Bossa, Total War studio Creative Assembly, Football Manager creator Sports Interactive, Curve Digital, Hardlight, Hinterland, Spilt Milk Studios, Team 17 and Torn Banner have all committed to the project.
Unreal, Gamemaker and Unity are also involved, and will provide their tools on a no cost and royalty free basis.
"War Child's work is amazing. It revolves around a simple premise... no child has started a war, so no child should be affected by one," Miles Jacobson, Studio Director at Sports Interactive and founder of the global games jam committee, said.
"Whether it's rehabilitating ex child soldiers in Democratic Republic of Congo, creating child helplines in Afghanistan, providing safe spaces for Syrian refugee children, or the work in so many other countries - wherever they are they make the world a better place for children forced to live with war.
"For so many studios to have got involved in this project at such an early stage is really humbling. I hope many more join the cause and get involved in something that will be fun, rewarding and make a huge difference in children's lives across the world."