Halo 3 Legendary Map Pack
Exclusive screenshot, and how Bungie does multiplayer maps.
Bungie continues to support Halo 3 with new content and auto-updates and, as we heard yesterday, has no intention of letting up. Due out this spring, the Legendary Map Pack will introduce another selection of multiplayer maps, the first of which has been identified as Ghost Town.
"We can't confirm a release date quite yet - we're working with Microsoft to sort that out," community and PR director Brian Jarrard tells Eurogamer. "There will be a premium, there will be a charge - we're not quite sure what the price will be yet because we're still negotiating that with our publishing partners. It's likely that we'll have 3-4 maps in this pack - probably three like we did last time - and this is the first bit of information we've put out about one of them."
Jarrard is speaking to us at the Game Developers Conference in San Francisco, where he also provides us with an exclusive new screenshot of Ghost Town and sits us down with Mike Zak, one of Bungie's talented environment artists, who discusses the new map and Bungie's multiplayer map creation process in general. Before we get to that though, there's some consternation over the name. "It's called what?" says Zak, incredulous. It's called Ghost Town. "What?" "I think you missed that memo," says Jarrard, adding that the map's gone through "five or six" different names as we try to console Zak.
"It was originally called Ghost Town in development," Zak explains. "Almost every map we start off with has whatever happens to be its development name and we inevitably change it and can never force ourselves to say it correctly when it comes out. So I've been training myself to say 'Mortar'." Bad luck. "In a late, last-minute push it changed back to Ghost Town," says Jarrard. "Right." With that settled, we move on to the matter at hand.
EurogamerYou mentioned just now before I'd turned the tape on that it was based on the North Africa parts of Halo 3. Can you talk a bit about its background?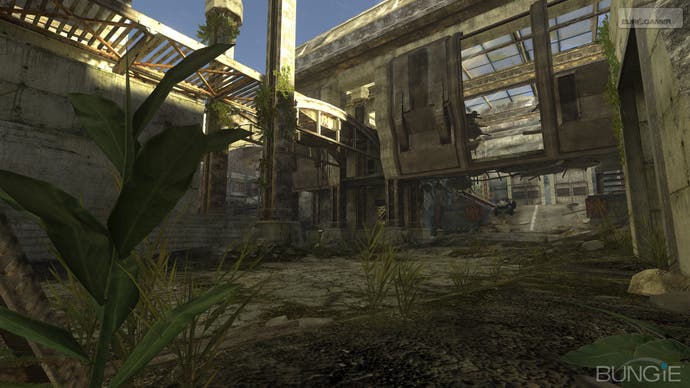 Mike Zak
It's sort of in the same environment as the jungle parts of the African/Kenyan kind of landscape. It's lusher like the jungle in terms of using a lot of the same foliage and canopy. It's more like the dam at the end of the jungle - the backside of the dam.
EurogamerWhat's the layout?
Mike Zak
In a way it's probably a bit of a successor to Turf from Halo 2 in that it's basically a kind of a square, with major alleys on all four sides and then it's got an internal building that has routes through it at different levels, and then there's also loops around the backside of the major alleys. It's asymmetrical, but it plays pretty well as far as a Flag game, it plays pretty well for Assault games, Slayer games. It's really popular. We played it at our Bungie pentathlon, so it's been really solid gameplay-wise for a couple of months now.
EurogamerSo it's a good all-rounder, really.
Mike Zak
Yeah. It's not super-small, but it's not a big map - it's a really good four-on-four map. It really hits that sweet spot, I think.