Final Fantasy 15 DLC cancelled, Hajime Tabata quits Square Enix
UPDATE: Square Enix responds with official statement.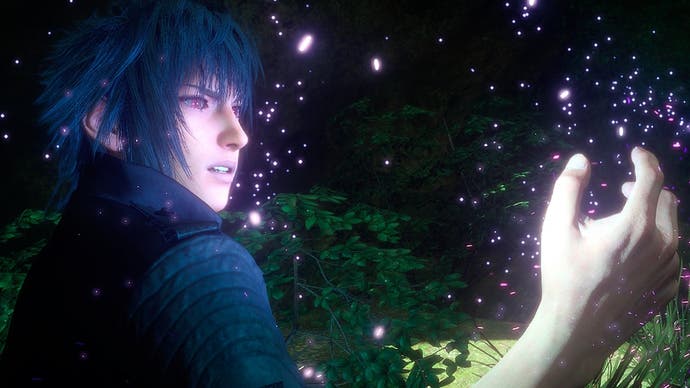 UPDATE: Square Enix has been in touch to provide a statement, and to assert that, contrary to a part of our report, that Luminous Productions will remain its own division.
"Hajime Tabata resigned from his role as the director of Final Fantasy 15, at the same time he left Luminous Productions and has no further relations with Square Enix or Luminous Productions," it reads. "We are told that he left for personal reasons. It is with regret to see the departure of such a talented member of staff who applied themselves on Final Fantasy 15 and many other memorable titles. We wish him every success for the future and will continue to cheer him on."
"As to the future of Luminous Productions, the studio was established with the goal to create a new IP, so we are continuing to develop our new title."
ORIGINAL STORY: Hajime Tabata, the man who brought Square Enix's troubled Final Fantasy 15 project home, has quit the company, with a majority of planned DLC for the game now cancelled.
The news comes in the immediate wake of Square Enix posting notice of an 'extraordinary loss' of 3,733 million yen - just over 25 million GBP - with Luminous Productions, Tabata's recently formed studio, cited in the statement. Bizarrely, Square Enix made the announcement of Tabata's departure and the cancellation of DLC as part of a special livestream, a continuation of a series it's used to keep in touch with fans throughout the latter part of Final Fantasy 15's development.
Eurogamer understands that Tabata was presented with the option to have Luminous Productions turn into one of Square Enix's regular business divisions, a course it now seems set on, or spin it off as his own company with Square Enix investment, though he chose to leave altogether. The departure was confirmed internally towards the end of this summer.
Hajime Tabata had become a winning presence amongst fans, and part of the new, public-facing generation of developers at Square Enix. He began his career at Tecmo, while at Square Enix he served on games such as Final Fantasy 7: Crisis Core, The Third Birthday and Final Fantasy Type-0 - the success of the latter leading to him being parachuted in on the troubled Final Fantasy Versus 13 project, which he helped bring home as Final Fantasy 15 towards the end of 2016.
Final Fantasy 15 has been considered a success, with in excess of 8 million units sold and a lengthy DLC tail continuing to bring business in. That DLC has been curtailed, though, with all-but-one of the four episodes planned for 2019 now cancelled.
"In regards to my next endeavours and near future, I have a project that I truly wish to solidify as my next challenge after Final Fantasy 15," Tabata divulged on the livestream. "As production of Episode Ardyn continues and Luminous Productions works on new projects, I felt that it was time for me to hand over the torch to the next-generation group of talented and trustworthy colleagues and believe that they will create something amazing."