Gaming peripheral that drains blood suspended on Kickstarter
Was developed for professional blood drives, not commercial use.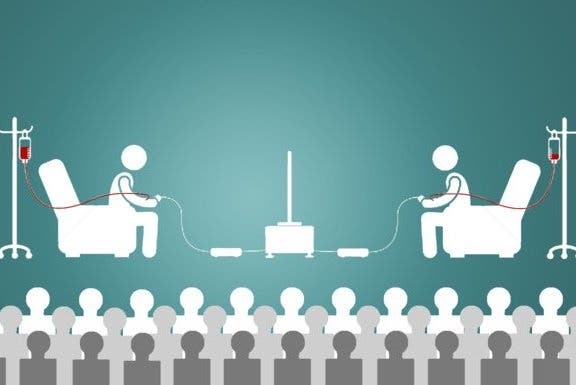 Canadian developer Brand & Grotesque came up with a fun way to donate blood: by tying it into a video game. Entitled Blood Sport, it would "raise the stakes of gaming, by making it so when you lose blood in the game, you lose it in real life, too," its creators boasted.
Only there's one problem: Kickstarter shuttered the Blood Sport crowdfunding campaign only six days after it launched.
The reasons may seem obvious, as Blood Sport sounds like it could be dangerous, but Brand & Grotesque weren't planning to sell the gaming unit to the public. Instead, it was conceived for charity drives.
"Our goal is to develop a refined multiplayer unit that can be taken across the country for blood donation gaming events," the developer explained. "We are not a charity and we are not a game manufacturer. We are simply creating the gaming hardware that will allow us to get gamers thinking about more important issues while still doing what they love. From there, we'll partner with the appropriate organisations in both the gaming and medical communities to bring it all to life."
Brand & Grotesque explained that the device's hardware was quite simple and just a riff off the usual rumble technology where certain inputs (i.e. taking damage) would result in the controller sending a signal to drain a bit more blood.
"We're not inventing any new medical devices and it's not for sale. All we want to do is create the best, most immersive gaming experience possible - while also helping people in need," the developer said.
"Obviously, Blood Sport has a lot of skeptics. More than anything, people fear giving blood. And when you add a competitive layer to it, even more so. But by running carefully monitored tests with medical professionals, we've created a unit that makes blood donation easy, fun and nearly painless."
Still, some might worry that Blood Sport could be used irresponsibly, but Brand & Grotesque were planning a blood donation drive, where the machine would only be used in the hands of a medical professional. "The machine is always monitored by a certified professional, and never runs without one," it noted in the FAQ.
So why was blood Sport suspended on Kickstarter? It's not quite clear yet. Kickstarter told CNET that it doesn't comment on specific project suspensions, while we've requested comment from Brand & Grotesque to see if it can shed any more light on this issue.
Perhaps it was the highest reward tier of $5000 CAD that would share the code for how to build your own Blood Sport machine? That seems like knowledge best not shared with a random wealthy person who plops down a few grand in Canadian currency, as in the wrong hands it could turn into something of a Hostel situation.
Blood Sport likely would have failed to reach its $250K CAD target anyway, as it had only acquired $3390 CAD in six days, but the more interesting question is whether Kickstarter should have shut it down. What do you think of this unnerving technology being carted around for a good cause?