Games of 2013: Gran Turismo 6
Ring cycle.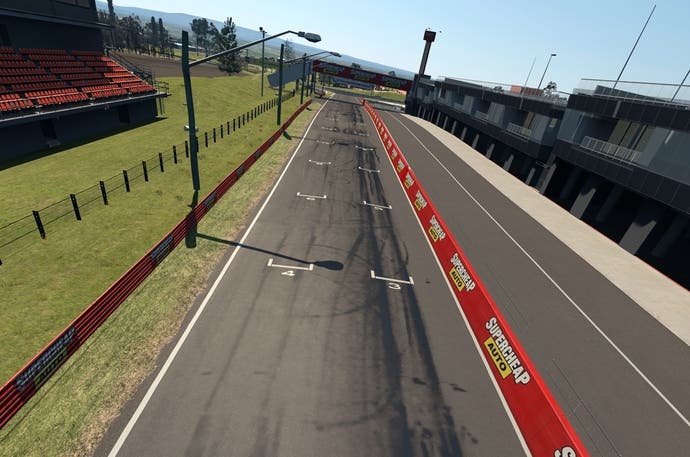 It was around 3am when the rain started again at the Nurburgring. Much harder than before, to the point where the track was completely saturated. Not ideal, clearly, but as even the most dishonest motivational speaker has no doubt memorised, inside every problem there's an opportunity.
While I could pit and swap out my 'racing hard' tyres for a far more comfortable set of wet weather boots, if I could stay out on the track and tiptoe my way along 16 sinuous miles of sodden asphalt while they all dive in for fresh rubber, I might be able to maintain a decent pace and make an overall gain on the vastly more powerful cars of the leaders. A risky, but potentially race-winning strategy.
Kazunori Yamauchi's latest ode to automobilia rarely puts a foot wrong, but endurance races are where Gran Turismo 6 really sings. Like many elements of GT6, they've been made more accessible - 24 hour races are now compressed into 24 minutes - but they remain the game's most formidable challenge, both in terms of pit strategy and raw car control.
Throughout the career you're treated to a carefully managed, and newly coherent, arc that starts you with fine weather, short races and a handful of opponents. It's only after you've proven your worth against full, 16-car grids and dabbled in wet weather and night driving to 'complete' the game, that you're finally allowed to commit to the round-the-clock races.
Changing conditions, racing through the hours of darkness and the sustained focus of a longer event make everything that's gone before feel like a tutorial. Where so many other racing games and simulators settle for blue skies and pristine conditions, in a GT6 enduro the track is constantly evolving and it's up to you to wring the best out of the car at any given moment.
The game's ending movie, cued up when you finish the GT World Championship, demonstrates just how intertwined endurance racing and the Nurburgring are with Yamauchi's vision. I won't spoil it, but it is the perfect appetiser for a Wagnerian assault on the planet's most daunting circuit.
Which is why I found myself staying out on racing slicks in the very worst conditions Gran Turismo 6 could throw at me. The Nurburgring is a challenging circuit on a fine day, but in the dead of night on damp tarmac the game slips its genre shackles and becomes survival horror. The encroaching blackness is like being sealed in a sensory deprivation tank, with your vision constricted to just the limited splash of your headlights. There's a physicality to it too - every nerve ending is fizzing in anticipation of the car stepping out underneath you.
Of course, part of that is GT6's newly communicative handling model, over which I gushed in quite unbecoming fashion earlier this year. Even sitting on stiffened racing suspension, there's so much more information conveyed, which means you can inch closer to the limit of grip without crossing that line and lobbing the car into a crash barrier. The sense of connection to the vehicle is a huge leap forward over GT5 and the single most profound improvement in the game, because it elevates every second of the hours and hours you'll spend on track.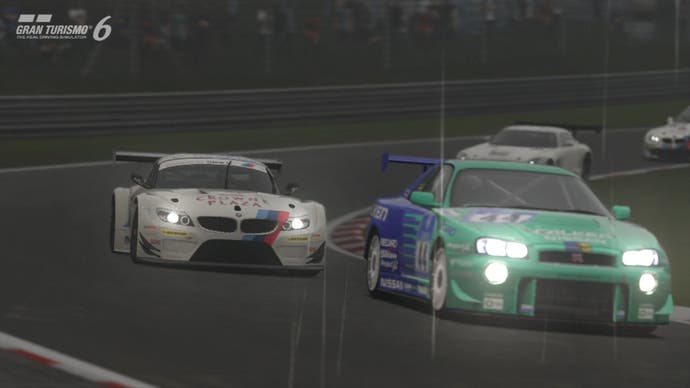 It's that feedback that means as the rain clears and the dawn breaks, your confidence builds and you begin pushing hard again, chasing down those final couple of positions. Gran Turismo 6's new opponent rubber banding is about as subtle as a Las Vegas fireworks display and does nothing to inject more believable personality into the AI.
What it does mean, though, is that you usually find yourself dicing with cars right up to the chequered flag. In my case, after over 24 minutes of uncharacteristically intense concentration, it was chucking my humble BMW Z4 past a modified Nissan GTR and a race-spec McLaren F1 on the run into the Nurburgring's horizon-scraping back straight and then desperately trying to keep them behind me as I rapidly ran out of horses. With three cars scything into the fast, sweeping turns that follow, I just about maintained control and got my elbows out for a final re-pass into the last corner. Victory in a racing game has rarely felt as sweet.
People still talk about PC simulations in hushed, reverent tones, but I'm not convinced they're where it's at any more. With its titanic budget and Yamauchi's authentic passion for the subject matter, Gran Turismo has quietly become the FIFA of motor racing, allowing you to sample almost every echelon of the sport.
Endurance racing is undoubtedly the moment where all the elements of the simulation coalesce, but there's now a stunning rally handling model, a competent simulation of NASCAR racing, a full field of GT3 cars, wholly convincing karting. It's as comprehensive a racing game as you're ever likely to find, partly because Gran Turismo is now more like a continually updated service than a series of discrete games.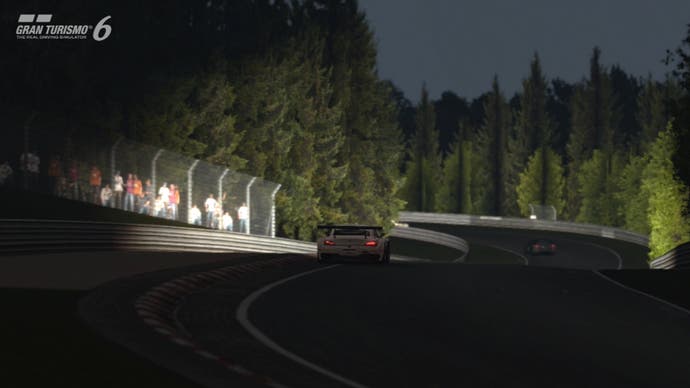 While at the moment of review it's impossible to give a game the benefit of the doubt when it comes to promised post-release improvements, even mere weeks after release Gran Turismo 6 is inarguably a better game than it was on launch day. The response to The Great Racing Game Microtransaction Scandal Of 2013 has been swift, with the economy and seasonal events balanced for cheaper cars and more generous payouts. There have been new cars added too, and a reworked intro movie teases even more to come.
So while I have positively gorged myself on the game in the past few weeks, I'm just as childishly excited as I was prior to release, waiting for the next year of patches and, yes, paid DLC. The news that key cars and circuits from Ayrton Senna's racing history, including classic F1 machinery, are to be introduced to the game's heaving collection is some entirely welcome gilding of the lily.
With Gran Turismo 6 released, Polyphony's own test of endurance has just begun, but whereas GT5 required emergency surgery, GT6 starts from a far stronger baseline. It's a fantastic game in its current state, comfortably one of the best of the year, but by the time the chequered flag falls after 12 months or so of updates it'll be substantially different and, undoubtedly, even better.