Kazunori's War: the world of Gran Turismo's creator
From the archive: From street racing to the Nürburgring, how Polyphony's Kazunori Yamauchi came to define driving.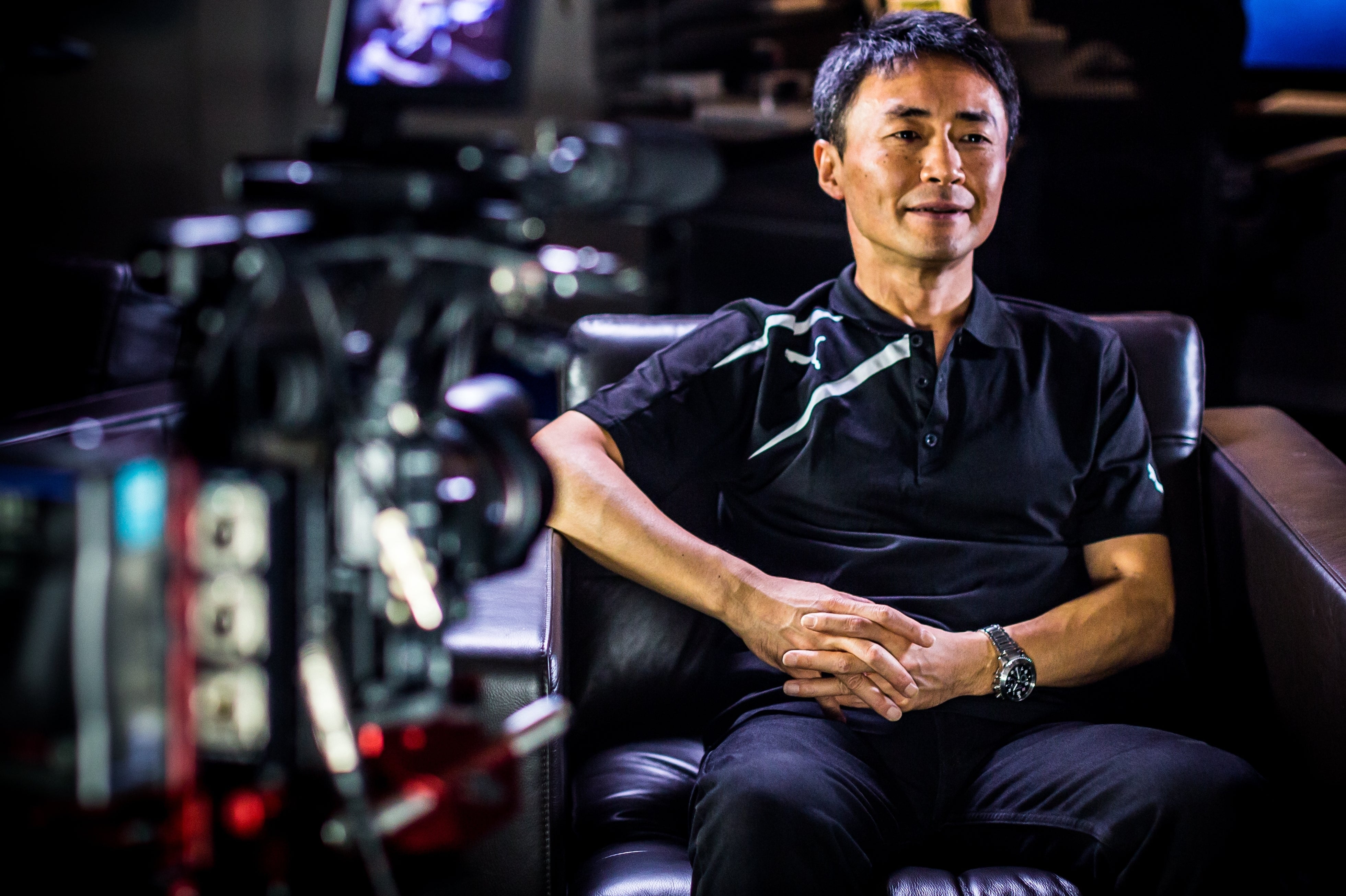 Editor's note: With the release of a new Gran Turismo due next week - some four years in after the last entry - we thought it'd be a good time to revisit our profile of the series' creator Kazunori Yamauchi, first published upon the release of Gran Turismo 6 back in 2013.
It's called the 'Flugplatz', and it's where you go to see cars take flight. A short straight that rises sharply before violently falling away again, it's the most iconic stretch on the 16.12 miles of the full Nürburgring, a section of track coincidentally and somewhat fittingly named after an airport that was once located nearby - the name translates neatly from German as 'flying place'.
Snapshots of airborne cars soaring over the crest - of Jim Clark's Lotus 49 caught mid-air, its soft suspension sagging either side of the cigar-shaped monocoque before it smacks down to earth once more, or of Niki Lauda's Ferrari 312 briefly defying its squat physique - have come to define the Nürburgring; it's in those seconds of weightlessness that the impossibility, the madness and the beauty of this place are all distilled down into one thrilling moment.
During this year's Nürburgring 24 Hours, an endurance race that spilled out across a dreary late May weekend, the Flugplatz was a place to come and study the 175 participating cars being pushed to their extremes, each one plotting its own small, gracious arc through the air.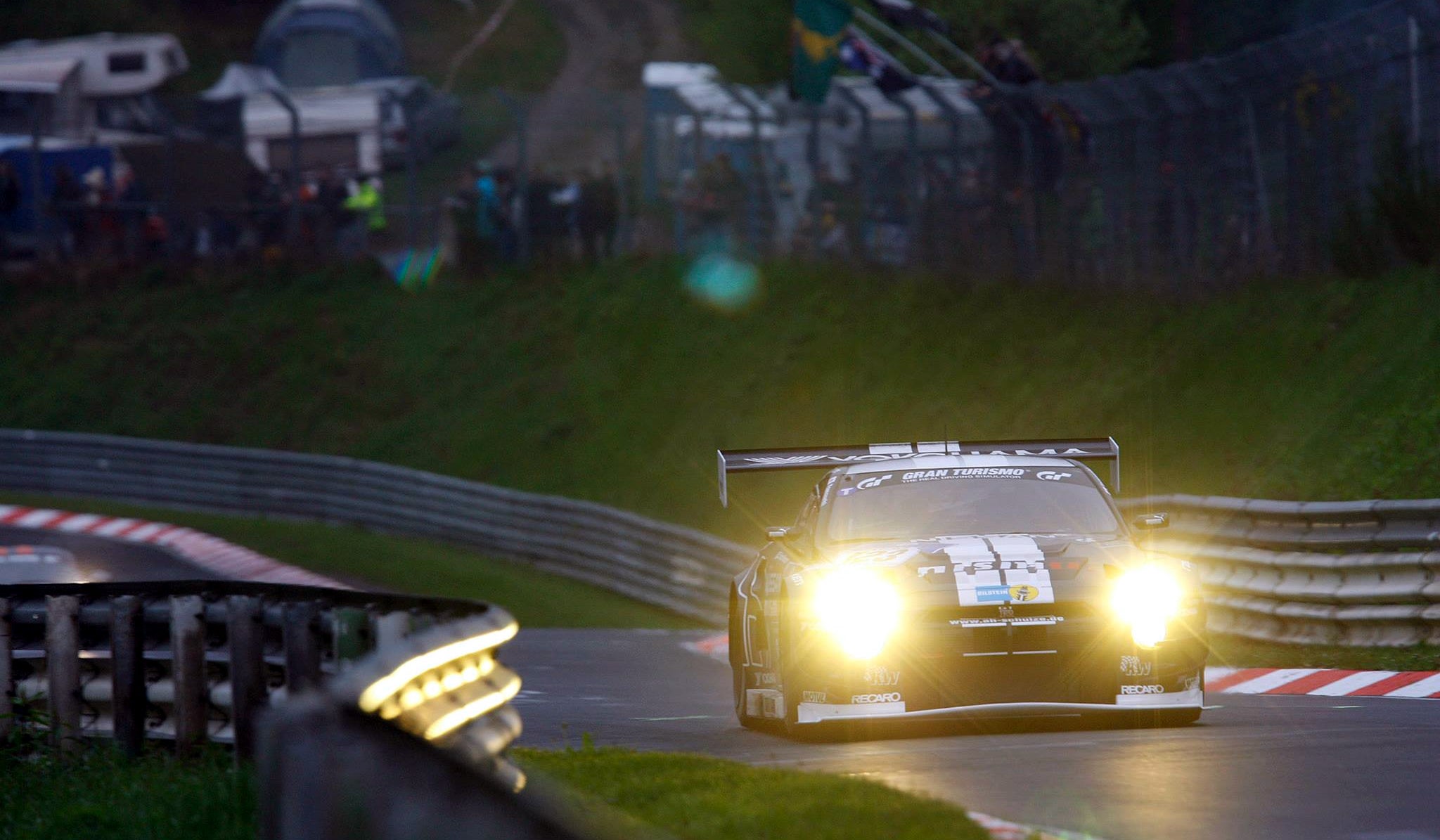 There was one car whose arc was troubled, though. Every time it approached the Flugplatz at speeds in excess of 230km/h, the front wheels of the number 123 Nissan GT3 GT-R would rear up like a startled bronco, holding that shape for 15m of track and a terrifying second beyond control. Returning to the pits after a long and troublesome stint, its driver Kazunori Yamauchi, head of Sony's Polyphony Digital development studio and occasional racing driver, refused to rest. Instead, he turned to a plastic steering wheel and a PlayStation 3 running Polyphony's Gran Turismo to find a solution.
"It was a very dangerous moment," says Yamauchi. "But at the same time, it was an interesting discovery for us. One of the reasons I was driving Gran Turismo after my stint was that I was trying to decide on the angle of the rear wing for the car. I was adjusting the sensations on my steering to match the road conditions, and to match the wet conditions that were going to be in the next session." Upon putting the data pulled from the GT-R that had just been on track into the new simulation that powers Gran Turismo 6, Yamauchi and his team of engineers were able to replicate the problem and remedy it by tweaking the angle of the car's rear wing and adjusting its front ride height. By using a video game, Yamauchi had taught his GT3 GT-R to fly again.
---
Kazunori Yamauchi was a studious, well-read child. At home he would devour the works of Jean-Henri Fabre, his ambition to follow in the footsteps of the French entomologist whose studies have fed into Japanese children's obsession with collecting insects - a phenomenon Nintendo's Pokemon series exploits so well. From the age of ten, his interests would expand to programming as he took a keen interest in computing. "At the time, I hadn't imagined that the games industry would become so big," he says. "It was really by accident that I'm doing the job that I'm doing now. I always thought my hobbies would remain hobbies."
But it's Yamauchi's other hobby that would go on to define him. As the son of a travelling salesman, the young Yamauchi would ride with his father from customer to customer, dreamily gazing through the window at the other vehicles around them. It wasn't long before he was able to name the make and model of each and every car they passed. "I've always loved cars, since I was maybe around three years old," Yamauchi recalls. "But as soon as I got my licence, I realised that while I love cars, I love driving even more."
Yamauchi grew up within an hour's car journey of the short, twisting Tsukuba circuit, though he never entertained the idea of becoming a professional racing driver, instead deciding to pursue his interests in a more illicit fashion. Soon after acquiring his first car, a Toyota Celica XX that was known as a Supra outside of Japan, he was to become a hashiriya. "It means those who make it their business to drive," Yamauchi explains. "They're basically street racers. As soon as I got my licence, I was one of them."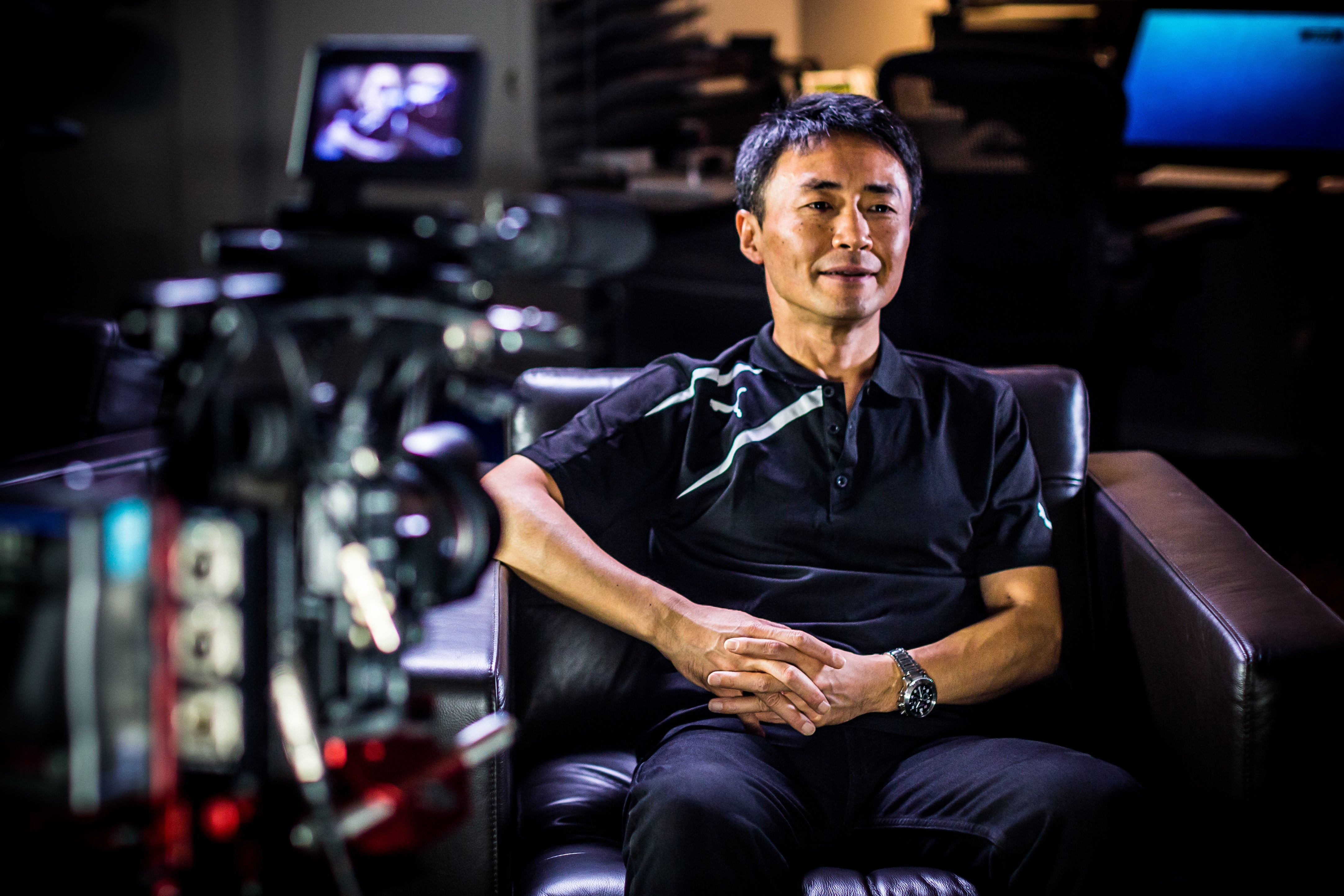 Soon enough the Celica XX was replaced with something more powerful, and at the age of 24, with the aid of a five-year repayment loan, Yamauchi bought a Nissan GT-R R32. Six months later, and before he had got round to insuring the car, it was no more. "The R-32 GT-R, I actually crashed," he says, a look of mischief flashing across his face. "It was totalled. Everything from the passenger seat in front of me was gone. I spun out at about 200km/h." Did this accident take place on the track or on the streets? Yamauchi leans forward, grinning impishly, then admits in a whisper, "It was the streets."
Despite the youthful misdemeanour, Yamauchi's prowess with a computer soon found him working at a Sony preparing the first PlayStation, where he helped with the design of the original hardware and controller. He worked in tandem on software, too, heading up a studio within Sony Computer Entertainment called Polys Entertainment that was researching a new and ambitious driving project. In the meantime, the soft edges and bright colours of the studio's first released game, Motor Toon Grand Prix, were the first signs of what was to come.
Those signs were even more explicit in its sequel. When players completed Motor Toon Grand Prix 2, a new mode unlocked which swapped out the colourful cars for more purposeful, realistic rides. Motor Toon Grand Prix R's accurately modelled stock car and open-wheeled racer showed that Yamauchi was preparing to leave the fantasy world behind. Shortly afterwards, and following five years of protracted research and development - Yamauchi setting a precedent for the rest of his career - Gran Turismo was launched in December 1997.
"What I aimed for in Gran Turismo was very simple," Yamauchi says of his original vision. "It was really to make a real driving simulator, and to have real-life cars appear in the game. I didn't know if it was possible with that hardware back then to achieve what we wanted to do. The first Gran Turismo, it was one of the first 3D racing games, and one of the first, if not the first to introduce physics simulations. There was no definite future for either one of those subjects, so we were very much in the dark."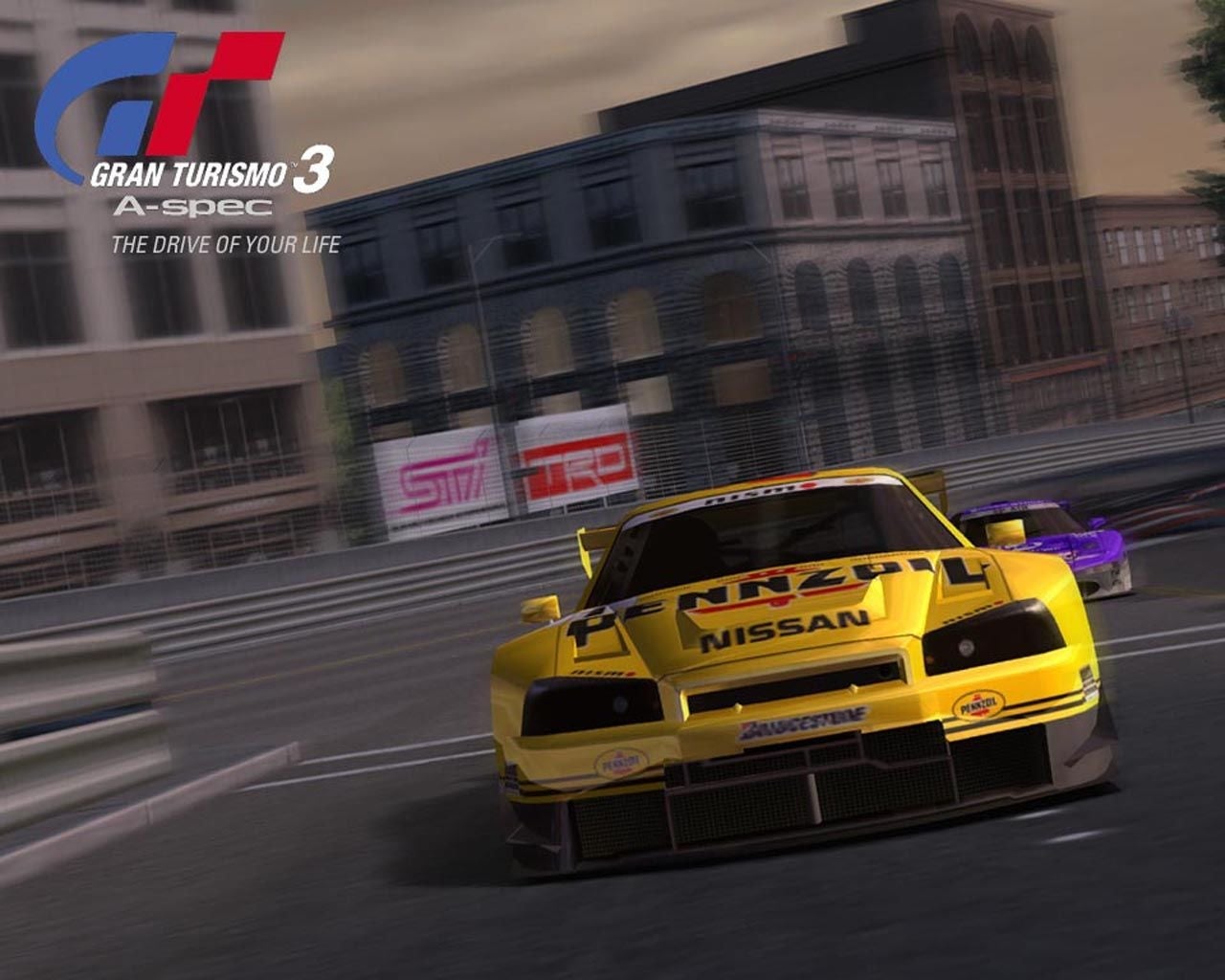 There was certainly an appetite for Yamauchi's brand of simulation, and upon its release, the original Gran Turismo was a revelation. Its 170-strong car list, culled from real-life, was collected and catalogued with an attention to detail that would have done Yamauchi's child hero Jean-Henri Fabre proud. More importantly, it captured the feel of driving like no other console game that had gone before, introducing concepts such as weight transfer, understeer and oversteer to an audience more accustomed to the binary drifts of Ridge Racer.
It was an instant hit, going on to sell in excess of 10 million copies, and off the back of that success, Yamauchi established a new studio, Polyphony Digital, and set about working on a sequel. It wasn't to be easy. "The first Gran Turismo really exceeded my expectations in becoming a huge success, and there was pressure from all around to make the second, so it was fairly hard work. Just looking back, Gran Turismo 2 was a lot of hard work.
"Our first studio was near Route 246, and the size of the room was about half the size of my office now. I think we had at first about seven people working on it. And someone was always asleep under one of the desks - you'd just see their feet underneath. Whenever I went to sleep, I'd see someone's foot dangling in the hallway."
It's a work-rate that continues to define Yamauchi and his team - during the five years of development that went towards the first Gran Turismo, he's said to have only been able to return home four days in every 365. Even now, in the corner of his office at Polyphony's newer headquarters in Tokyo's Koto ward, there's a sofa he admits crashing out on some nights during Gran Turismo 6's development. Tellingly, when once asked what his most fun memory of going to E3 was, he recounted a 100-hour stint he put in on the development of Gran Turismo 2 at the studio, and the rare blissful, uninterrupted sleep that followed on the flight from Japan to Los Angeles.
---
Yet despite the prodigious work-rate, Yamauchi's a man who enjoys life. The success of Gran Turismo - with 70 million units sold over its 15 years, it's the PlayStation's most successful series by some margin - has afforded him certain luxuries. There's the occasional chance to race, plus the countless supercars he's sampled. In his own personal garage there's a Ford GT, Honda S2000, Mercedes SL55 AMG and a Porsche GT3, while he's currently eyeing up the latest Corvette ZR1.
He indulges his passion, travelling the world - to the side of Yamauchi's desk there's a selection of pre-packed travel bags and a line of pressed shirts and jackets, allowing him to leave at a moment's notice - meeting manufacturers and wandering car shows, seeking new subjects for Gran Turismo's virtual garage. A favourite destination is Goodwood, Sussex, where the Earl of March's grounds host an annual festival of speed - an event that's paid tribute to in the latest edition of Gran Turismo. Curios like the V16 BRM are joined by modern supercars such as McLaren's P1, serving up an eclectic collection that mirrors Polyphony's own. "Goodwood's very similar to Gran Turismo," Yamauchi says, smiling. "If you'd make a real-life version of Gran Turismo, it would look like Goodwood, and if you made a virtual version of Goodwood, it'd look like Gran Turismo."
In person, Yamauchi presents a thin, whippet-like physique reminiscent of most modern-day racing drivers, but he harbours a taste for nicotine and alcohol matched only by the titans of 70s F1. In-between appointments, he dashes to Polyphony's smoking room where he stands contemplatively alone, drawing quietly on a cigarette. Back in his own office he smokes some more, while lined up against the far wall is a series of wardrobe-sized chillers housing a trove of vintage wines. Once a year, towards the end of December, Yamauchi delves into his collection as he invites luminaries in from the world of cars and motorsport for an all-day party.
"Gran Turismo was one of the first 3D racing games, and one of the first, if not the first to introduce physics simulations. There was no definite future for either one of those subjects, so we were very much in the dark."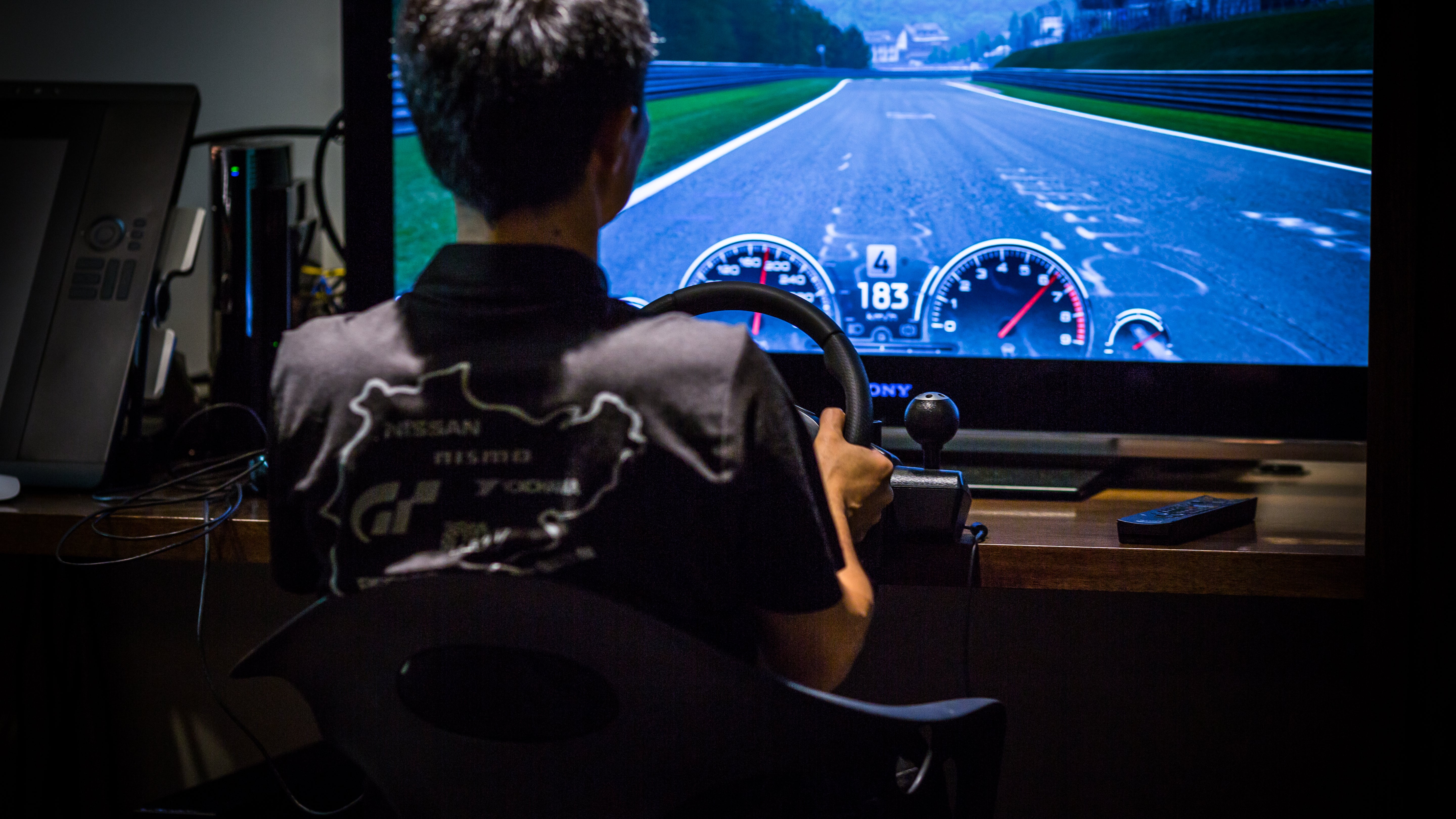 Contrast and compare Polyphony's founder to his opposite within the world of driving games, Turn 10's Dan Greenawalt, and there's a wonderful, surprising contrast: Microsoft's visionary is a cool-headed, scientific martial artist, while Sony's is a boozy, chain-smoking and free-spirited dreamer.
It's dreaming that can land him in some awkward predicaments. In recent years, Yamauchi's been big on promises he can't always deliver: witness the long, slow and sometimes confused introduction of car damage to the series, first posited as a downloadable add-on for Gran Turismo 5 Prologue before half-heartedly making its way into the full-fat game. See the PR handlers wince as he starts talking about Gran Turismo 7 before work on 6 is anywhere near complete - and marvel as he then says the first PS4 entry in the series could be released as soon as next year.
The contemporary practice of patching in games after launch has been both a blessing and a curse for Polyphony and for Yamauchi, who admits his first feelings upon releasing a game are pain and regret as he sees all the details he wants fixed and all the ideas he couldn't implement. Gran Turismo 5 blossomed into something wonderful within a year of its release, but Gran Turismo 6 will be shipping without many of the features that have been talked about in the run-up to its release.
"It's the same every time," Yamauchi says, a burst of fatigue setting into his words. "It's an incredibly tight schedule. As to being able to include everything we wanted to on day one, we probably won't be able to. I think for the 12 months following the release we'll continue to update the software.
"We've really changed how we make games - even now at the end of development, we're still making new functions and content that's going to be put into this game, that'll be provided by updates further down the line. There's a possibility that these types of updates will continue on these kinds of titles. I think that more recently, the speed of our input and output is becoming much, much faster."
---
Yamauchi's dreaming has also taken Gran Turismo to some incredible, sometimes strange places. With each new iteration, the series moves further away from reflecting the automotive world as it becomes ever more embedded within it. It's a process started with the very first game - in 1998, Nissan UK happily admitted that the Skyline model's international profile was raised by its inclusion, several times over, in Gran Turismo - and made explicit when Yamauchi was invited by Nissan's chief vehicle engineer Kazutoshi Mizuno to help design the interface on 2007's all-new GT-R.
The partnership between Nissan and Gran Turismo has deepened in subsequent years thanks to GT Academy, a programme that takes players proficient at Gran Turismo and turns them into professional racing drivers. What started as a cute marketing exercise has snowballed into a phenomenon of its own thanks to the incredible results it's achieved: its first graduate, one-time Spanish taxi driver Lucas Ordóñez, stood on the podium at the Le Mans 24 Hours within three years of winning the Academy.
Elsewhere, British winner Jann Mardenborough has been the first to make the move to open-wheel racing by taking part in a handful of British and European F3 races, joining a series that counts Ayrton Senna and Mika Hakkinen amongst its past champions. He's enjoyed moderate success too, running wheel-to-wheel with promising F1 newcomer Daniil Kyvat.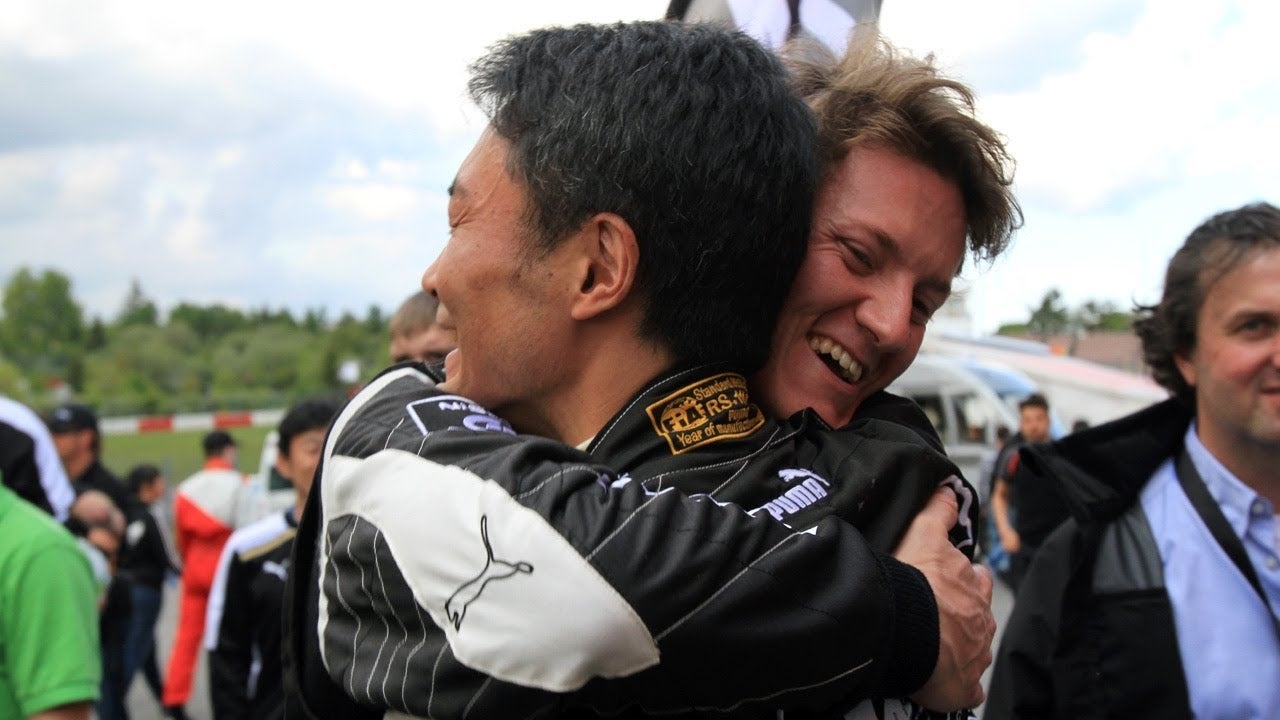 "I think people like Lucas, it's possible for him to drive in [sportscar's top class] LMP1," says Yamauchi. "And perhaps Jann Mardenborough, he might make it to F1 one day. I'm happy that Jann and Lucas are doing really well - but I don't want to put any pressure on them that they must go to LMP1 or F1. I don't want to burden them that way." Yet at a time when paid drivers are becoming more of a concern in Formula 1 and other categories, GT Academy's established itself as the quickest, cheapest way for talented young drivers to find their way into the sport. "It won't solve all the problems in becoming a racing car driver," admits Yamauchi. "But it gives you some hope."
Yamauchi's affinity with the motor-racing world runs deep. Taking pride of place in his office are the trophies he's won at the Nürburgring 24 Hours, both awarded for class victories at the race, and one achieved in partnership with Academy winner Ordóñez. Polyphony's Tokyo studio, meanwhile, where employees chip away at 3D Maya models of cars and run simulation checks while surrounded by discarded piles of tyres and scraps of automotive spares, often feels more like a modern race-car factory than a development studio.
Yamauchi enjoys the comparison. "What we do is exactly the same as a company like Red Bull does for their F1 cars," he says of his approach to defining Gran Turismo's handling, and how it differs from its competitors. "You place a tyre on a bench to measure its characteristics, and then get a variety of data on that test. We drive the real cars, and there's an immense amount of logging data that comes off those cars. On top of that we have a simulator, and it's all about how we balance that triangle between the three. All the top F1 teams try to do that - but it still results in a huge difference between teams. There are still so many factors that are unknown, that aren't really clear."
Playing Gran Turismo in recent years, it's often been noted how it feels like it was developed in a bubble, far away from the concerns, innovations and standards of contemporary game design. Seeing Yamauchi at work, it seems he's at ease with the eccentricity, a man who perhaps sees his peers as the likes of design genius Adrian Newey, whom he's collaborated with in recent games, or McLaren Automotive's famously fastidious Ron Dennis, over anyone from within the games industry.
---
Back at the Nürburgring, it's been a miserable race for the number 123 GT-R. Following a promising qualifying and early stint, a cooling hose goes just seven laps into the race, flooding the engine and demanding a completely new power-train. After three hours of frantic activity, the Schulze Motorsport team gets the car back out on the track, only for it to be met with a race interrupted by thick fog and heavy rain - exactly the same conditions Jackie Stewart endured in the 1968 German Grand Prix, an experience that led him to dub the Nürburgring 'The Green Hell', a nickname that's stuck ever since.
"What I thought, driving the Nürburgring, is that racing is war itself. You prepare your weapon. You organise your team. And you secure your supply line. It's logistics. And then you have the actual race."
Following an extended stoppage, the race restarted early on the Monday morning, Yamauchi taking the car on in a stint that would see the pace of the front-runners matched by the GT-R. Out in the mist of the Nordschleife, away from the stresses of games development and amidst the peace that can only be found behind the wheel of a 650BHP race-car, Kaz got to contemplate.
"What I thought, driving the Nürburgring, is that racing is war itself. You prepare your weapon. You organise your team. And you secure your supply line. It's logistics. And then you have the actual race. And people, they die sometimes." It's a point lent grim resonance since: in the months following the event, two of Yamauchi's competitors that day, the brilliant Dane Allan Simonsen and eventual race-winner Sean Edwards, lost their lives pursuing the sport.
"When you really look at it overall, it's identical to a war. So I have this feeling that motor racing, it's something that humanity came up with so we don't have to fight real wars." It's a definition of motorsport that's touchingly poetic, and one Yamauchi's come to through 15 years of invention, graft and experience. "Actually participating in the race, that's the impression, the idea that I got. And that's something that you can't realise by just playing Gran Turismo."