Football agents "tried to bribe" Football Manager into giving better ratings
Bunged up.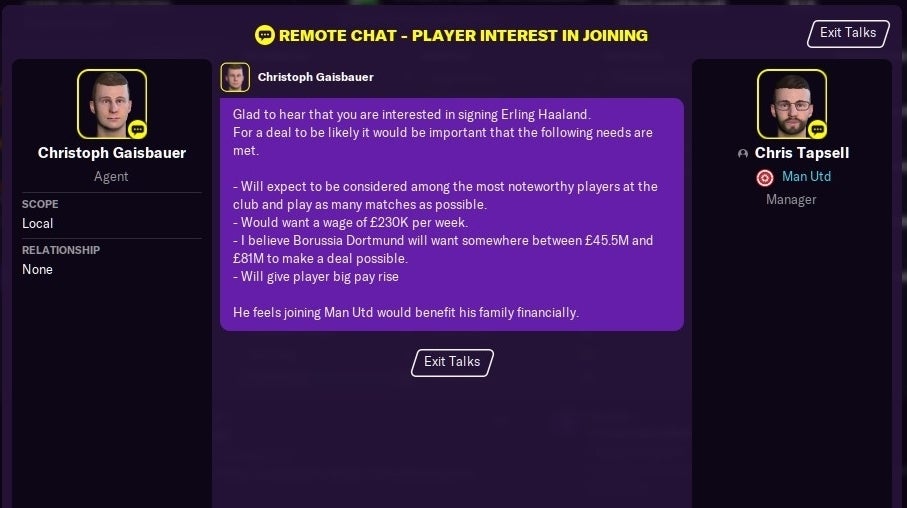 Ever on-brand, it seems that professional footballers' agents, go-to villains of the sporting world, are at it again.
For once it seems their antics have bled over to the non-sporting world, however - or at least the sport-adjacent one of Football Manager.
Speaking on The Football Manager Show, a podcast by The Athletic, Sports Interactive studio head and long-time FM director Miles Jacobson mentioned a few of them have been in his ear, even going as far as to offer bribes to boost their representee's ratings - only to be swiftly denied.
"I've had agents that have tried to bribe me to put stuff up," he said, "and the ones that have asked me that know to never ask me that again. Because, I'm not one for bribing." The Athletic also tweeted, likely mistakenly, today that Sports Interactive had "received" bribes to boost ratings, although Jacobson was quick to correct that:
The likely reason for these less-than-honest offers, in brief, is that higher ratings for their players means a higher chance of securing a transfer to a bigger club - and a higher fee for the agents to take a cut of themselves, in the process. As Jacobson elaborated: "it's the just fact that so many clubs use our data that people do want to be represented positively in the game."
It makes for some interesting timing, with Football Manager 2021 actually introducing a feature that lets you have quick, one-to-one calls with agents this year for the first time (more on that in our FM21 review, by the way, although spoilers: it's excellent).
Football Manager's reputation for unearthing new talent, meanwhile, is nothing new. In the podcast Jacobson also notes that Andre Villas-Boas, the former Chelsea and Tottenham Hotspur manager, was apparently the first to openly admit to using the game to find players while he himself was a Chelsea scout in the first Mourinho era.
Other clubs like Everton have openly used the game since at least 2008, and in 2014 that was made more 'official' by the deal struck with scouting tool Prozone, setting up a new searchable database of players here in the real world.
Players, too, have always cared about their stats, occasionally messaging Jacobson about their Pace or other attributes, albeit "always with a 'lol' at the end", and Sports Interactive's been working with Ballon D'Or-level players for a little while now, as Jacobson told Eurogamer recently. And hey, I've even tried tracking down the person who scouted me for the game back in 2010, albeit with limited success - and sadly no wads of cash from an agent to help me out.
This is the first I've heard of them actively trying to bung their employers' way to greatness, though. Hopefully it's the last.
On the topic of disgruntled pros, meanwhile, there's also the burgeoning dispute between Zlatan Ibrahimovic, Gareth Bale and others over EA Sports' use of their image rights in FIFA, as Eurogamer first reported today, which their agents might be busy worrying about anyway. Maybe they're all just jealous of Dua Lipa.