FIFA Ultimate Team community accused of "price-fixing" Ryan Mason card after player suffers skull fracture
"There is a special place in hell for those price-fixers…"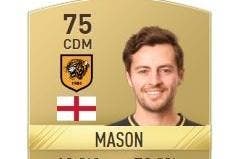 Some FIFA players have been accused of price-fixing the Ryan Mason card in Ultimate Team after the footballer suffered a sickening skull fracture over the weekend.
The 25-year-old Hull midfielder suffered the injury in a clash of heads with Chelsea defender Gary Cahill during Sunday's Premier League match.
Mason was treated for nine minutes on the pitch before he was taken to hospital - and it didn't take long before the FIFA Ultimate Team price-fixing began.
Price-fixing in FUT involves finding a player with a "hidden demand", as the community calls it, buying as many of the cards as possible before listing them for an inflated price. To avoid suspicion, FUT price fixers will often use multiple accounts, but the goal is always the same: maximise profit.
In Ryan Mason's case, players gobbled up his card in the hope his high-profile injury would spark a demand. Prior to the injury, Mason would sell for around 400 coins. After, that price jumped to between four and five thousand.
Players on the FIFA subreddit reacted in anger to the news, with one thread warning others not to buy the Ryan Mason card.
"There is a special place in hell for those price-fixers," Shanksz86 said, "they are so desperate and stingy for some pixel money."
"He is 4k on PS4 and people think/want him to die?" MazZucco said, "absolutely disgusting behaviour."
This isn't the first time FIFA Ultimate Team players have tried to make virtual profit out of the misfortune of real life players. In fact it's something that has gone on in FUT for years.
In 2013, FUT players were accused of price-fixing the Christian Benitez card after the Ecuadorian player died following a heart attack. The video, below, recounts the incident.
There are those in the FIFA community, however, who believe there's nothing wrong with price-fixing the cards of footballers who suffer terrible injuries or even death. It's just a game, those people argue, and FUT price fluctuations have no real-world impact.
As for Ryan Mason, Hull said he's is in a stable condition and is expected to remain in hospital for the next few days.