Big FIFA 23 leak lets some play a month early, check Ultimate Team stats
UPDATE: EA says release unintentional, included content "not final".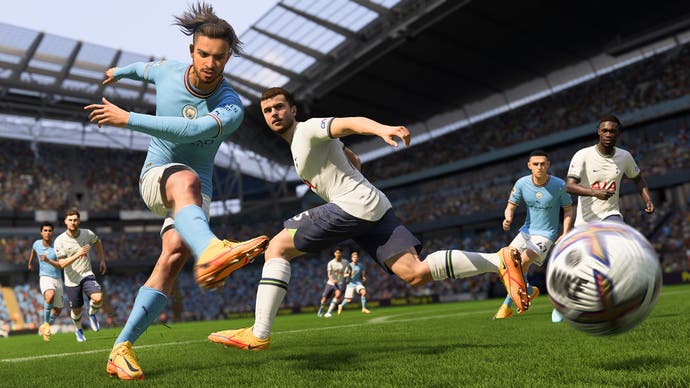 UPDATE 31/8/22: EA has addressed FIFA 23's recent early release for a number of players, calling the incident 'unintentional' and noting that content included in the build was "not final".
"Yesterday we unintentionally gave a small number of players access to a two-hour trial of the Xbox One version of FIFA 23 that shouldn't be available yet," the company explained in a statement posted to Twitter. "Not all content was final. We've removed that access, and we'll be ready to welcome everyone in at launch in September."
FIFA 23 launches for PS5, PS4, Xbox Series X/S, Xbox One, and PC on 27th September.
---
ORIGINAL STORY 30/8/22: Some people appear to have played FIFA 23 a month before its official launch - and Ultimate Team player statistics are now flooding online.
FIFA 23 looks like it was playable for a brief period of time today on Xbox consoles after a pre-load went live to those who pre-ordered the Ultimate Edition. The EA Play trial may also have gone live early, allowing players access. FIFA 23 isn't meant to go live until 27th September.
Surprisingly, some players were able to play the game, and even access Ultimate Team mode. One Twitch user, called mexico07dan1, even streamed FIFA 23 before suffering an account ban. However, clips of the stream, including the one below, remain online at the time of publication.
As you'd expect, Ultimate Team fans are fussing over player stats, which determine how powerful their baseline cards will be in this year's game.
Manchester United's 37-year-old want-away star Cristiano Ronaldo, for example, appears to have suffered a pace downgrade (pace is widely considered one of the most powerful stats in Ultimate Team).
FIFA 23's availability a month before launch - however brief - is a significant blow to EA, which drip feeds information about the game as part of a carefully planned marketing push, often in lock-step with brand partners. Kits which are currently in FIFA 23 but yet to be announced by their real-life clubs are now being highlighted, for example.
One Twitter user even went through the FIFA 23 soundtrack.
Eurogamer has asked EA for comment.