FIFA 21 patch makes the ref calm down a bit with the yellow cards
So near, so VAR.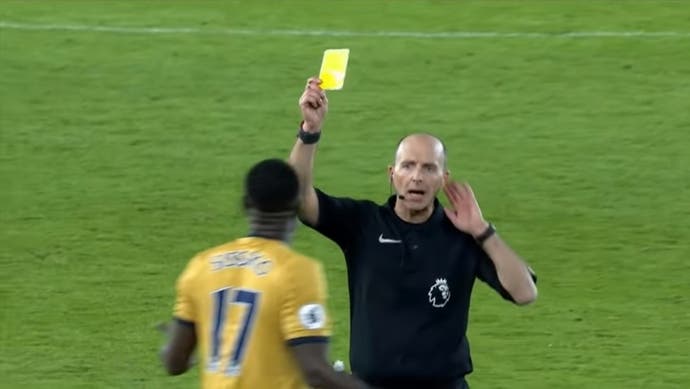 FIFA 21's latest title update is out now, and it makes some welcome changes to the game.
The focus here is on fixing bugs, rather than making sweeping balance or gameplay changes. However, some tweaks have been made to the way FIFA 21 plays. For example, the patch has adjusted the referee logic in potential yellow card scenarios so that the likelihood of a yellow card being given is reduced. Given how often the FIFA 21 ref would dish out yellows, this is very much a good thing.
Elsewhere, EA has nerfed the Ball Roll to Scoop Turn skill move combination, so that it now requires a five star skill move rating to perform.
And the Royal Wave celebration has been added to the pool of celebrations that can occur when you request a random celebration.
Otherwise, there's a long list of bug fixes, which is good because FIFA 21 has felt a little bit more buggy than previous games in the series.
The highlight for me is the fix for the referees blowing the whistle to end the game during inappropriate situations during stoppage time. I've suffered this frustrating bug on a fair few occasions, so I'm glad to see this one squashed.
There's also a fix for the hilarious glitch that caused players to briefly float in the air following a physically contested header, pass or a shot. Shame!
The next one is a fix - I think - for a bug I reported on that saw the goalkeeper try and fail to grab the ball from just under the crossbar. EA says it's fixed an issue where "the goalkeeper could get stuck when trying to retrieve the ball". I think this must be it.
I haven't seen the next one myself, but just reading the patch notes for it made me laugh:
"In some out of game scenes, player heads would shift erratically."
Sounds like a horror movie!
Similarly...
"Following a shot that connected with the goal frame, the frame could shake erratically."
Here's a change in Ultimate Team I think is worth highlighting: match lobbies will now display the round trip numerical ping value, instead of the one-way numerical ping value. This means a higher value will be displayed, but it doesn't mean you've all of a sudden got a worse connection. This was a visual issue only.
The patch notes in full are over at the EA Sports website.