Young fan sent PS5 by Marcus Rashford for fundraising work
"We are not kind to be noticed."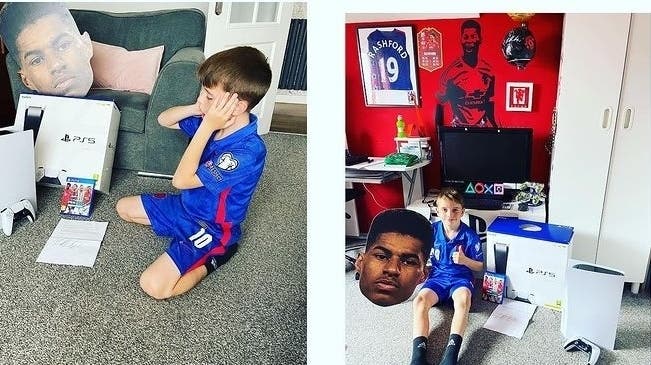 England star Marcus Rashford has thanked a young fan for his fundraising work in a letter accompanied by a PlayStation 5 and copy of PES 2021.
Nine-year-old Jacob Worthington, from St Helens, was originally inspired by the England and Manchester United forward to raise money for FareShare, a charity Rashford supports.
Setting a 20km target over four runs, Manchester United fan Jacob and his father created an Instagram account to help gain sponsorships and document the process.
Jacob raised around £250 for the charity, which caught the attention of Rashford himself.
Along with the PS5, Rashford sent a letter. "We are not kind to be noticed. We are kind because it's the right thing to do. It feels good to help others," Rashford wrote.
The letter expressed his gratitude towards the young boy. "To show my appreciation, I wanted to make sure that I acknowledged these kind gestures with a gift."
"Not all gestures are going to be rewarded but know that you are appreciated, and every time you look at this gift, remember how good it feels to look out for others," he added.
Jacob's father, John Worthington, told the BBC Rashford spotted the Instagram account and messaged him to ask where to send the PS5.
"I was not expecting the parcel to come so quickly, so when it arrived on Wednesday I thought, 'what is this?' " Jacob's father said.
"I genuinely thought someone had sent Jacob something in a used PlayStation box."
Jacob told the BBC he started "jumping around the room" and was "so grateful".