FIFA 19's new and super powerful FUT Future Stars cards spark realism debate
FFS!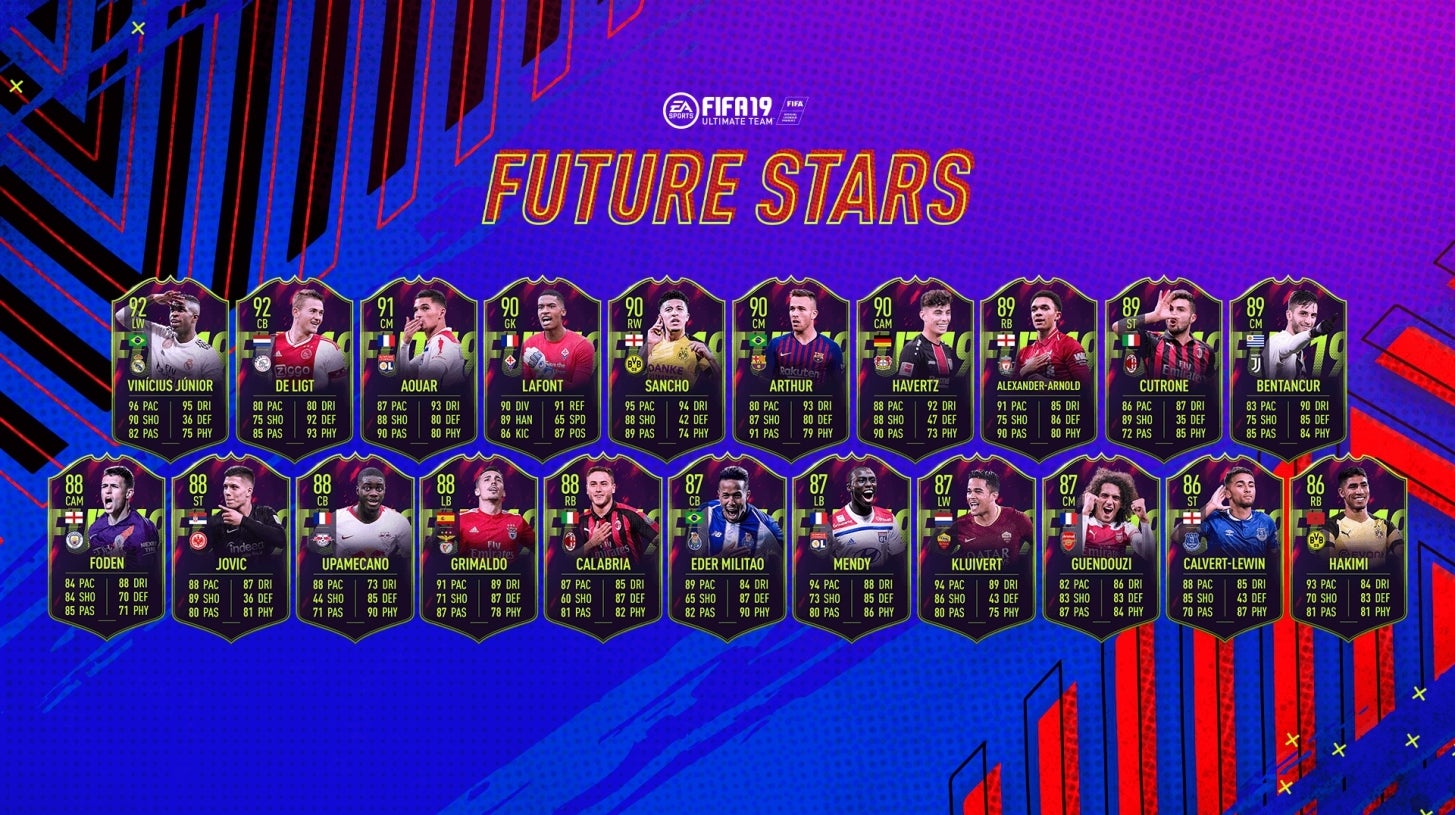 EA has added a unique FIFA Ultimate Team promotion that's certainly got a lot of players buying card packs - but it's also sparked a debate about realism.
The new promotion is called FUT Future Stars, and it revolves around a new set of cards of young players with the stats they'd get if they realised their potential.
The promo includes "FFS" Vinicius Junior, whose potential gives him an incredible 92 overall rating at left wing, FFS Jadon Sancho, who has a 90 overall rating at right wing, and FFS Kai Havertz, who is a 90-rated central attacking midfielder. These players are already in the game in standard form, but with much lower statistics.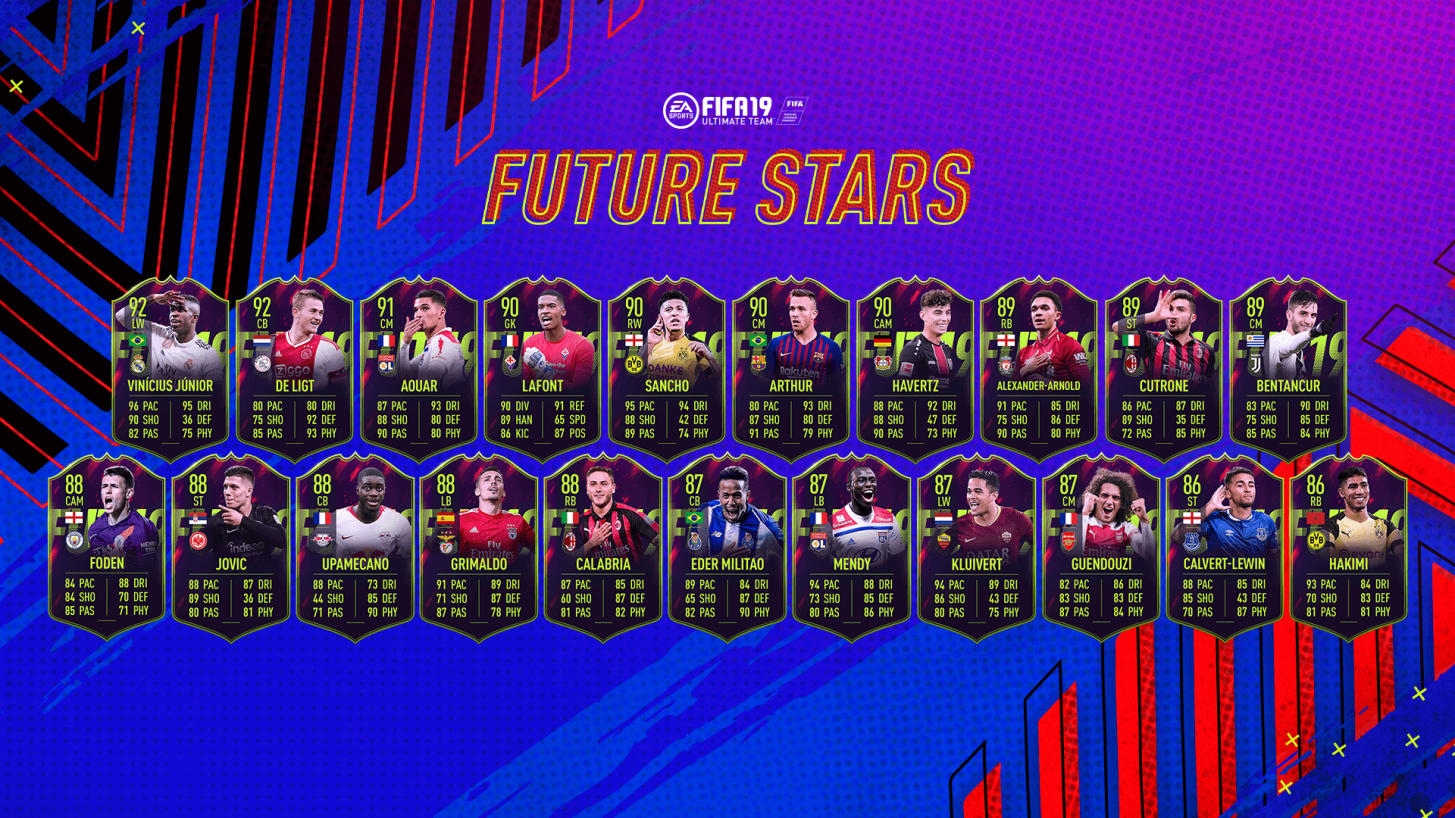 Here's the official blurb, from EA: "FUT Future Stars is our definitive list of breakout stars for 2019. This squad of wonderkids are on the cusp of breaking through into the football mainstream this season. In Future Stars we flash forward to what these youngsters could become if they fulfil their potential. A squad of 21 Future Stars will be released in packs, for a limited time, with supercharged stats to help them compete with today's FUT elite."
So, what's the problem? While some are enjoying the opportunity to use players they wouldn't otherwise bother with because of poor ratings (and, remember, we're just talking about an opportunity here - according to FIFA 19's in-game pack odds, there's just a two per cent chance of getting a FFS card from a pack), others have complained these players make FUT unrealistic.
Now, FUT is of course unrealistic by default, given that it's a football video game. The issue here is some of these new FFS cards are more powerful than the cards of the established best players in the world in real life right now.
Take Vinicius Junior, for example. This Real Madrid youngster has barely played in La Liga this season, but here he is with a FFS card that's better than the base card of fellow left-winger and established world class player Neymar.
The FFS promo also feels a lot like power creep. Under normal circumstances, you'd expect to improve your squad slowly over time as better cards are added to the game via Squad Building Challenges and promotions. On a smooth progression, the best cards would be held back until later in the game's life (EA releases a new FIFA each September, so FIFA 19 has nine months left in it before everyone moves on).
By adding more incredibly powerful cards just four months into FIFA 19's life, FUT is peaking early. When loads of incredibly powerful 90+ rated players are flooding the Ultimate Team economy in January, it doesn't leave EA much wiggle room for the rest of the season. All this not long after EA added the most powerful card in FUT history with the Team of the Year promotion.
And, finally, adding loads of incredibly-powerful players to Ultimate Team devalues each and every super powerful player. Obviously.
There's a fantastic post on the FIFA subreddit, by user jdbolick, that goes into more detail on why it's a worrying time for Ultimate Team players. It's well worth a read if you're interested in the inner workings of one of the biggest games in the world, which, as I've said before, remains perversely compelling while also deeply troubling. But I thought this line was worth highlighting:
"Ultimate Team is a game of fantasy and it's fine to be unrealistic about some things, but most of us are playing in part because we appreciate the sport the game is based on. When you introduce high rated cards for reasons that have nothing whatsoever to do with that sport, the card collecting aspect starts to feel random and meaningless."
Why is this happening? The more cynical observers have pointed to EA's recent admission that FIFA 19's Ultimate Team hadn't pulled in the amount of money it had hoped for. One quick and dirty solution to that problem would be promotions that add cards players really, really want. But while it's fun to imagine the stats of young players who may one day realise their potential, when you turn them into gameplay-affecting virtual items and throw them into a live service video game some people have spent thousands of pounds on, you're going to ruffle some feathers.