Fallout 76 will not support cross-play, Bethesda confirms
Lone wanderers.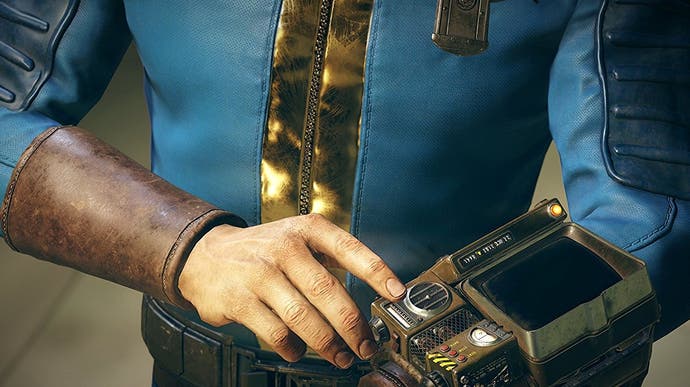 Fallout 76 does not support cross-play, Bethesda has confirmed.
Bethesda marketing chief Pete Hines tweeted to say the upcoming multiplayer post-apocalyptic PC, PlayStation 4 and Xbox One game won't support the feature.
Folks, chill. I work with a lot of devs and games for whom this is important going forward.

Fallout 76 does not support crossplay, for a number of reasons. I have no idea if it ever will. But I assure you it is not on our radar right now as we focus on B.E.T.A. and Launch.

— Pete Hines (@DCDeacon) September 26, 2018
Hines' tweet comes just a few hours after Sony announced cross-play between PS4 and rival consoles the Nintendo Switch and Xbox One for Fortnite, with more games to be added later.
Hines had expressed concern about Sony's position on cross-play, but more in relation to card game The Elder Scrolls: Legends than Fallout 76.
"It's way more pertinent to Legends," Hines told Eurogamer at QuakeCon 2018.
"Fallout 76, sure: it would be nice if I could play on my Xbox and my kid is playing on his PC and we can play together, but if we can't, OK. There's lots of games - I play Overwatch on Xbox and he plays on PC separately and has a whole separate account. It's not critical.
"But for Legends it's absolutely critical," he said, "both cross-play, which is how Legends works right now on every device - you're playing against somebody who could be on any device - and, more importantly, cross-platform progression, which means no matter what you do on any platform, you load up the game and so long as you're logged in, here is all your progression, here is everything you had, everything you were doing.
"If you were in the middle of a match on PC and I flipped that [he gestures at my laptop] closed while you're in the middle of a match and you load it up on your phone, you would be right back in the match where you were. That is a must for us on any platform. If we have to start segmenting our audience to say 'folks on this platform can only play folks on that platform', or 'any progress you make on that platform can't be there', then man, that's a bad situation."
Now that Sony has confirmed cross-play for Fortnite PS4, many are wondering whether other games will soon get the feature.
Jeremy Dunham, VP of publishing at Psyonix Studios, pointed Rocket League fans to Sony.