Enslaved Xbox Live Games on Demand price £24.99
Crack open the Pigsy bank.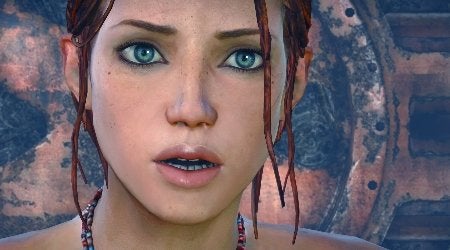 Action adventure romp Enslaved is now available on Xbox Live Games on Demand.
The 4.91GB download costs £24.99 in UK. Elsewhere in Europe it's €29.99.
Enslaved launched October 2010 to disappointing sales despite widespread critical appreciation, a fact publisher Namco Bandai later blamed on poor release timing in the midst of 2010's bustling end-of-year season.
A big-budget gamble, Enslaved had sold just 730,000 copies as of April this year - not enough to warrant a sequel.
Developer Ninja Theory confirmed in September it had shelved designs for an Enslaved 2, although Namco previously mentioned plans to "keep pushing" the franchise regardless of a sequel - plans which presumably included this week's Games on Demand release.
In the meantime, critics have continued to show support for the game. Enslaved won the Best New IP prize at this year's Develop Awards, as well as nominations for Best Action Game at the Golden Joysticks and Best Original Game Score at the 2011 Ivor Novello awards.