Edith Finch dev's formerly PlayStation-exclusive The Unfinished Swan now on PC
And it's out on iOS too.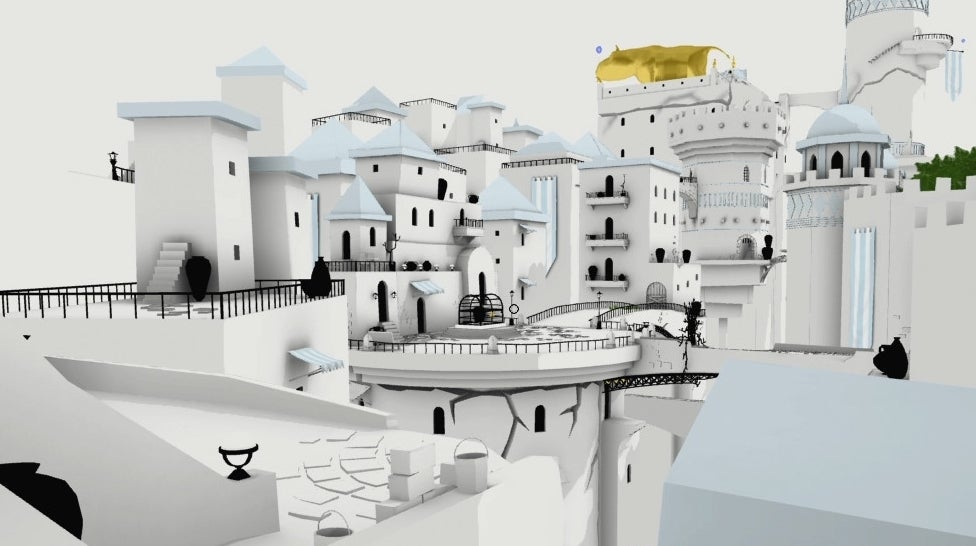 Eight years after its PS3 launch, What Remains of Edith Finch developer Giant Sparrows's gorgeous first-person narrative puzzler The Unfinished Swan has arrived on iOS and PC.
The Unfinished Swan, which made its PS3 debut in 2012 and later released on PS4, magics players to a mysterious painted world which initially appears as a canvas of pure white. By spattering ink across the environment using an enchanted paintbrush, an entire 3D landscape, absent of both colour and shadow, is gradually revealed.
At first, The Unfinished Swan amuses itself with simple navigational puzzles based around its wonderfully striking paintbrush mechanic, but new elements are introduced as players step deeper into Giant Sparrows's beautifully wrought fantasy kingdom.
The end result is an intriguing, and sometimes moving, puzzle adventure most notable for its delicate atmosphere and gorgeous architectural invention, even if, from a mechanical perspective, it never quite lives up to its initial promise.
"The Unfinished Swan is gentle and beguiling," said Eurogamer contributor Dan Whitehead when he reviewed the PlayStation 3 version back in 2012, "but also thematically patchy and insecure in its own merits, choosing to constantly introduce less interesting new gameplay systems rather than fully explore any single motif."
Even so, it's a beautiful, affecting adventure, and a nifty companion piece to Giant Sparrow's masterful follow-up What Remains of Edith Finch, shedding a little more light on the rather enigmatic fate of one particular Finch family member in the latter game.
The Unfinished Swan, which is being published by Annapurna Interactive, is available now on Steam and the Epic Store, where it's priced at £11.49/$13.49 USD. There's a launch week discount of 10%, and an additional 33% off for those that have Edith Finch in their Steam library. Meanwhile, over on the iOS App Store, it costs £4.99/$4.99.